Description
Freedom to roam, white sandy beachfront, gentle lapping waves and crystalline water means happy pooches and owners alike. In addition to having their own beach on the southern tip of the island, dogs are also allowed on the nature trail. Pets must be on a 6-foot handheld leash at all times while in these areas.
Reviews
Honeymoon Island State Park Dog Beach has received a rating of 4.2 out of 5 bones by 16 dog owners on BringFido.
Awesome dog beach

Oct. 23, 2017

Awesome dog beach

This Beach was very clean and everyone had their dogs leashed. I would have given it a 5 if I didn't see so many piles of dog poop on the trail leading from the parking lot to the Beach. They provide bags and trash cans, sick about people ruining the experience for others. Other than ignorant owners not picking up after their huge pets, it was a nice experience!

Great beach but prepare to walk!!

Aug. 20, 2017

Great beach but prepare to walk!!

I took my 4 month old pitbull and my two kids (5 & 8) there for the first time this weekend. The beach was very clean and not overcrowded at all. However, the trail leading up to the beach was very long and partly submerged in muddy water in several areas. My kids complained the whole way. We also had to walk and carry our bags over thigh deep water at the end just before getting to the beach. Besides that it was a great experience but I will be going to a beach that doesn't have such a long trail next time.

Grrreat quiet dog beach

Aug. 13, 2017

Grrreat quiet dog beach

Great dog beach! Some rocks/ shells when first getting into the ocean. Sand on beach and in ocean is soft. Some litter on beach left by the inconsiderate ones, but overall was pretty clean. Cost to get in is $4-$8 for the state park fee (depending on how many people) Didn't encounter any crazy bugs or rattlesnakes.. but it is a park, so....

Really!!!!

Great beach to take UR dog! PLEASE pet owners pick up after UR pets. We saw piles and bags of poop left all around. Bags are available as are trash cans to despose of them. Don't ruin it for others! Keep beaches clean so we all can enjoy them together! Thanks!

Honeymoon Isaland great place to visit

Feb. 22, 2017

Honeymoon Isaland great place to visit

We visited with our Bishon and we had a lovely day. The quickest way to the beach is to park at the main carpark and then take the trail to the left of the cafe/toilet building. A good stretch of beach with plenty of room fer everyone. We took chairs and a picnic but you can sit below the cafe if you want to purchase their food.

Nice, but beware.

More than one year ago.

Nice, but beware.

Lots of parking and friendly dogs... You have to walk through a pretty long trail to actually get to the dog beach once parked. I'm pretty sure the is where my puppy picked up fleas. He's on ongoing medication (a must for a Florida dog), but they still seemed to hitch a ride back home with us. There is a rinsing area in the parking lot which is helpful. Had I thought about the fleas, I probably would have taken advantage and washed him with soapy water right then and there.

Best beach ever!

More than one year ago.

Best beach ever!

Beautiful beach to bring dogs to. It does cost $8 to get in but it is so worth it. Tons of parking and the dog beach is huge! We went on a Sunday and I expected it to be packed. There were a lot of dogs there but the area is huge so we didn't feel crowded. There was an area to rinse your dogs off before heading home.

Pawesome

More than one year ago.

Pawesome

Lots of Friendly Dogs and People. Nice sandy beach. A short walk from Parking.

Great dog beach!!

More than one year ago.

Great dog beach!!

We have an 8 year old Boxer. Honymoon Island is her favorite spot in the world. She has been going there since she was 2. As soon as we get on the causway she recognizes where she is going. They do inforce the leash requirement, especially on the weekends. That would be the only downside, however during the week we a minimal issues with allowing her to run off leash.

Beautiful Beach!!

More than one year ago.

Beautiful Beach!!

Love this beach!! Very clean and well maintained. Lots of room to spread out away from people if needed. Best dog beach yet!! Water calm and beautiful!!

Paradise with Thorns

More than one year ago.

Paradise with Thorns

I absolutely loved this place! At first we parked in the wrong place so we walked extra! And while we were walking on the grass we had thorns get stuck on our feet which was not fun.. But if you just stay out of the grass everything is delightful, the walk down the trail with our dogs was great and the view of the beach is awesome. All the dogs were will behaved and the owners were super friendly.. It's a big area so you have plenty of space. I came with my kids and they loved it. It was wonderful..

best dog beach!

More than one year ago.

best dog beach!

Huge beach area to bring your dogs and very clean! Everyone is friendly and so are the pups! Best dog beach I've been to!

Nice dog beach

More than one year ago.

Nice dog beach

We visited in July 2014 and had a great trip. It was a long walk to the beach itself but the beach was nice and not crowded. While you're supposed to keep your dog on a leash, some people had theirs off but the dogs didn't run around. The sand was white and fairly clean. We liked the beach because you could walk a long ways out before the water even comes up to your waist. So we enjoyed sitting in the water and playing. The beach was long enough that we didn't feel cramped and had fun walking around and exploring. Along with taking the dog, we also took our 6 month old to the beach for the first time. We liked that no random dogs ran over to us but we could enjoy the time as a family. Baby enjoyed playing in the water and the surf was gentle enough that she could sit on her own at the water's edge. The sand was soft enough (and apparently and interesting enough) that she liked playing in that as well. When compared to the Fort DeSoto dog beach, we liked this one a bit better because the water is clearer and we were not bombarded by random dogs. After reading some reviews we were skeptical but are very happy we gave it a try.

Fun time

More than one year ago.

Fun time

Brought my yorkie, and it was a beautiful day. Park workers were pleasant and really never seemed to be bothering anyone. Great place to play in the clear, shallow surf for a small dog.

we had fun

More than one year ago.

we had fun

We always have a great time on honeymoon island. The dog beach side does flood but its a beach, you should expect to get wet. We were there today, the dog and the kids had a blast and we weren't bothered by any bugs. Maybe mosquitos in the trails but who are we kidding its Florida! Its worth the parking pass.

Stopped going

More than one year ago.

Stopped going

Once upon a time this place was worthy of an annual pass, I would go every weekend. Now prices have been raised and the cost/benefit simply isn't there. This is a great beach ONLY if you are arriving by boat. If you drive you are going to pay $8 to walk (more like wade) through bug infested trails that are flooded. The leash law is STRICTLY enforced. The enforcement is so bad that I felt UN-welcomed, as if they really wished the dog beach didn't exist. Fishing is popular here and I often got the sense that fisherman were inconvenienced by dogs swimming around possibly tangling the lines. It is a CHORE to have fun here.
See More Reviews
Submit a Review
Traveler Photos
Want to feature your creature? Upload a photo of your pet at Honeymoon Island State Park Dog Beach below! You can also share by using the hashtag #bringfido on Facebook, Twitter, Instagram, or Pinterest.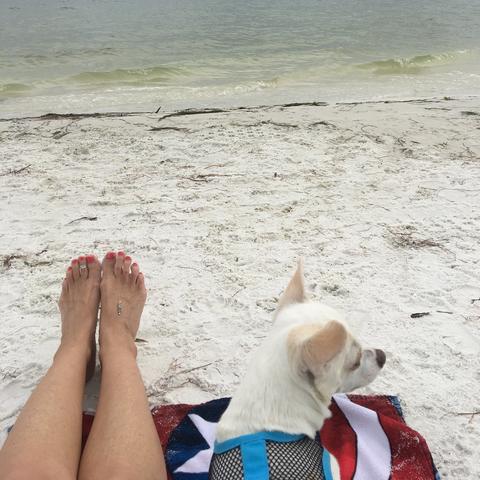 Share a Photo