What to Do if Your Dog Is Scared of Fireworks
Most Independence Day celebrations include family barbecues, patriotic parades and, of course, fireworks. However, the loud booms from those beautiful light shows in the sky can make this the scariest of all holidays for many of our pets. Follow these 4th of July pet safety tips to keep Fido calm while you celebrate America's birthday.
1. Don't Leave Furry Friends Outside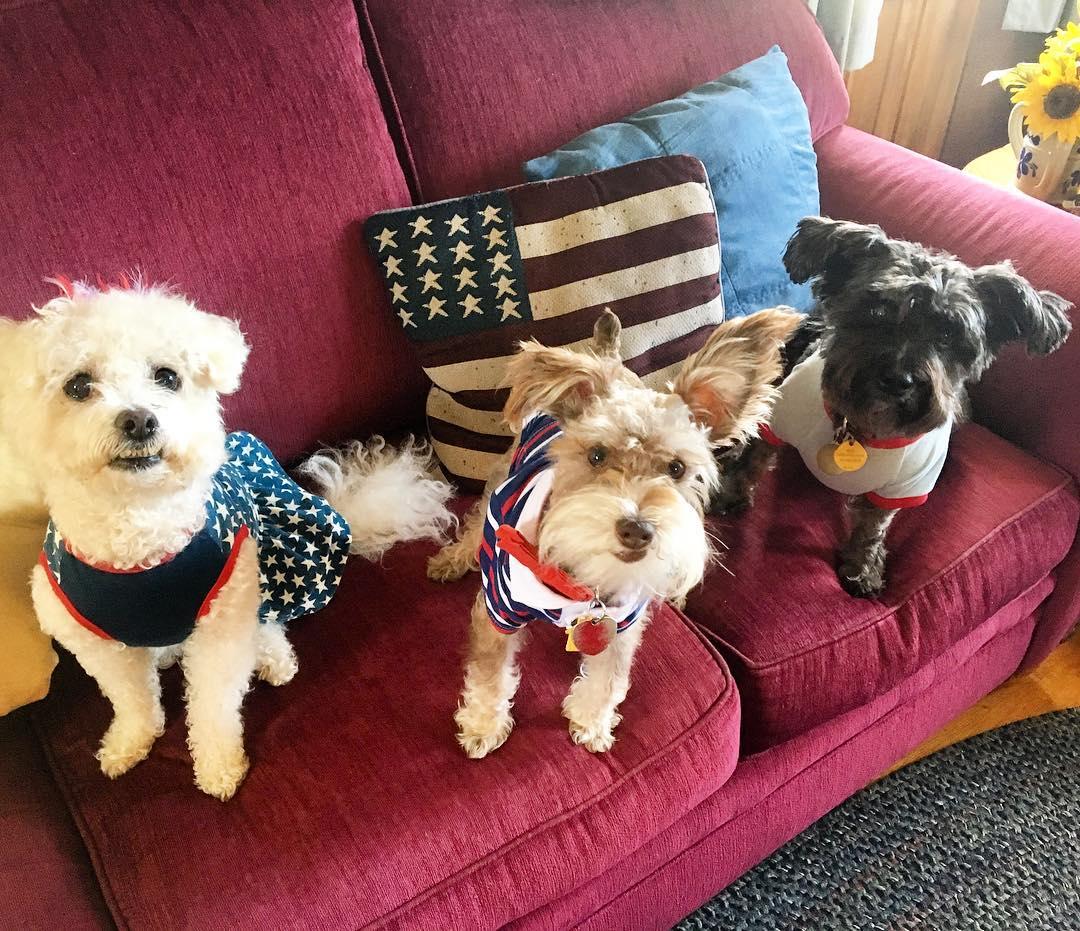 Many revelers will set off fireworks the day before the official holiday, so keep your pup inside the house for the entire day and night starting on Independence Day Eve. Even in a securely fenced yard, your four-legged friend can panic and bolt if loud noises scare him. When you do go outside with Fido, keep him on a leash (even on your turf) at all times, including bathroom breaks. July 5th is the busiest day of the year for animal shelters in the United States because of frightened dogs escaping their yards in fear of fireworks.
2. Party During the Day
Ideally, you want your pup so pooped by the time the sun sets that she'll sleep right through the show. Let her run free at the dog park or go for a long walk during the day so she'll be exhausted and calm during the fireworks. You can also skip the nighttime festivities altogether. Even if you think he'll be okay, it's best not to put Fido in a situation where he may feel anxious or scared. Instead, celebrate at a dog-friendly, fireworks-free July 4th event during the day. Here are a few of our favorite Independence Day parades and parties that welcome your canine compatriot.
3. Dress Your Dog for the Occasion
Decking out your pup in red, white and blue might get her into the holiday spirit, but we're talking about the essentials. Keep your dog's collar on at all times, and make sure it has up-to-date ID tags with your current mobile phone number and address. If your pet is microchipped, make sure the info is properly registered. You can also buy a snuggly-fitting anxiety wrap or vest like a Thundershirt, which has been proven to ease canine anxiety.
4. Find a Comfy Spot for Fido to Not Watch the Fireworks
Keep Fido contained and comfortable in an interior room of your home or in his crate during the evening hours on July 3rd and 4th. A bedroom or bathroom is an ideal spot for your dog. Screens are no obstacle for scared pups, so close the windows and doors to the room. If you're at home, join your pup in his special safe area and comfort him with some TLC.
5. Use Calming Aids
There are several natural remedies that can help anxious pups relax during moments of great stress. You can play soothing music or white noise from a box fan, Spotify, TV, or other device to help drown out the frightening booms from the fireworks and keep your canine calm. Relax My Dog has a three-hour soundtrack to help dogs deal with fireworks and thunderstorms.
If sounds don't soothe the beast, try natural calming aids. Herbal treatments such as lavender, valerian and chamomile have proven to have a positive effect on nervous pups. They can be administered as essential oils or purchased as chewable calming treats. Hemp oil for dogs is becoming a popular choice as an anti-anxiety remedy. Add a few drops to Fido's food at dinnertime before the pyrotechnics begin.
6. Give Your Pup Something Else to Do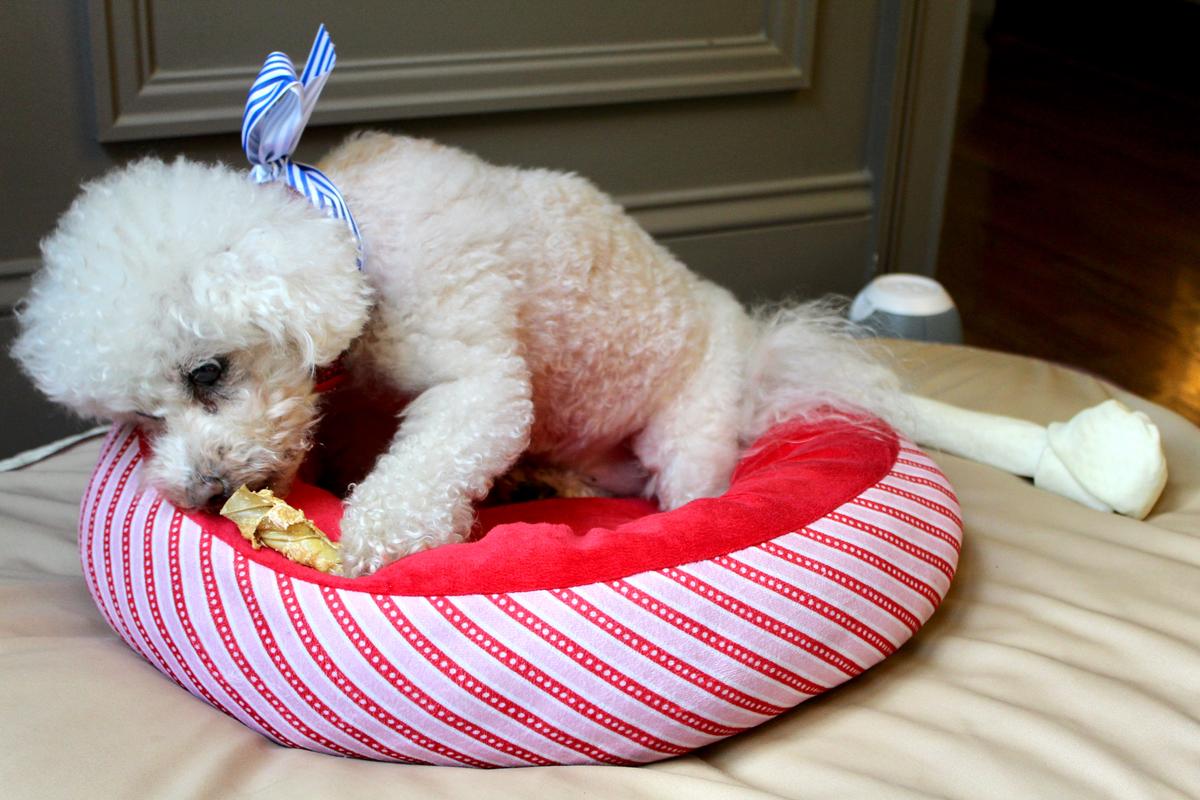 Try distracting your dog with a long-lasting treat (like a peanut butter-stuffed KONG dog toy or a big, meaty bone) that will keep her occupied and focused on something yummy, rather than loud, scary noises. While this isn't a fail-safe method, it has proven effective for some pet parents.
7. Be Prepared in Case of Emergencies
Keep the contact info for your vet or the nearest animal hospital handy in case your pet has a medical emergency. Sometimes dogs hurt themselves when they are suffering from anxiety. They can jump through a glass window or bite through their crate and injure themselves. Dogs can also have a bad reaction to medications (like Benzodiazepine) meant to help them. Consult with your vet before giving your pooch any drug to help him deal with his stress.
8. Begin Training (Far) in Advance
Desensitization training can help ease your dog's fears when the fireworks start going off, but it takes time and patience. This form of training exposes pets to a stimulus (in this case, a loud or scary noise) starting at a very low intensity, while they're engaged in a positive activity. With continued positive reinforcement and behavior modification training, by next Independence Day, Fido may be worry-free!
Did we leave anything out? Share your best tips for keeping dogs safe this 4th of July. Leave a comment or tweet us @BringFido!