While their path of destruction is typically more narrow, the devastation a tornado can cause in a matter of minutes rivals that of any other natural disaster. Unlike hurricanes, wildfires or winter storms, tornadoes offer very little warning before they strike. However, there are steps you can take to protect you and your pet in the event of a tornado.
Understanding Tornado Watches and Warnings
Stories of dogs predicting a tornado before anyone else are prevalent. While it's likely that our pets are just making better use of their keener senses than the humans around them, that doesn't mean they can't help give you a few additional and crucial minutes to act. Whether you're alerted to impending bad weather by your own sixth sense, your pup's behavior or the forecast on your phone, understanding the difference between tornado watches and warnings is critical to helping you keep yourself and your dog safe.
Tornado Watches are issued when weather conditions may lead to a severe storm or tornado. Be prepared, head inside with your dog and keep him nearby. Identify a safe location to shelter in place if needed, and continue to monitor the National Weather Service for alerts.
Tornado Warnings are issued when a tornado has been seen or identified by radar in your vicinity. Head to your safe place with your pup and take shelter until the NWS issues an all clear.
Preparing for a Tornado
Identifying a safe haven to ride out the storm should be your top priority before disaster strikes. An impending tornado might cause Fido to instinctually try to run off, so keeping him secure in an enclosed space is critical. While having a basement or storm shelter is a good idea, especially if you live in Tornado Alley, your safe place can also be a closet, bathroom, hallway or even a stairwell. It should be an interior location of your home (not along an exterior wall), on the lowest level of the building, as far as possible from windows and exterior doors.
What To Do During a Tornado
Bring your dog on his leash, his carrier (if he has one) and an emergency kit for you both to your safe place, along with a battery-operated radio, flashlight, food and water. Your dog may need to relieve himself while sheltering in place, so it's useful to have puppy pads stored in your storm shelter if you live in a high-risk area. Our pets are very sensitive to our emotions, so try to remain as calm as possible. Above all else, never leave him outside during a tornado warning. Remain sheltered in place until you hear official confirmation that the danger has passed.
Dealing With the Aftermath
Once the immediate threat has passed and you emerge from your safe location, do a check of your home's interior and exterior before letting Fido roam free again. Check for areas of broken glass, fallen trees or large branches, and broken fences. Alert authorities of any downed power lines. Do not re-enter significantly damaged buildings. In the event of extensive damage to your home or surrounding area, you may need to temporarily evacuate or relocate. Our furry friends' senses are more finely tuned than ours, so they may become aggressive or disoriented as a result of the stress. Monitor their behavior closely and contact your vet if problems persist.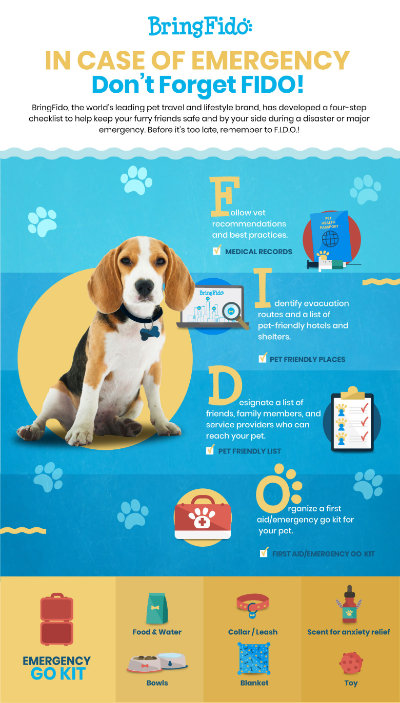 Don't Forget F.I.D.O.
BringFido, the world's leading pet travel and lifestyle brand, has developed a four-step checklist to help keep your furry friends safe and by your side during a disaster or major emergency. Before it's too late, remember to F.I.D.O.!
Standing By
BringFido stands ready to assist you during any emergency evacuation. Our Canine Concierges have secured thousands of hotels, vacation rentals and shelters for evacuees, while offering essential advice on how best to navigate these highly stressful times. Visit our website or mobile app, where you can browse and book more than 250,000 hotels and vacation rentals around the country. Or, call us and let us do the legwork for you. Our Canine Concierge team contacts the hotel to confirm the assignment of a pet-friendly room and can even help with any exceptions or special requests that you may have.
Remember that when you book with BringFido, you enjoy the benefit of our Pet Friendly Guarantee, and you'll never pay a booking fee. Call us at 877-411-3436 to speak to one of our friendly agents, or save some time and book online. Either way, our service is free.
The animal members of our family turn to us for safety and protection during natural disasters. Taking the time to prepare could be the difference between tragedy and a silver lining. Follow the four steps of F.I.D.O. and check in with #fidosafe to let us know you're safe.
Are you and your pet prepared to act in the event of a tornado? Leave a comment or tweet us @BringFido!