Fox Hill Bed & Breakfast Suites welcomes two dogs of any size for an additional fee of $20 per dog, per night for the first two nights, and $10 per dog for each additional night. Dogs cannot be left unattended in B&B suites, and must be crated if left unattended in Kitchen suites. No cats allowed.
Low Rates from $169
Or call (540) 377-9922 for more information.
Description
Fox Hill Bed & Breakfast Suites is a 38-acre country retreat. You'll be greeted with a warm welcome and special dog treats, and just wait until you see all the wonderful outdoor experiences awaiting you. You can stroll in the shade and splash in the spring-fed stream as the bluebirds swoop by, wander along mowed paths through the wildflower meadows, or play a game of frisbee in the field. Don't worry if you get a little dirty -- there is a special outdoor dog washing station equipped with shampoo (just let us know if you need towels). Some nearby dog friendly activities include a hike in Goshen Pass or the Blue Ridge Mountains, a trip to Natural Bridge, a vineyard tour, a stroll along the Chessie Nature Trail alongside the Maury River, or a weekend double feature at Hull's Drive-In Theatre (April-October).
Amenities
Non-Smoking Property

Free Parking

RV / Trailer Parking

Parking Available

Free Breakfast

Breakfast Available

Cable Television

Kitchen / Kitchenette

Family Rooms

Free WiFi

Internet Available

Pet Friendly
Reviews
Fox Hill Bed & Breakfast Suites has received a rating of 5.0 out of 5 bones by 3 dog owners on BringFido and 5.0 out of 5 in 85 traveler reviews on TripAdvisor.
Definitely the place to stay

Aug. 13, 2017

Definitely the place to stay

I can't begin to say enough wonderful things about our stay at the Fox Hill B&B. The property is amazing. The Cornwall suite where we stayed was wonderful - beautifully decorated, spacious and such a comfortable bed. We had our own little deck outside our door where we could just sit and admire the view. The property was a peaceful and relaxing oasis. Cathy and Mike ware lovely people who really make you feel at home. The breakfasts are delicious but just a warning - they serve a 3-course breakfast so don't fill up on the first two courses, they are just the appetizers. Our dog, Murphy, was in heaven. The grounds are well kept and sprawling. He enjoyed wandering around and meeting the horse,the donkey, the dogs and the cat. Whether you have dogs or not, we would highly recommend the Fox Hill B&B.

Paradise!

More than one year ago.

Paradise!

This is a fabulous place to vacation with your dog! Jake and I just spent a long weekend there and we both had a wonderful time! We stayed in The Fox's Den and just loved it! The rooms are immaculate ! There are 38 acres of fields, streams and woods to explore-the trails are so well kept-it's just beautiful. Jake and I travel a lot together and Fox Hill is, by far, our favorite place to stay! We both highly recommend it!

perfect

More than one year ago.

perfect

My dog and I stayed in the Mountain View cottage, and was probably the best vacation we've ever had! The suite was beautiful, immaculately clean, and had gorgeous views of the surrounding mountains. And outside, my doggie was in absolute paradise!! She never wanted to come inside, she looked so happy roaming the 38 acres of meadows with a giant smile on her beautiful little face.
Submit a Review
Traveler Photos
Want to feature your creature? Upload a photo of your pet at Fox Hill Bed & Breakfast Suites below! You can also share by using the hashtag #bringfido on Facebook, Twitter, Instagram, or Pinterest.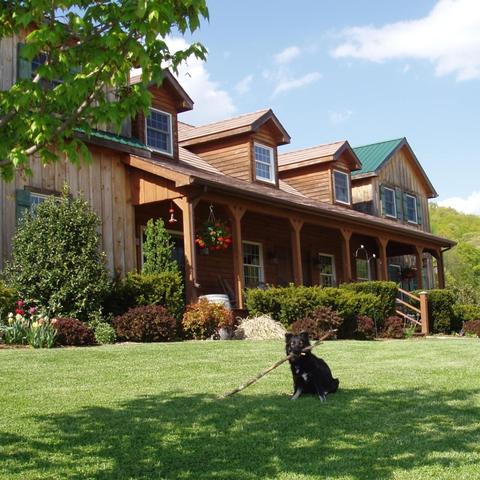 Share a Photo