Description
Tognazzini's Dockside 3 is a dog-friendly seafood restaurant in Morro Bay with leashes around the tables and water bowls for your dog.
Reviews
Tognazzini's Dockside 3 has received a rating of 4.3 out of 5 bones by 6 dog owners on BringFido and 4.5 out of 5 in 50 traveler reviews on TripAdvisor.
Okay food

Decided to try this restaurant. There are a lot of flies around which made it feel dirty to me. All of the seating is outside on a pier look at the bay. We brought our two dogs and there were a lot of other dogs. Fish and chips were good as well as the fries. We got the 15 piece fish and chips for $38. Nice place to stop and okay food! Great place for dogs and they also had a band playing. Enjoy!

Small but dog friendly

Jan. 02, 2017

Small but dog friendly

We ate at Dockside 3, which is the boat shaped building. It's very small, so dogs did not have much space or distance from others, but dogs are definitely welcome-- there are treats at the register. We realized later there are three parts to the restaurant: Dockside 1 (most northern, closest to dock), this is where we should have been, very dog friendly patio with a great view of the rock; Dockside 2 (interior diner) not for dogs; Dockside 3, which is more like a quick take-out with no view. Dockside 3 food was very good, recommend the clam chowder bread bowl.

Great little place!!

More than one year ago.

Great little place!!

Location incorrect - It's actually on the other side by energy stacks. Great food, music, view -- loved sharing vacation time with our pups!

lots of fun

More than one year ago.

lots of fun

We enjoyed the food, the live music, and the fun atmosphere.

Yummy lunch

More than one year ago.

Yummy lunch

We had a great lunch and they are very dog friendly. Good fish and chips and fresh and bbq oysters. Water bowls for the dogs.

Awesome food & fun atmosphere for the doggies!

More than one year ago.

Awesome food & fun atmosphere for the doggies!

My husband & I always stop in at Tognazzini's Dockside when visiting the central coast. This is after of course, the mandatory visit to the Cayucos dog beach : ) They have live music on the patio everyday, AMAZING fresh seafood, good beer/wine selection and the dogs all have a good time. The patio is literally on the dock, and there are leashes all around for you to use while dining. They also have fresh water under the benches all around the perimeter so the dogs are happy too :) We love seeing the owner's dogs each time too, who have a special table on the patio where they all hang out. Definitely a must try if you want a fun place to hang out with your pups!
Submit a Review
Traveler Photos
Want to feature your creature? Upload a photo of your pet at Tognazzini's Dockside 3 below! You can also share by using the hashtag #bringfido on Facebook, Twitter, Instagram, or Pinterest.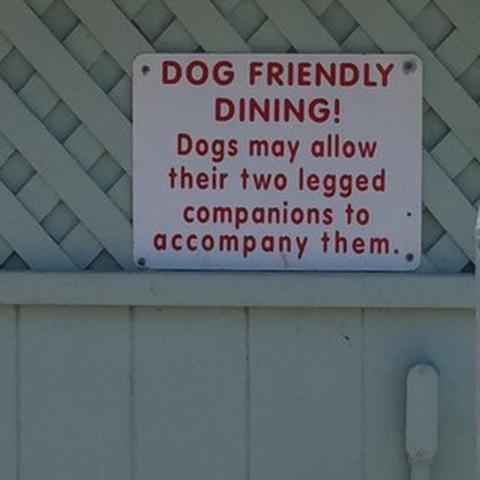 Share a Photo