Troy
Member since March 2019
We have 2 Goldendoodle puppies and senior miniature Schnauzer.
Reviews
(1)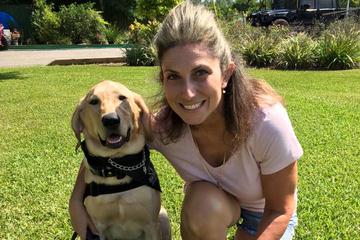 Not Cheap, but worth EVERY penny!
Sam Ivy K9 Consultants
It is clear that the previous reviewer has never used Sam Ivy K9 Consultant. My wife and I have used them. Here's our story. (Warning: this is a lengthy post, but it will give you a good understanding of the outcome you'll receive if you choose Sam Ivy).
After my wife Jennifer and I lost our miniature schnauzer Addie to cancer in May 2018, we made the decision to get a female Goldendoodle puppy. When we were paired up with our pup, we found that one of her siblings didn't have a home. We also recognized their extremely close bond. We came home with two. Jennifer and I were excited about our new family members. However, even though they went to four-weeks of boot-camp offered by the breeder, we had no idea what was in store for our two-person, one-dog family or our house. Needless to say, they were sweet but wild and uncontrollable. We crated them sometimes and kept them confined to our foyer other times. We blocked off other portions of the house using their crates and child gates. Even though our dog-walker (a neighbor) would spend time with them 3-times a day, boredom between daily playtimes and walks translated to partial holes in the drywall, teeth-marks on the baseboards and doorframes, and Berber carpet unraveling. They bothered our senior blind schnauzer, Cody by wanted to play with him constantly. They also quickly figured out how to break free from their area causing us to install a series of inconvenient tall gates around our entranceway. Our excitement for Elvis and Zoey turned to utter frustration. Caring for them became a huge chore. Almost in unison, Jennifer and I said, "we will NEVER get puppies again!"
I decided it was time to look up dog trainers. I scoured the internet and found many in our area and looked through the reviews to see where I should start with my calls. Sam Ivy K9 Consultants was towards the top of the list. I was surprised and rather skeptical about the 5-star rating by so many people (since many places cheat the review system). I was delighted to see that the reviews appeared genuine and clients gleamed with the outcome of their "new" dog. We wanted that!
I sent an email through the Sam Ivy online system to schedule a free consultation. On the Saturday of the appointment, a very large guy climbed out of his vehicle and introduced himself. Enzo was his name. We met him outside to prepare him for the Goldendoodle army of two that was going to attack. He came inside, saw Elvis and Zoey as they wanted to get up close and personal with this new stranger. He also witnessed their double-doodle damage. He looked at us, smiled and said, "No need to worry. We can fix this." Enzo went over everything from start to finish. He explained how the mind of a dog works, why they don't listen, and the process of the training. Everything we had been doing was not helping. He made us feel comfortable with the prong collar and the e-collar and provided the basis for the training. He gave us the packet of information, shook our hand and told us that the smart ones are usually the wild ones. He ended with, "they're going to do very well."
Jennifer and I looked over the material, but the decision was already made. We committed to following every-single-step so that Elvis and Zoey could become a part of our family.
January 2nd, day 1 of training came and we were VERY excited. Gina Marie Avitabile arrived at our home and the Doodles, being consistent, jumped up and down with excitement. Gina didn't look at them except to say, "NO". She meant business. We liked her right away. She went over everything with us and made us feel as comfortable with the process as Enzo had during the initial consultation. The first session was fairly simple with a guide to getting our Doodles to listen and to learn that WE were the bosses. The second session, which was a few days later, we learned a little more. That theme continued and the systematic approach that is a part of your program was seamless. After successfully completing the Intermediate On-leash program, it was an easy choice to continue with the Intermediate Off-leash program.
Since a program is only as great as those who instruct it, Gina is excellent! Upon meeting her, we could easily tell that she is a professional who loves every aspect of her job. She is firm with the dogs, yet very kind. Gina's patience with Elvis, Zoey, Jennifer, and me (mainly with the humans) is a trait and skill that most do not possess. Because of her dog training, instructions, kindness, dedication, easy-going nature, and systematic approach, Gina has changed our household. The gates have come down and Elvis and Zoey are a part of our family. The love that they show us has been greatly enhanced. It is no longer a chore to have puppies. We look forward to every second with Elvis and Zoey and know that they are going to be with us for the rest of their lives.
Elvis and Zoey graduated from Intermediate Off-Leash training recently ending our sessions with Sam Ivy K-9 Consultant. It is exciting and still bitter-sweet. Gina has made such an impact that she has become family. 'Thank you' doesn't begin to express that amount of gratitude we feel towards Gina and Sam Ivy K-9 Consultant.
Thank you to Gina and Sam Ivy K-9 Consultants for officially making Elvis and Zoey a part of our family.