Nathan
Member since April 2018
Reviews
(1)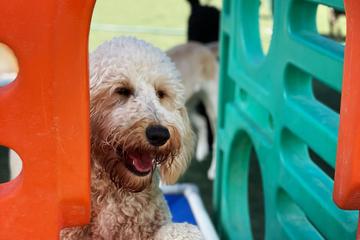 Never board your dog here.
Bed and Biscuits Groomingdales
I picked my dogs up this morning after an 8 day board. While gone on business, I did not receive 1 update on my dogs. I did, however, leave a message 4 days into the board with no response.
After picking my dogs up and paying a whopping $1,106.65, I noticed Lilly, our 3 yr old female maltipoo, had some yellowish stuff (later determined to be feces) smeared on her face and right paw and was acting very timid. I did not drop her off for her board covered in poop so I would expect her to be returned in similar fashion.
While gone, Bed and Biscuits took it upon themselves to get my dog Gizmo, a 7 yr old male rescued Poodle/Chihuahua mix butt glands popped or massaged. Cost An additional $141.00 Not even sure what they did. I cannot read the vets note and the lady at the front desk said she didn't know what happened because she wasn't working that day and it wasnt written it the computer. That's the answer I got. Forget asking her supervisor. I bit my tongue in frustration. Then I noticed Lilly's face/snout covered in fecal matter as I left. I will NEVER bring my dog to be boarded here again. And I SERIOUSLY recommend you do the same if you regard your pets as more then just animals. ****NOTE: THEY NEVER EVEN CONTACTED ME TO INFORM ME THEY WERE BRINGING MY DOG TO THE VET AND GIZMO IS STILL RUBBING HIS BUTT ON THE FLOOR!!!!!****
I have pictures but it doesn't give me an option to load them. I will post my review everywhere possible so hopefully other sites offer the photo option. I immediately called and left a message. UPDATE: I spoke to a manager name Trent. I had to call to get into contact with them since they had not yet called me back. He was unfamiliar with the situation since he said he was out of town in New Mexico. He was very polite and In apologize many times. He said he would refund the $141 vet bill. GREAT.
Still does not explain why our little girl was covered in fecal matter smeared on her snout and right paw. It's still does not explain the discoloration of her skin and the bruising we noticed. Not happy.