Amy
Member since November 2019
Family of 3 with a sweet newfie.
Reviews
(2)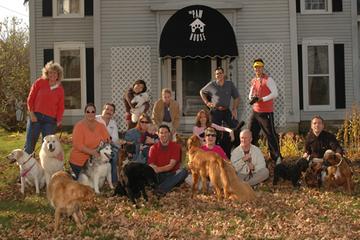 Awesome place to travel with your dogs
The Paw House Inn & Cottages
Everything was clean and everything you could possibly need to enjoy some time away with your dog was at your fingertips. A kennel, which we did not use, a dog washing station, hose to clean off our dog that couldn't get into the tub, towels, bowls, sheets, dog park, and super friendly staff. We traveled with our daughter and 2 dogs. Wilma, 5 year old Newf and Marlin 5 month old lab mix. We stayed in the Spot room and there was plenty of space for all of us and we absolutely loved the enclosed porch with swing. Our dogs enjoyed playing in the dog park with other guests. Everyone wore their masks or kept their distance. The other guests were friendly and everyone was responsible with their pets. Breakfasts were excellent. Mitch was incredibly responsive during our planning and made sure we were comfortable and felt safe traveling during COVID times. Their website has a wealth of information about the area and things to do and where to eat. We found that incredibly helpful. We enjoyed hiking and swimming at Leffert's Pond and we hiked to Chaffee Falls. We visited Sugarbush Farms, Woodstock, and ate at the Rustic Rooster and the Lake House. We highly recommend the Paw House to anyone who is looking to take a relaxing getaway with their dogs. The accommodations are perfect. We also enjoyed the sculpture park right next door and at night the stars are magnificent.
Unique, Fun, and Dog Friendly
Made INN Vermont, An Urban-Chic Boutique Bed and Breakfast
We stayed at Made INN Vermont this past week for our family vacation to Burlington. We booked this trip in January, before all of the COVID craziness. Linda and her staff made sure that we were comfortable with the restrictions and did not have to cancel our trip. The Inn is beautiful. A music lovers dream. Vinyl everywhere and a turntable in your room. Musical instruments and unique games galore. Our fridge and snacks were well stocked. This is also a candy lovers dream!! Candy all day. We enjoyed the all inclusive beer and wine amenities. The hot tub was great after a day of walking around Burlington. The cupola was lovely and had amazing views of Lake Champlain. The chalkboard was fun to leave a message or drawing. Robes, slippers, towels were all provided. All kinds of sanitizers and toiletries were also well stocked in your room and bathroom. We traveled with our daughter and 2 dogs. (BIG dogs) Linda was so welcoming of our entire family and made sure we were well fed every morning for our day out and about. Our dogs were provided treats, bowls, water, and maybe even some bacon!! It truly is a unique bed and breakfast and we really enjoyed the experience. We highly recommend MIV for anyone traveling to the Burlington area who wants to stay somewhere different from your usual hotel. And yes, the bathrooms are down the hall, but they are private… you get a key and it is only yours, not shared. It really was not a big deal to go down the hall for us, even with a puppy who had to follow me there every morning and a child who had to be supervised. We stayed in room 905 which was nicely appointed and plenty spacious for our family. Our one dog is a puppy mill survivor and was afraid of the stairs to get to our room, Linda was great about letting us know when we were the only ones in the Inn so we could give the dog a bit more freedom and space that she needed to get comfortable going up and down the stairs. She also communicated with us when others were unexpectedly staying in the Inn so we would not be surprised by their presence. Parking is best out front and you can really walk everywhere (we didn't, but you can). I highly suggest you read the website completely, everything you need to know about the Inn is there. There really should be no surprises if you read (like the bathrooms). We were really happy with our stay and were pleased that we could stay in such a unique space with our dogs.