Denise
Member since June 2018
My husband and I are recently retired and have a 6 month old Mini Golden Doodle pup.
Reviews
(3)
No More Dirty Dog
Pup Scrub Self Serve Pet Wash & Grooming
My husband, granddaughters and I brought our 6 month old pup in for a bath. The staff could not have been more helpful and friendly. They walked us through the process and provided help as needed. Very attentive. Though the pup didn't love the bath (he never does) it was efficient and painless. This turned out to be a fun family activity.
Great Place to Run Free
Sandy River Delta Park
While visiting our grandkids, we needed a place to play with our 6 month old pup. The Sandy River Delta was perfect. Our grandkids taught the pup to retrieve a frisbee. There is so much room to run without watching for traffic. All of the other dogs and their owners were friendly. We will go back before we return home to So Cal.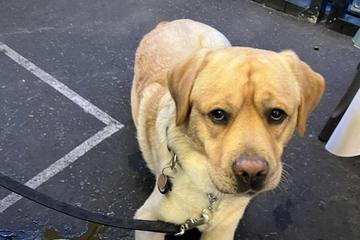 Fun, memorable experience
Cafe Fina
While walking along the Wharf looking for a specific dog-friendly restaurant, we came across Cafe Fina. We were greeted by the host and seated quickly on the patio where our pup was given water and positioned in a perfect places to people and dog watch. They had a great dog menu and excellent human menu. We had a perfect evening.