Holly
Member since June 2018
Digital Marketer, looking for exceptional dog-friendly experiences to be had with an opinionated mini-mutt, one city at a time.
Reviews
(1)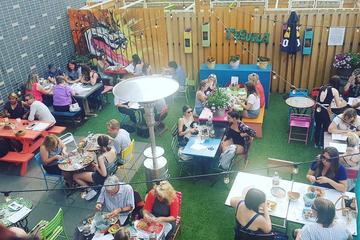 There's a Dog Friendly Patio in Edmonton!
El Cortez
The best experiences are the unexpected ones. If you've ever travelled with your dog, you'll know it's a challenge to experience a city if your dog is cooped up in a hotel room. After doing my ' dog-friendly places in [insert city here]' google search, I found a fantastic blog by Linda Hoang that listed El Cortez as 'Edmonton's first, provincially approved, enclosed patio that allows dogs in as of May 2018!'. Obviously, we had to check it out. I called ahead to confirm that I could indeed bring my dog. The hostess confirmed, so we hopped in an Uber and were on our way.
First off, the staff at El Cortez is very friendly and welcoming. It took me a minute to get used to how lovely they were to my mini-mutt, Zoey. The hostess found us a shady table on the patio, and immediately brought Zoey a dish of cold water. The patio has this great colourful and vibrant design, creating this incredibly chill atmosphere. There were about six tables with dogs comfortably sitting at their human's feet.
My server came over as soon as we were settled in. It was a hot day, so I went with their Friday special, $5 Coronas. Everything on the menu looked fantastic, but I wasn't that hungry so I ordered 'Valentina's Cauliflower Tempura'. The sweet and spicy snack hit the spot, and the portion size is generous. Next time, I'm definitely trying the Tacos. They looked delicious coming out of the kitchen.
El Cortez has a vast selection of tequila, so naturally, I had to try their Margarita. All I can say is their bartender definitely knows what they are doing. The Margaritas are dangerously good and easy to drink. Had Zoey not been desperate for a walk, I could have stayed on that patio for a few more hours.
I highly recommend visiting El Cortez if you're looking for great food & drinks, or an amazing place to hang out with your dog.
Now, If only this dog-friendly Mexican Kitchen and Tequilla Bar existed in Toronto...