Ej
Member since July 2018
Reviews
(1)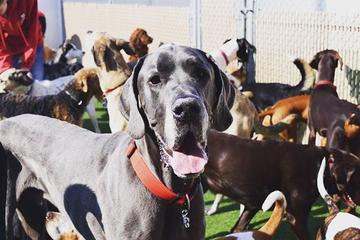 "If you love your dog don't bring it here"
Camp Bow Wow Golden
DON'T BRING YOUR DOG HERE!!
GO TO THE DENVER CENTRAL LOCATION THEY'RE PHENOMENAL.
Completely incompetent and unprofessional staff. They clearly are understaffed and not dog people. My dog has been boarded over 20 times at 3 other locations with absolutely no problems at all. When I picked up my dog he had multiple lacerations and puncture wounds on his face. They said absolutely nothing about this to me. He was also acting very traumatized because he was locked in a cage all weekend.
Four days ago I asked for video footage from his incident and still have not received it. The manager is an extremely nasty lady. I was out of cell phone service when they tried contacting me because they wanted to release my dog early. They proceeded to harass both emergency contact 5+ times a day when my contacts already stated that they could not pick up my dog and would let them know if they heard from me(This does not seem like a good use of their very limited resources). On the flip side you can not get through to them if your life depended on it. One day I called about 40 times through out the day. They picked up once, put me on hold, hung up, and then had the phone go straight to voicemail when I tried calling back. This also happened before I had even brought my dog to stay there. When I finally got through to the manager she answered absolutely none of my questions or concerns. She laughed at me and even hung up. The manager forwarded my matter to the regional director. When I asked for his contact information she refused to give it because "she would have to look it up."
When I was on line picking up my dog there was a woman picking up her dog in front of me. The staff informed her that she would need to pay for training sessions if the dog were to come back because it was nipping at them. The woman said she too has never had any issues at all like this in the past, not to mention her dog was about 10 pounds. It's honestly scary that this place is even open, I'm fearful for any dog staying here.