Rebecca
Member since January 2018
Reviews
(3)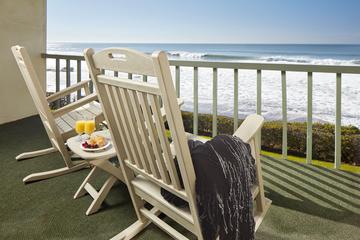 Slowly going downhill.
Cavalier Oceanfront Resort
There was a time when I would have given this hotel 5 stars. Since the hotel left the Best Western chain, cleanliness has gone downhill. We stayed in an ocean view suite and the floor was covered in food crumbs. My dog spent the first minutes in the room trying to get what turned out to be half a granola bar out from under an armchair. Were there left over pharmaceuticals accidentally left on the floor? Toxic sugarless gum or candy? I had to put my dog back in the car and search the carpet to see what else what there. When I took a shower, the tub was not draining well. I pulled the tub stopper and was horrified to see an enormous clump of black (likely human) hair hanging from the drain. Gross! During out stay, no one restocked the snack drawer or mini fridge. I would have purchased more snacks had they been available since it's not easy getting out with the dog all the time and having in-room snacks at a reasonable price is so convenient. You can't complain about the ocean view, or the miles of ocean front to walk, but housekeeping really needs to step their game back up to the level this hotel was at as a Best Western.
Disorganized mess.
Wild Blue Dog Camp
I was really looking forward to attending the Lake Tahoe camp with my dog, but there were red flags from the start. I was not sent acknowledgement of either my deposit or payment in full until I asked for them several months later. The website was never updated with information for the 2018 camp. The camp's facebook page was never updated except with stock photos of random people playing with dogs. The promised newsletter never materialized. Check in information was emailed mere days before the start of camp. It didn't come off as very organized.
This disorganization continued once I arrived at the 4H camp in Stateline, NV. There was still no schedule posted to the camp's website. The very first class, dog yoga on the beach in the morning, the instructor failed to show up. There was no schedule available at breakfast the first morning either.
That first day's activities included a beginning paddleboard and kayak class. The equipment was in poor condition and the paddleboards were filthy (they looked like geese had been hanging out on them). There were insufficient paddles and some people had to use broken paddles. Loose dogs were running back and forth across the paddleboards and kayaks during instruction. You couldn't hear the instructor. Many of the dogs were highly stressed by the chaos, mine included. As the camp controls the beach, they could have asked campers to hold off letting their dogs run loose until the 20 minute beginner class was over. Apparently no one thought to do that. As I said, very disorganized.
I need to say something about the incredible number of wasps that were EVERYWHERE. Apparently no one thought to ask the 4H camp to put up wasp traps. I was stung 3 times the first hour of camp, my dog was stung at least once. I talked to other people who were also stung multiple times. It also made eating outside nearly impossible as wasps swarmed the lunch area and landed on the plates of food. The wasp situation was only a problem at the 4H camp facility. There were almost no wasps at the resort hotel where most of the "campers" stayed.
Despite a lot of activities being listed on the camp's website, the camp quickly devolved into primarily a scentwork camp. The website showed this to be one of the many alleged activities, but the schedule was changed daily to give more and more time to this one activity. I was not interested in scentwork and had been more interested in kayaking, paddleboarding and hiking with my dog. The "sample schedule" posted on the camp's website show far more activities than there are in reality.
We went on one hike, that was not conducted safely. The camp asks that dogs that need extra space wear a yellow bandana. On hikes, these dogs that were growly and could be snarky with other dogs were allowed to run off leash. The one hike we went on, we saw multiple dog fights break out before we decided to quit and go back to our car for our own safety. No one that I've talked to who is dog savvy could understand why the camp would conduct hikes in such an unsafe manner.
This camp has changed hands multiple times from what I understand and is now under the management of "Wild Blue Dogs". Some of the campers have been coming to the camp for years and can be a bit clique-y. As a person new to camp, I felt very much on the outside and not particularly welcomed into the established group.
Drama aside, for what this camp charges, it should be A LOT more organized. Long story short, I spent the rest of the week kayaking with my dog pretty much alone (what's the point of camp if you're spending most of the time by yourself) and left before camp was over. While this camp seemed like a really good idea, and something I had been looking forward to for months, I can not recommend this camp to anyone.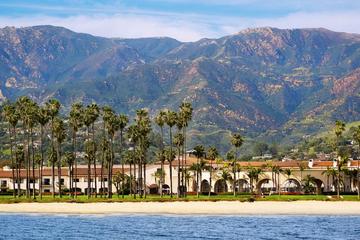 Outrageous Pet Fee!!!
Hilton Santa Barbara Beachfront Resort
We've stayed here for years with various dogs. We've seen the pet fee go from $25 a night to now $50 a night. We will be finding somewhere else to stay with our dog because once you add the pet fee, to the resort fee, to the parking fees, to the taxes... You can easily add 50% to your advertised room rate.