Jeffrey
Member since August 2020
Reviews
(3)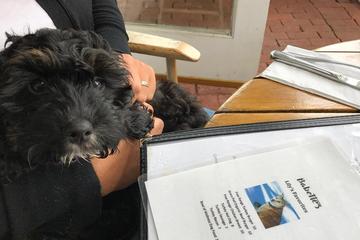 Great stop on the way home
Babette's
We were going home from Montauk and Lunch/The Lobster Roll does not allow dogs. Babette's was on our list of Pet Friendly from the BringFido site. We were coming home from a stay in Montauk with our 2 miniature Schnauzers. The menu looked more health conscious; and I am not that kind of foodie. I like nasty stick to your ribs food, but we need a place to eat and my wife had always wanted to go there. The place was very charming. After a short wait, we were offered a table that was more in the sun and I asked the hostess if we could wait for a close by table in the shade that just need to be cleaned. She was very nice and told us no problem. As I said the menu was more health conscious but I was easily able to find multiple choices that would still satisfy my healthy appetite. The food was amazing. Fresh, great tasting food, great presentation and service was excellent. Very welcoming to the dogs. I was so happy my wife insisted we go there. As usual, she was right!!! Great job Babette's, can't wait to go back!!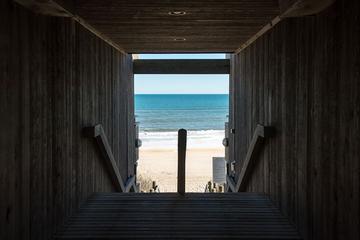 Great stay but a bit pricey
Gurneys Montauk Resort & Seawater Spa
This was our first time to Gurney's. We brought our 2 miniature Schnauzers. We had an Oceanfront Deluxe Room. The front valets gave a friendly greeting and the front desk staff were very pleasant and complimented us on how cute the pups were. We arrived about 1 1/2 hours before stated check-in time of 4 PM. They immediately told us they would notify housekeeping to try to get the room ready right away. They were able to get us in our room by 3 PM which was greatly appreciated. The hotel is rustic and one might interpret that as a bit tired, but the room was nicely decorated and appeared up to date. The patio/ terrace was amazing!! It had a big day bed looking out over the beach. The was great for the dogs to to look out and people watch or lie and the large day bed. Dogs were allowed on the beach after six. We took the dogs on the beach the next morning about 8AM and no one seemed to mind. There were other people walking with their dogs that were from the hotel and others not from the hotel. The pups loved it. My only complaint is that it would have been nice to also have a shade umbrella on the patio to stay out of the direct sun. All in all, it was a nice stay, but it should have been for that price.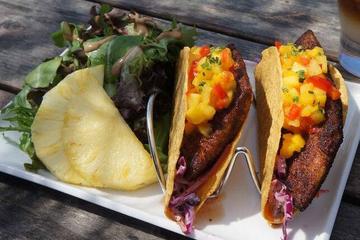 Last minute gem
668 The Gig Shack
Could not get into another restaurant and this was a standby. Went there and the place was casual, charming and welcoming. Went there with our 2 miniature Schnauzers. Food tasted very fresh and excellent flavors to our dishes. Incredibly friendly, unpretentious staff who gave us great service. We highly recommend it and we are hard to please!! We will definitely go back!!!