James
Member since January 2021
Reviews
(1)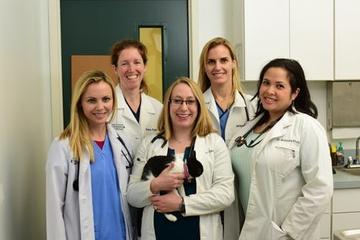 Terrible Place. Horrible Service. My dog almost died from their care!
Columbia Pike Animal Hospital & Emergency Center
My Dog Went to Columbia Pike Animal Hospital for a Routine Procedure but almost died under their care. Do not send your pets here.
On December 22, 2020, our 6-month-old English Bulldog Maya had a scheduled spay and cherry eye correction. We dropped off a healthy 6-month-old puppy at Columbia Pike Animal Hospital for relatively basic procedures and ended up living out a nightmare finding out Maya had pretty much died for 3 minutes under the hospital doctor's care. Instead of moving forward with running tests and figuring out what went wrong, the primary doctor running the surgery pretty much told my wife and I to pick her up and take her somewhere else. I understand that at the time, Columbia Pike Animal Hospital changed their hours due to COVID and did not have 24-hour care at the time, but at the very they could have offered to run tests to figure out if transporting her elsewhere is safe. The front desk staff did not help the situation. We continued to get charged for our visit and the person speaking to us lacked empathy and acted as if an 80-dollar discount and saying 'Merry Christmas' was something we should have been grateful for. Instead, it came off as condescending and heartless.
Even though the doctor did not run any tests to determine the issues that may have caused our puppy to stop breathing, the doctor told us the reason for this was due to one of two things.
1) My dog either had an allergic reaction to the anesthesia or,
2) She has an underlying heart condition such as a murmur.
My wife and I obviously took the doctor's assessment very seriously and since we were told to pick up our dog and to take her elsewhere, we went to The Regional Veterinary Referral Center Veterinary Hospital (RVRC) to have them not only monitor our dog overnight but also run tests to make sure there were not any residual effects or identifying issues.
Though my wife and I were initially relieved Maya was healthy, our feelings of joy immediately reverted to fear and ultimately anger. We are very disappointed in the treatment Maya and my family received from Columbia Pike Animal Hospital. If this had happened to me where I had gone under for 3 minutes, I do not see any hospital calling my family to come pick me up without running a single test to see what happened. Also, on top of that, to give two scenarios that most likely did not happen in that room to the grieving family. Instead of paying 2500 for my dog to undergo routine surgeries (cherry eye correction, spay), my wife and I ended up spending over 3500 dollars that day on measures to make sure Maya was okay. Those expenses and tests that we paid to have done were all based on Columbia Pike's Care and assessment.
We are grateful that Maya is okay, but the hell Maya and my family went through cannot go unnoticed. It was our hope that Columbia Pike Animal Hospital would understand as animal lovers, that this is something we cannot just let go.