Tj
Member since September 2018
Reviews
(3)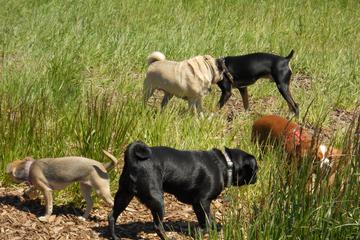 No Beach - No Small dog - High Crime Area
Warren G. Magnuson Park Off-Leash Dog Area
I'd heard so much hype about how great this place was - what a disaster....
First there was no signage to tell you where the place was, I ended up on the wrong side of the park closest to the Lake and a very desolate abandoned- looking area overgrown with blackberries. I passed the Fin art - so if you see that - RUN AWAY ! Walked quite awhile & finally found a fence - no signage for pedestrians.... but I could hear dogs, so I figured I was close.
Finally found a gate and asked a few people about the beach -
Its AN ERROR to post this as A BEACH FOR OFF LEASH. Its about 30 ft of waterfront and its dominated by ill mannered large exuberant dogs with owners who can't control them. I have 2 small dogs, we were mobbed by the big dogs until I physically picked my 2 up and tried to move away... well then its a weird gate system - no direction, no potty stations, etc.. I was asking myself " THIS is the best dog park we have? Are you serious?"
Someone finally noticed my distress & advised me that the small dog area was on the other side - they couldn't say how far. I packed up, went back to my car which was now 1 of 4 vehicles broken into.
But lets say I was just having a bad day ....
I tried a second time, found the side of the park with a small dog area - and the disappointment hits again - its not much bigger than my apartment living room. No water station, 1 bench, no cover.
Its probably an OK park for large robust dogs, but its an EPIC FAIL for my 2 terriers who need a small dog area to actually RUN AROUND. If you have a tea cup sized dog, it'll be an adequate large play pen. It's not going to offer any exercise benefit for small/timid breeds - don't waste your time.
In fact I'd call this area *Dangerous for you & your dog* in general - HIGH CRIME area - be prepared to be broken into & then fend off large breed dogs with owners who can't seem to control their dogs.
Not Small Dog Friendly
Mountlake Terrace Dog Park
I'll just say it - this is a "redneck park" meaning crass and unsophisticated dog owners who offleash - not terribly surprised to see "red neck dog" problems, specifically - un trained pit-mix, ,husky, cattle dog, german shepherd mix lab and wolf cross breed dogs that can't help forming packs and misbehaving as their owners stand by texting, instagramming or picking their nose.
The handful of responsible, decent dog owners I've met actually go elsewhere - but we all keep hoping this will become a safe & happy place. So we check back....
Sorry to burst the bubble.

I wouldn't recommend this for young pups - I don't recommend this for regular /medium sized dogs. Its not an appropriate small-dog park at all It doesn't seem to have the most minimal considerations for drinking water or sanitation.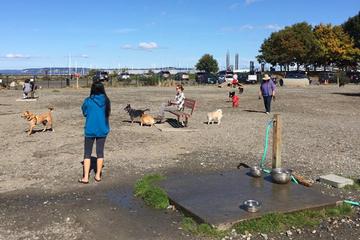 Not Great
Edmonds Marina Beach Off-Leash Dog Park
The sandy area is really minimal, the majority of the beach is tidal rock full of barnacles. To add to the mix theres been some type of kelp/seaweed explosion so everything has been coated with slime and sand fleas. I've followed the tide tables and been at low, mid, and hi tide. We had 1 really awesome day in May - but its been less than great every other time since ( 6 times now June thru end of August) I'm not interested in coming back. Maybe it gets better in winter months ?
This beach needs a good dredging to make it safe to even walk around, let alone have your dog running around. Hi tide is good if your dog is a swimmer, otherwise you'll have a lot of ripped paw pads and cuts on your dogs feet.
There is a long sand/ pea gravel accessway to get to the beach & then just paved parking nearby, so days it got in the hi 80's and 90's actually burned my dogs feet, I had to carry her from the beach to the car.
Pretty good mix of people, can't say I had any real issues other than people who bring their large breed puppies & then don't control them.
Sometimes people think they have "puppies", but large breed "pup" can be wild - and actually hurt small dogs, such as mine.
I'm not certain if the 8x10 fenced box was supposed to be the small dog area, It had broken glass and burning hot pea gravel and no clear means of access (?)