Robert
Member since November 2018
Reviews
(2)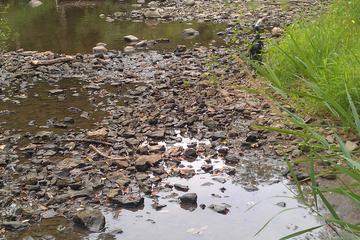 Great Dog Park!
Johnson Dog Park
This is a great dog park. Having now traveled cross country and visited several "five bone" reviewed dog parks with my lab mix (visiting son in mountains), I have come to appreciate this "home" park more than ever. Here is what you need to know:
a. This is a very large dog park, with access to river, pond, woods and meadow. The paths are well-marked, and the dog area enormous compared to virtually any other dog park you will find, not only in Wisconsin, but in the country.
b. Dog owners are friendly and helpful. Most importantly, they understand that the dogs do a better job of communicating than people do. I go almost daily, and my fella has never had a negative experience.
c. The owners almost all take care of the droppings. Because it is a large park, it is common for the owners to pick up poop in a bag, leave it on side of trail, and pick it up on way out. Most also pick up other dogs bags as a courtesy. Seeing bags on the side of the trail is not a sign of inconsiderate owners, it is proof that they are considerate. I walk 3-4 miles and do not carry the poop the whole way, but always pick up my dog's bag on the way out (unless someone else has taken it, in which case I will pick up a bag or two on my way out).
c. There are not separate areas for small and large dogs. But with such a large area, this is not a problem.
Until I visited 20 or so dog parks on my trip west, I never understood what a gem this park is. The ONLY down side is that there is only one garbage receptacle (hence the bags along trail), and no poop bags at entrance. So remember to bring your own bags, and everything will be great!
Finally, because it is such a large park, you will be able to enjoy numerous birds (owls, herons, and birds of prey are common, depending on the season), fauna, and my dog always sees (or thinks he sees) squirrels who want to be chased (he has never caught one, but is very proud that he often comes close ... even if there is no squirrel).
Seriously, this is one of the best dog parks I have ever seen, and any low ratings are likey because people see areas for improvement, rather than how much better this park is than any other opportunities for their pet.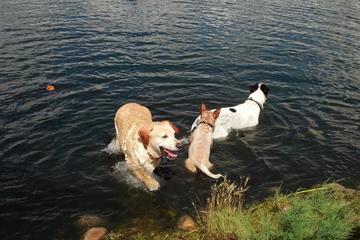 Small but good
Bitter Creek Bark Park
Stomped at this dog park on a cross-country trip in November 2018.
the pond was frozen and fenced-in, probably a good safety measure. Learn from a local that the pond is actually from a discharge, treated, he advised that he wouldn't trust for his dog to go into that water. Probably sound advice.
On the other hand, the dog park is run by the city, and it is doubtful that they would operate an unsafe facility for the animals, which is located just behind animal shelter.
Despite the weather, there were several dogs at the park, and the owners understood that the animals can communicate, and they had great fun playing. there does not seem to be a separate area for small and large dogs, but all got along fine.
Haven't driven from Wisconsin to Utah, this was the second best dog park out of eight that I saw on the entire trip. With so many benches, and friendly owners, it is a place to bring your pet.