Description
Stingrays Taphouse & Grill in Port Aransas, Texas. Pizza Brick Oven . 401 Beach Street Port Aransas, TX 78373 - (361) 749 - BATS (2287) Pet Friendly Patio• Over 20 + Taps of Beer . Live Music. ... Port "A's Sportsbar with Great Food! nice menu choices, Fair prices on Drinks. Nice beer selection. Water bowl for pet. Friendly staff.
Reviews
Stingrays has received a rating of 4.4 out of 5 bones by 5 dog owners on BringFido and 4.0 out of 5 in 251 traveler reviews on TripAdvisor.
awesome

Great food, wonderful service Jeff, our server, was fabulous!

Great Food and Very Welcoming of Dogs

May. 01, 2017

Great Food and Very Welcoming of Dogs

We visited Stingrays recently with my dog tagging along. They only have four outdoor tables where pups are welcome, but the first thing you notice is there is no shortage of water bowls available. Honestly, I didn't notice very many large patios in Port A, which surprised me. The servers were extremely friendly and welcoming. The food was great! Much better than I expected from a bar & grill. Try the brussel sprouts! Fish was not overcooked like at so many other places, and the breading was fantastic. And how can you go wrong with shoestring french fries? It's also a short jaunt to the beach from here. I highly recommend a visit to Stingrays if you are in the area.

???

More than one year ago.

???

First: the place IS pet friendly but our waitress doesn't like dogs. The water bowl that was given to me for my pups was very dirty. Second: the food was pretty good. Lastly: not 15 mins after eating here I was rushing to the bathroom. Then not 5 mins later I was rushing to another bathroom. I had the chicken sandwich, not sure if they just don't keep the good properly but I won't be coming here when I visit again.

Awesome Spot!

More than one year ago.

Awesome Spot!

Really good spot to take your pups. Tables are big enough so your pups can have their space. They provide ice cold water for the pups and the food and drinks are good. Good service as well.

????

More than one year ago.

????

Great food! The food is nicer than a typical bar but priced very well with a great drink selection. Friendly staff and atmosphere. Definitely recommend dining here with your dog!
Submit a Review
Traveler Photos
Want to feature your creature? Upload a photo of your pet at Stingrays below! You can also share by using the hashtag #bringfido on Facebook, Twitter, Instagram, or Pinterest.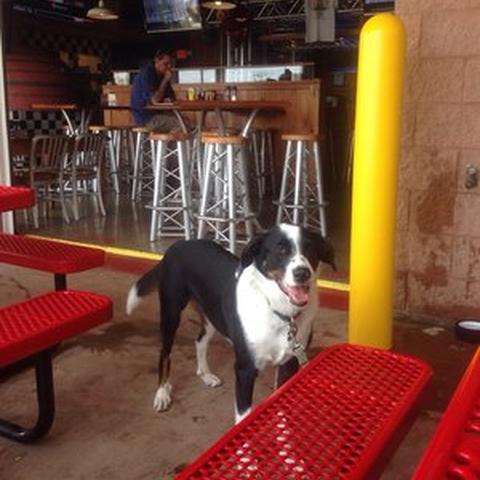 Share a Photo