About BringFido.com
BringFido.com is a dog travel directory that provides unbiased reviews, detailed pet policy information, and online reservations at more than 25,000 pet friendly hotels through a partnership with Travelocity. Information is also available on thousands of bed & breakfasts, vacation rentals, and campgrounds that welcome pets in 150 countries worldwide.
When making vacation plans, dog owners look to BringFido.com for the lowdown on both airlines and hotel pet policies, as well as recommendations on dog beaches, off-leash parks, outdoor restaurants, and other animal attractions in more than 10,000 cities around the world. BringFido even has a toll-free number (877-411-FIDO) dog owners can call if they need assistance locating a pet friendly hotel at the next exit on the highway, an animal hospital that's open at 4am, or the best restaurant in Little Italy that allows dogs to sit at its outdoor tables.
Since launching in April 2005, BringFido.com has helped more than half a million people take their dog on vacation. When you're looking for somewhere to stay, play or eat with your dog, BringFido.com is the place to come.
---
Founder Biography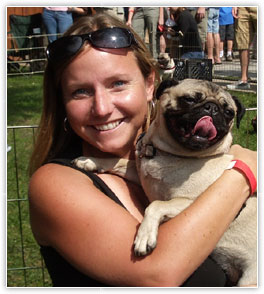 Melissa
Halliburton
Melissa is the president and founder of BringFido.com. Born with a love of animals, Melissa grew up with a bona fide menagerie of pets in her Southern California home. In addition to a Rottweiler and four cats, she had a California Desert Tortoise, an iguana, a rat, a Horned Lizard or "horny toad" and dozens of goldfish. And what's more, Melissa insisted that they all come along on board the family motor home for vacation every summer.
Thankfully, Melissa's parents are quasi-hippie animal lovers themselves, so she was never forced to leave her pets behind until heading off to college at the Massachusetts Institute of Technology (MIT) in 1996. Shortly after graduating, Melissa adopted her current dog, Rocco, and the pair has been inseparable ever since.
Melissa won't even go to Starbucks without Rocco, so as a self proclaimed "travel junkie" she was quickly frustrated by the lack of accurate hotel pet policy information available online when she adopted him in January 2005. And since leaving Rocco in a kennel was NOT an option, Melissa launched BringFido.com with the simple goal of making it easier for dog owners, like her, to locate pet friendly hotels. The company now helps more than 100,000 dog owners bring Fido on vacation each month.
In addition to her work at BringFido.com, Melissa is also a contributing writer for Fido Friendly Magazine and Pet Home Magazine. She currently lives in South Carolina with Rocco, her husband Jason, and their three cats. Melissa loves to hear from other dog people. If you have a question or comment about BringFido, she can be reached at melissa@bringfido.com
Top 5 Reasons to use BringFido.com for Hotel Reservations
BringFido has confirmed the pet policy at every hotel listed on the website, so there won't be any surprise pet fees, weight limits, or other restrictions when you check-in at the hotel. If you find a pet policy that is no longer accurate, let us know and we'll cover any additional pet fee you may have been charged.
Unlike most travel companies, BringFido does not charge a booking fee when you make a reservation. We even guarantee that you're getting the best rate available on all prepaid reservations. If you find a lower rate within 24 hours of booking, we will gladly refund the difference plus an additional $20.
You can choose a free gift every time you make a reservation online. Just visit the freebies page prior to booking to see the current offers and enter the appropriate gift code when making your reservation. We'll ship your free t-shirt, woof sticker, or other gift as soon as you return home from the trip.
BringFido donates a portion of all proceeds to numerous pet charities, humane societies, and rescue groups every year. You can help save a homeless pet every time you reserve a hotel room through BringFido.com.
We love dogs, too.