Description
Forge in the Forest specializes in gourmet bistro style dishes such as San Francisco style fondue, chicken satay lollipops, curry chicken paninis, margherita pizza, fettuccine Alfredo, and skirt steak, while offering dog-friendly outdoor seating with a menu for dogs, ranging from kibble to chicken and steak.
Reviews
Forge in the Forest has received a rating of 4.8 out of 5 bones by 22 dog owners on BringFido and 4.0 out of 5 in 556 traveler reviews on TripAdvisor.
dog friendly patio

More than one year ago.

dog friendly patio

Not only does the Forge have delicious food, and terrific service, they couldn't be friendlier or more welcoming to our dog. They have a special patio that specifically allows pets. Be sure to get the amazing chocolate chip cookie in the frying pan!

Best Ever!

More than one year ago.

Best Ever!

This is the greatest dog friendly restaurant ever! They offer a "Canine Cuisine" menu which by far is good quality food for the dogs and large portions. My 2 small dogs couldn't even eat the 1 order of the Quarter Hounder, so they shared it with another large dog. It would be great if more restaurants shared this openness to having dogs. BTW my meal was delicious!

don't bother searching any longer

More than one year ago.

don't bother searching any longer

I'll keep it short and simple. We are from out of town, fine dining, casual dress code and totally dog friendly. They have a great variety of meals on their "bark menu" for your pup. Need I say more

Wonderfully dog friendly--food is a mixed bag

More than one year ago.

Wonderfully dog friendly--food is a mixed bag

We went for an early dinner on a weekend night and had a great time with our dogs on the welcoming enclosed patio. The doggie menu is always a nice touch (though we didn't order anything this time). The human food, however, was decidedly a mixed bag. One of us ordered a personal pizza (not recommended at all) an the other ordered an entree special (delicious!) If you decide to go, stick with the simple dishes (like appetizers, as we saw many people doing) or choose a special. Otherwise, two thumbs up for dog-friendly dining!

AMAZING!!!

More than one year ago.

AMAZING!!!

Had an amazing seafood paella the first time we went and then a wonderful pork tenderloin the second. They have a menu for the pups. Though ours had already eaten, several dogs around us were enjoying their doggie dinners. I highly recommend this local gem!!!

Romantic Dinner Place

More than one year ago.

Romantic Dinner Place

We came here for dinner and got to sit outside, near one of the fireplaces (they also have heaters but we didn't need them). The outdoor dining experience cannot be matched. The fireplaces, plants and white Christmas lights make the ambiance special. We had our dog and she was welcomed warmly. The wine list was decent, The menu varied and our dog even got her own menu to order from. We ordered gnocchi and short rib. Overall, the food was okay, not great. However, I would definitely come here again for the dog friendliness (she loved her steak dinner) and the outstanding outdoor experience. I definitely recommend reservations for dinner.

The best

More than one year ago.

The best

We had dinner here one night, probably the best food we had on our CA road trip. Very dog friendly, with a dog menu. There were 6 dogs there the evening we visited...so a little barking, but everyone seemed to be so understanding. A little pricey but so worth it. I would recommend Forge in the Forest to anyone who is traveling with a dog and wants to treat themselves to an evening of good food.

Beautiful Garden Restaurant

More than one year ago.

Beautiful Garden Restaurant

We stopped in for lunch with our Westie after spending the morning on the beach. It was turning into a hot day, and this place was an oasis! Right of the bat they brought Wally a cool bowl of water, and our drink order. There is a menu for dogs that is creative and amusing. We declined due to Wally's dietary restrictions. Our food was great and attractively presented. The wait staff refilled our iced tea when they were almost empty. They were attentive without being intrusive. You may be surprised at the prices, but then you might want to remind yourself that you are in a tourist town, on the coast, and in California....

Great

More than one year ago.

Great

Very kind people! The patio is really nice

STEAK!!!!

More than one year ago.

STEAK!!!!

We decided to give The Forge in The Forest a try based on the great reviews here & we were glad we did. Patio area was great and the staff here are amazing. We have a well behaved but shy, large, mixed breed and he was instantly comfortable here. They really do take "Dog Friendly" to the next level. They brought our pooch a nice bowl of water right away and we decided to go with the "Good Dog" steak for him. When they brought it out-it looked & smelled delicious. Max confirmed that it was. We went with steaks also (from the human menu) and they were incredible -very tender & perfectly cooked. Service was very prompt & attentive. We will definitely be back.

Great patio

More than one year ago.

Great patio

I used to like the other sunny patio better but our pooches enjoy the 'dog pound, their dog friendly patio. The food is average but the servers are nice

Dog Friendly Outdoor Dining

More than one year ago.

Dog Friendly Outdoor Dining

This place had a great private outdoor patio with heaters and fire pit, a dog menu with meats, kibble, and dog biscuits available! The human food was decent but a little over priced. The crab stuffed portobello and giant cookie skillet were the best!

Fun Dinner with Fido

More than one year ago.

Fun Dinner with Fido

Carmel is uniquely dog friendly, but even so Forge in the Forest takes the cake, I mean kibble. We were traveling with another couple who did not have a dog so we needed to find an upscale restaurant with a heated outdoor seating area that was nice enough they wouldn't feel they were making a sacrifice because of our dog friendly requirement. We all had a great time. What a novelty to find a doggy menu on the table. The waiter brought out water for our dog right away and we had a large area for him to lay by the fireplace beside our table on the outdoor patio. Places like this make traveling with dogs fun.

Best ever

More than one year ago.

Best ever

The restaurant is adorable and cozy. The service was extraordinary. We indulged our human sleeves and even ordered a hot dog off of the dog menu. For Dunkles, our lovable mutt. While on the pricey side for our budget, the food was absolutely worth it as both our human meals were delicious. Thank Fido for your services!

What's not to like!

More than one year ago.

What's not to like!

When you walk into the restaurant and there are already at least seven dogs there, you know this place is dog friendly. Dog friendly is great, but if they don't have good food, what's the point? We went back here three times in our brief stay in Carmel we liked it so much. Our dog loved the chicken he was served from the dog menu and we loved our food. The service was good and friendly to humans as well as dogs.

Something for everyone!

More than one year ago.

Something for everyone!

This was a wonderful restaurant! I got my own water bowl, a couple of biscuits and some scraps from mom and dad. They said their meals and drinks were delicious! I met a golden doodle named Posey. She was pretty! Best day ever!!

LOVE this place!!

More than one year ago.

LOVE this place!!

We discovered The Forge a few years back when out in Carmel for our annual dog get together - we have large breed dogs (Leonberger's) and the group usually likes to go out to eat together after the dogs have played on the beach - usually about 7-9 dogs (all over 100 lbs) and they have always been able to accommodate us! The staff is wonderfully dog friendly - and kid friendly too - our girls love going there - their favourite spot is by the fir pit - they also love visiting with all the other dogs on the patio. We always start our meal with the San Francisco Fondue and end it with the giant chocolate chip cookie (well a few of them to go around) - now we go as often as once or twice a month and always end our day at The Forge. Feels like home now!

Great Ambiance and Food

More than one year ago.

Great Ambiance and Food

Forge in the Forest has one of the nicest dog friendly patios that I have ever been to! There are plenty of tables (but you can reserve ahead of time if worried), an outdoor fireplace for warmth and ambiance, and great dog friendly staff! The food is delicious for both humans and dogs (they even have their own dog menu...Freckles got the hot dog and thought it was perfect!)! Fantastic, make sure that you visit!

Big Thumbs Up

More than one year ago.

Big Thumbs Up

We really enjoyed our lunch at Forge in the Forest! The atmosphere and food were so good, we would recommend it to anyone whether they are bringing a dog or not. The staff was very welcoming and friendly. Our dog loved her chicken and we loved the French Onion Soup.

Our evening out with SallyDog

More than one year ago.

Our evening out with SallyDog

This place is romantic. There is a tree in the middle of the patio with little white lights on it. A fireplace in a corner of the patio also. White table cloths with candles, great food. Wonderful wine list. Very friendly staff. Just go to the front of the restaurant to let them know you are dining with your dog, the hostess will walk you around to the patio and seat you and your dog. Then a friendly waiter will show up with water for your dog to start the evening. Relax and enjoy every minute.

Forge in the Forest is the Best!

More than one year ago.

Forge in the Forest is the Best!

This place is great - complete with a special dog menu! Rusty had the chicken, but could have had a steak or some kibble. Also, all dogs in the "dog pound" get a milk bone and water. I wish I lived closer so I could go here more often!

Forge in the Forest Carmel Rocks

More than one year ago.

Forge in the Forest Carmel Rocks

They brought me a bowl of water and a milk bone.. Mom looked at the dog menu and decided I could have steak but I had to share it with my buddy. It would have been 4 meals for little old me. Forge in the forest rocks, can't wait to go back to eat at the area they call the dog pound, mom said her food was great also.
See More Reviews
Submit a Review
Traveler Photos
Want to feature your creature? Upload a photo of your pet at Forge in the Forest below! You can also share by using the hashtag #bringfido on Facebook, Twitter, Instagram, or Pinterest.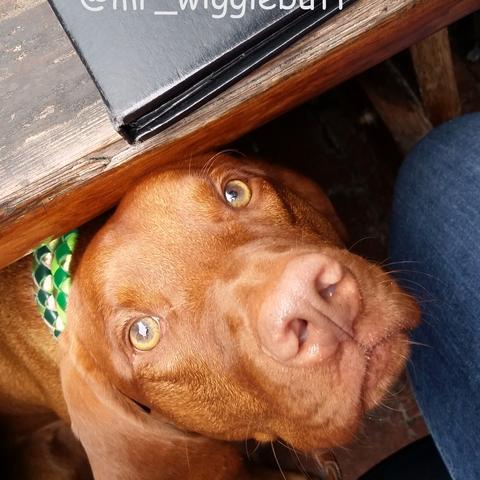 Share a Photo