Description
Anne's Beach is a very secluded dog-friendly beach with plenty of shade. There are poop bags and even a fresh water bowl for dogs available on occasion.
Reviews
Anne's Beach has received a rating of 3.3 out of 5 bones by 8 dog owners on BringFido.
Pet Friendly Beach

More than one year ago.

Pet Friendly Beach

First of all the Beach is Pet Friendly. The water is shallow and perfect for everyone. Dogs, Kids and Adults. Its a Day of Paradise. Sunbathing, Swimming, Relax, Read a Book, Walk the Trails along Beach or enjoy a Picnic. DId I forget to mention FREE Parking. Restrooms and Picnic Tables. It could be one of the nicest days you will ever have. We suggest visiting the beach during the weekdays as the weekends are crowded. It's a Perfect Spot to Visit on Your Vacation if you like to Relax.

Horrible place!

More than one year ago.

Horrible place!

First of all, there is no beach. A tiny smelly strip of sand infested of fleas and occupied beyond reasonable by people. The beach IS NOT OFF LEASH. it is leash only and there is no place whatsoever to walk the dogs.i am not sure who wrote the reviews but most certainly he/she was a joker! Please remove it from the dog friendly beaches as it is a waste of time.

I don't think so...

More than one year ago.

I don't think so...

There's no space here - so many people, close to the highway. One of the few beaches where the public can go so there's not much space for your dog. I didn't see poop bags or water. t wouldn't go back but I will suggest driving down to CocoPlum!!!!! Now that's fun!

not the best beach

More than one year ago.

not the best beach

Husband and I went here with our Shiba, hoping to have a little day trip to the beach. I guess we were spoiled by the off lease fort myers beach we had gone to months before. Anne's beach is a small stretch of sand with a few "beach" spots to set up your chairs and towels. The sand is not very nice, mostly the sand had a squishy sinking feeling which was a little off putting. The downside to this beach was that it backed up to the road, so we did not let our dog off leash for fear she would run through the grass area and onto the main highway. This place is a good little stop if you are driving through or vacationing anyways, but I would not go back.

Great Beach

More than one year ago.

Great Beach

I took my dog for the first time this past weekend and he had a great time. It was a great place to spend the day and where my dog truly enjoyed it. Enjoyed the shallow water as you can go out a distance with the dog.

Nice beach

More than one year ago.

Nice beach

We were actually on our way home from Key west and we happened to see this quaint little beach from the road. It's an awesome place to bring your pup. Lots of little secluded spots and pavillions if you want to set up a picnic. My only complaint about this place, is the further you go away from the main parking spots, the more seaweed that basically covers the entire coastline with tons of bugs jumping out once you step over it to get in the water. I would love to spend a day or two, cleaning this place up as it is such a cool spot to hang out with your dogs. Will definitely go again.

Address Not Correct -- GREAT DOG BEACH!

More than one year ago.

Address Not Correct -- GREAT DOG BEACH!

First, let me say that the address listed on this site is INCORRECT by almost 10 miles. The beach is at MM 73.5 on the ocean side. When you find it, its great for dogs and people. Park at one of the 2 lots and walk down the board walk, there are several little pavillions with water access. Sandbar goes out VERY far, but some of it is clay and squishy. Other than that, nice place to spend an afternoon with the pup.

Anne's Beach - Tony's Review

More than one year ago.

Anne's Beach - Tony's Review

We have visited this beach three times in the past month (July 2010). Our dog had a great time. The water is shallow for a great distance. There is shade for you and your pet. There is a restroom and a shower. The parking is limited but there are two lots. We will probably go again.
Submit a Review
Traveler Photos
Want to feature your creature? Upload a photo of your pet at Anne's Beach below! You can also share by using the hashtag #bringfido on Facebook, Twitter, Instagram, or Pinterest.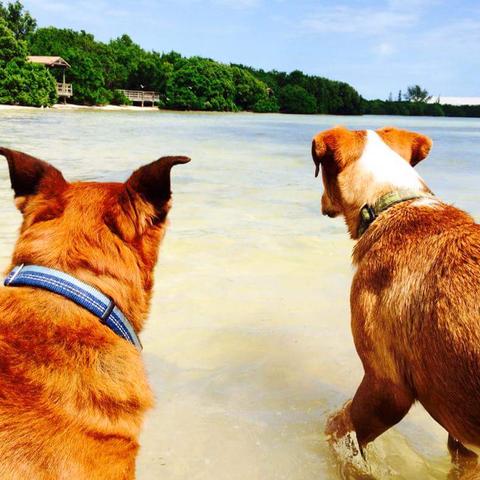 Share a Photo