Description
One of the many pet-friendly beaches of Sanibel Island, Gulfside Beach (or Algiers Beach) makes a great escape for you and Fido. A portion of the beach is located near a nature preserve. Dogs are allowed on a leash, and owner's must clean up after their pets. There are picnic tables and restrooms available, and an hourly parking fee is charged between the hours of 7 am to 7 pm (free after 7 pm).
Reviews
Gulfside Beach (aka Algiers Beach) has received a rating of 4.8 out of 5 bones by 12 dog owners on BringFido.
Great Place For People & Dogs

Nov. 23, 2017

Great Place For People & Dogs

Came here for a weekend getaway and found this beach clean and dog friendly. We live in Southeast Fl so the Gulf was a new experience for our 2 small dogs. The shells were beautiful! We could walk for miles with them on a leash. Bring water and dog poop bags. The beach was quiet and natursl. We used sunpass to pay the $6 Sanibel Island toll and parking was $5 an hour. We would go back!

spacious and relaxing

Sep. 21, 2017

spacious and relaxing

Drove all the way from Miami to spend a full day here with my dog. In Miami you can't find a place like this. Dogs are allowed on the leash on all Sanibel beaches. But be aware of the parking lot distance to the beaches. I chose to come here and I am happy I did. It wasn't crowded at all and all day I was the only one with a dog. The parking is really an exagerate $4 x hour, that's not cool, I paid $24 to stay 6 hrs. Plus $6 bridge toll. No shade for the car, no dog bags, no shade on the beach. A water fountain for dogs and us is at the parking lot. There is a shower and restrooms . The walk to the beach is not far, it looked way longer on the map. The nature surrounding you is total relax, shelling opportunities are endless. The water was brown-yellowish, probably still hurricane Irma's fault ??? Some dead jelly fish, tons of shells in all sizes, birds, eagles, pelicans, just beautiful to watch. Would have loved to see dolphins. The beach was super clean. I did not see 1 sand flea . Only a few ants and they bite ! It was hot all day with a little breeze. Bring umbrella and a chair, sun lotion, a hat, lots of water to drink and food if you like to stay longer. The water is shallow and perfect for dogs and families. Since there are tons of shells bring shoes to walk to avoid cuts and a net for your treasure hunt. I was barefoot and it was fine. Really loved it here and will be back this week.

Great!

We drove about 2 hours, first time taking our dog to the beach. We all loved it, everyone was so friendly. The beach also had a water fountain for the dog which I thought was very nice.

One of the best Dog Beach

May. 29, 2017

One of the best Dog Beach

We travel almost 2 hours to visit this beach...it was absolutely worth it...my dog and I love it...it a must go ....very calm waters and lots of space for you and your dog to run....just rember to.bring your long leash and lots of doggie bag wish they don't have there ...for any pet waste....

Wonderful beach

More than one year ago.

Wonderful beach

We had such a great time here. Definitely on leash. Everyone was so friendly. Tahoe was able to swim and we collected shells. Restrooms and showers available. Absolutely beautiful and will return

Peaceful place

More than one year ago.

Peaceful place

We defenitely will return many tines to this beach. I can say now that this beach is better, for my dog, then the one in Bonita Soring/Estero. Clean, peaceful and really dog friendly.

Great Family Beach To Bring Fur Babies

More than one year ago.

Great Family Beach To Bring Fur Babies

I loved this beach! Very clean. There were families swimming and just a few dogs. There is a $6 till bridge and $2 per hour parking.

Sanibel is dog friendly

More than one year ago.

Sanibel is dog friendly

Plenty of people were on the beach with their dogs. I found that generally this is a super dog friendly island. Perfect choice for a vacation with your furry friend. It is a shame though that there are no dog parks on the island and that the dogs need to be kept on leash all the time while on the beach.

Dogs had a great time!

More than one year ago.

Dogs had a great time!

We're from Naples, Fl - where dogs are not allowed on the beach, so we were very happy to find this beach. Dogs had a great time. Leashes are required. This island has a nice laid back vibe. Island cow is a great dog friendly place to have lunch.

ALL SANIBEL BEACHES ARE DOG FRIENDLY

More than one year ago.

ALL SANIBEL BEACHES ARE DOG FRIENDLY

WALK FOR MILES WITH NO BEACH OFF LIMITS FOR YOU AND YOUR DOG(S). I TAKE 3 DOGS, POMERANIAN, LAB AND COLLIE. BRING WATER

Sanibel is Wonderful!

More than one year ago.

Sanibel is Wonderful!

I love Sanibel Island! I've been going there for years since I was a little girl. It is a very laid back and relaxed environment there. Very friendly locals and some very excellent restaurants as well. I would definitely suggest people to go there. The dog beach is pet friendly of course and I've taken my dogs there several times in the course of 5 years. It is a very lovely place. Can't wait to go back next summer!

Ok

More than one year ago.

Ok

It was an ok experience. Definitely a leash on beach. We did feel a little self concious as we had the only dog on the beach for quite a while until a dog went walking by on leash with her mommy. We made the most of it. Going to try the off leash dog beach in Bonita Springs next.
See More Reviews
Submit a Review
Traveler Photos
Want to feature your creature? Upload a photo of your pet at Gulfside Beach (aka Algiers Beach) below! You can also share by using the hashtag #bringfido on Facebook, Twitter, Instagram, or Pinterest.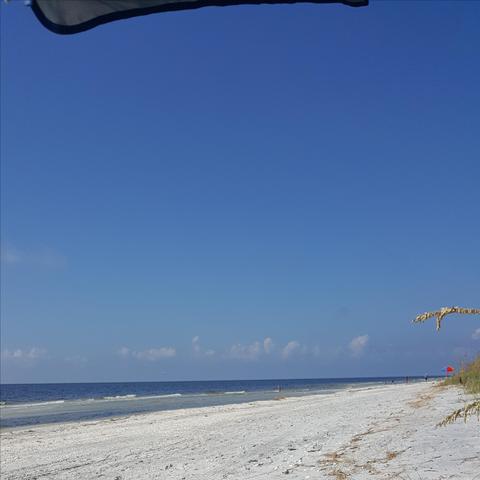 Share a Photo