Mark your calendars for 6th Annual Dog Day Afternoon Agility Expo and Pet Fair! This dog friendly event will be held from 10:00 am to 4:00 pm on May 17, 2014 at St. Josephs College in Patchogue, NY, US. Sponsored by Animal Law Committee, Suffolk County Bar Association. Admission is $10 per car.
Contact 631-265-0155 or [email protected] for more information.
Description
Join the fun and spend the day at this family-friendly event in a beautiful college-campus setting. Well- behaved, leashed dogs welcome to enjoy the activities, try the agility course or just watch agility demonstrations by "All Fur Fun Agility." There will be educational groups teaching proper animal care, demonstrations from rescue /service groups, vendors selling animal themed-items, and plenty of food for sale plus face painting for the kids. Various organizations will also have deserving animals for adoption. Stop by the LI-DOG booth to say hello and learn how to create more dog-friendly spaces on Long Island. The $10 per-car fee supports the work of the Suffolk County Bar Association's Animal Law Committee. This worthy committee provides public outreach and humane education re: animal-related legal issues.
Reviews
6th Annual Dog Day Afternoon Agility Expo and Pet Fair has received a rating of 5.0 out of 5 bones by 6 dog owners on BringFido.
Student

More than one year ago.

Student

I volunteer for this event every year and it is great. I also adopted a dog two years ago at this event named "Cody". :)

mother

More than one year ago.

mother

Really love this event!

Dog Daddy

More than one year ago.

Dog Daddy

Good day to spend out with your furry baby. Please only bring your dog if they are well behaved. Use your common sense folks. Recommend this event to anyone who loves animals.

Pet Lover

More than one year ago.

Pet Lover

Love this event! Glad to see its getting more attention.

Dog Lover

More than one year ago.

Dog Lover

Great event. Agility show is wonderful and runs all day and a lot of the rescues give presentations about caring for the animals. Very cheap at only $10 a car for whole family to enter the event. We pack them in!

Mother of two

More than one year ago.

Mother of two

I have attended this event for several years now and it is AMAZING! The biggest pet event on LI that I have ever been to including the LI Pet Expo. I take my children every year. There are tons of vendors, animal rescue groups of all kinds, lots of demonstrations, petting zoo, pony rides, face painting, food and entertainment all for a good cause. I highly recommend this event to anyone with kids.
Submit a Review
Traveler Photos
Want to feature your creature? Upload a photo of your pet at 6th Annual Dog Day Afternoon Agility Expo and Pet Fair below! You can also share by using the hashtag #bringfido on Facebook, Twitter, Instagram, or Pinterest.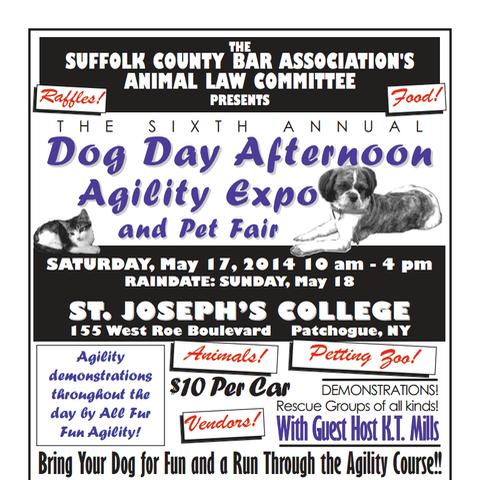 Share a Photo