Amy
Member since June 2019
Reviews
(2)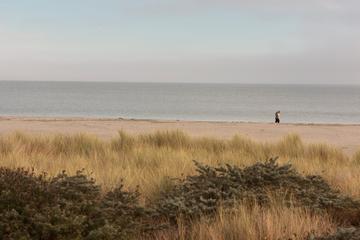 Great dog beach with a lot of off leash dogs
Doran Regional Park
Beautiful beach including bathrooms, but a bit crowded with off leash dogs (even in the leashed area). I witnessed a minor dog scuffle when an off-leash dog ran after a small dog on a leash. No dogs were injured, but be aware that irresponsible dog owners are not leashing their dogs in the leash area. I would still recommend because it is a lovely area with a nice relaxing view. Our dogs had a great beach day here, as did we.
Big Trees Trail
Indian Tree Preserve
This is a dog-friendly easy hike in Marin County. There are no bathrooms for humans, so plan ahead. The path is well marked and maintained, but on the narrow side. Parking is easy and located on the side of Vineyard Rd. We found plenty of spaces available on a Sunday late morning. There were several other hikers with dogs on leashes, and everyone was respectful of passing and social distancing. Horses utilize this trail, so there was a fair amount of horse poop. Majestic Redwoods are throughout the trail, along with pretty wildflowers, birds and nice views. The trail is 3.6 miles total, but it is an "up and back" trail, so you can hike the length you want.