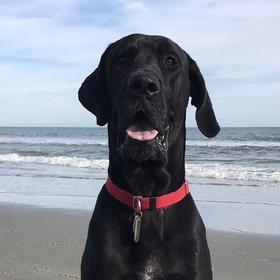 Shane
Member since November 2019
High School history teacher from Huntington, WV. My best friend is a cuddly Great Dane named Avery. He comes just about everywhere with me.
Reviews
(2)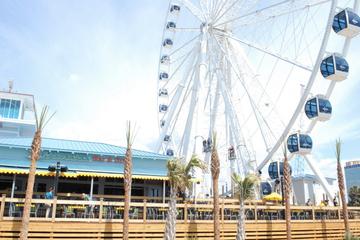 Three Greats(view, service, food)
LandShark Bar & Grill
We took my Great Dane(Avery) to this place for a late lunch on Sunday. Walked into the entrance and the hostess happily walked us to our table on the patio overlooking the ocean. Our waiter was clearly a dog lover and brought out a big bowl of water for Avery when he brought out our beers. I recommend the Landshark beer with a shot of tequila and lime. It's tasty. We ordered fish tacos w blackened mahi and fish and chips. Both were very good. I asked our waiter if we could get some type of crusty bread for Avery since that's his favorite treat. He said he would bring out some croutons. What he actually brought out was a big platter of garlic toast with several strips of bacon. Not only was our waiter friendly with Avery, but two other servers and the manager came over to pet him and make sure he was having a good time. Several patrons flocked to our table to play with Avery and have photos taken with him. It was a great experience all the way around. You should definitely give LandShark a try if you're in the area.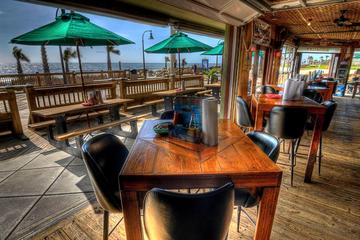 Excellent Choice for K9's and their human.
Oceanfront Bar & Grill
Had a great time at this place. Went for dinner with my big buddy. Was greeted by friendly staff and numerous patrons who wanted to pet Avery before we even got to our table. Nice picnic tables facing the ocean. Plenty of floor space for your four legged friend, even when they are a 150 pound Great Dane like Avery. The waitress was super friendly and brought him a big bowl of water and checked if he needed a refill when she brought us one. Ordered the Conch fritters that were quite good. The crab cake sandwich was perfect- crispy on the outside but creamy on the inside. The fried fish, oysters, and shrimp were great as well. Minimal batter and obviously fried at high heat. The food wasn't greasy at all which was refreshing. Good selection of cocktails and beer. Avery "ordered" a plain hamburger and toasted bun which they brought out and sat on the table for him. The waitress was very pleased that Avery thanked he for the good service with a generous tip of snuggles and licks. Would definitely go again.