Sydney
Member since March 2020
Reviews
(2)
Great fun with your pooch and you get to learn about Savannah too!
Oliver Bentleys Historic Dog Walk Tour
This is a fun way to learn a little of Savannah's history while hanging out with other dog folks and spending quality time with your four-legged baby. 100 years of history as you stroll through the beautiful squares. Our human and four-legged tour guides were wonderful. We had all sizes and ages from my 14 month old Great Dane to a chihuahua. Our "pack" got a lot of attention and it was a great end to our day. Keep in mind during the hottest summer months the tour is only available in the mornings but on our trip the weather was wonderful. I can vouch for the previous poster's story. We were all rooting for her senior dog who might have brought up the rear but was enjoying the trip right along with the rest of the pooches. Our tour guide did indeed take the senior pooch's mom to her car so she could come and pick him and avoid another extra long walk. Super service and would highly recommend the Dog Walk Tour for anyone visiting Savannah with their furry family members.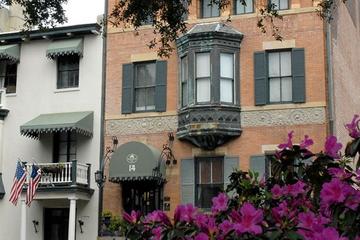 Lovely place in the heart of historic Savannah!
Foley House Inn
On a bit of whim due to a last minute change of previous travel plans, I booked two nights at the Foley House Inn with my 14 month old Great Dane. It is a lovely location overlooking Chippewa Square and Orleans Square just one block west. All the staff are super friendly and helpful. Afternoon sweets and wine in the dining area are lovely amenities. Breakfast is delicious (even when your Great Dane interrupts with a few barks to let you know it's time for the morning stroll through the parks). I highly recommend the Foley House but I would warn seniors or those who have trouble climbing stairs to call directly and try to book a garden level room.