Canadian
Member since August 2018
Reviews
(3)
Great Swimming for Dogs and their peeps
Matapeake Park Dog Beach
This beach is heaven for dogs and their owners who like to swim. It has some natural shade and lots of options to put chairs/blankets. The beach is nice and sandy. The water was warm (we were there in July). The parking lot gets full in the afternoon so get there before noon. The path is to the right of the gate and is a 5 minute walk on a lovely shaded trail. It is a separate dog friendly beach.
Dog friendly Beach - great for swimming with your dog
Terrapin Nature Park
This beach is dog friendly. It is great to bring your pet and he can swim. We have to keep him on leash on the beach and in the water, but it was easy to do. Some guests brought extended leashes for this. The beach is sandy and there are nice trees nearby for shade. It is about a 10-12 minute walk from the parking lot to the beach so bring water for your doggie. The path to the beach is paved part of the way, so with the hot sun we tried to walk on the edge near the grass. It is a lovely beach and our dog had a great day in the water. We could swim with our dog which was pure heaven.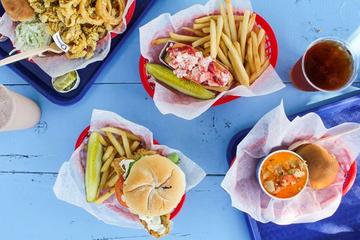 Doggies welcome at Bob's!
Bob's Clam Hut
This is a great casual eatery with several outdoor eating areas with umbrellas. Dogs are very welcome to sit outside with you while you eat. The staff have lots of water bowls and bring fresh cold water when we arrive for the dog! The ordering of amazing seafood is through a window outside as are the drink refill stations and the water dispenser. This means you can order and eat without ever going inside. Your dog can therefore be with you the whole time. Excellent food! Great fried clams. We love this place.