Description
This park has awesome beaches and a wonderful view of Ponce Inlet Lighthouse. It is a great place to get some wonderful photos, and they even provide doggie clean up bags. This is not an off-leash park. So make sure Fido is leashed at all times. Leashed dogs are allowed on the inlet and river shoreline beach Lighthouse Point Park located on north side of Ponce de Leon Inlet.
Reviews
Lighthouse Point Park has received a rating of 2.6 out of 5 bones by 30 dog owners on BringFido.
Great Place

Feb. 17, 2017

Great Place

I live in port orange and have been taking my dog here for over 3 years. The fee is for you to access the park, and if you don't mind a walk you can park outside the gate and don't have to pay a fee. I find the fee worth it, especially if you have kids or a lot to carry. The have restrooms, picnic tables, drink vending machine, access to the jetty, regular beach, and showers to rinse you and your pup off at he end of the day. At the dog beach, during low tide, there is a long stretch of beach you may just have to walk past some mangroves. I quite prefer the other side of the mangroves. It is more private and makes me feel like I'm in the keys. At the right time of the year the water is warm and clear. Just beautiful. I love this dog beach and glad it's there because I wouldn't want to take my pup where the cars drive, there's big waves, and possibly a rip current. If you have a problem with them being on a leash, just buy a longer leash. There are many sections of the dog beach you can explore with your pup- the shoreline, trails in the mangroves, and 2 little coves, one that often has 4/5 manatees in it (don't disturb them, just observe them). I don't always agree with people fishing but I just ignore them because this is the one spot in the area you can bring your dog to the beach (besides the NSB side- I have never been there). Lastly, they actually call this a "Pet Beach" so I guess you can bring more than just a pup there if you desire.

Not Good

More than one year ago.

Not Good

Sadly, I came to stay for a month in Ponce Inlet. The Dog Beach, as they call it, is not good. Next time, we will find a place in Flagler Beach which is truly dog friendly. People with pets are courteous, pick up after them, etc., and there is absolutely no reason why they cannot be on the true beach in Ponce Inlet. I will not come back here.

Disappointed

More than one year ago.

Disappointed

I was told I could walk my dogs on this part of the Atlantic Ocean beach....not true!! Once I paid my $20 for the annual pass, I was told I had to stay to the right of the Jetty, fine, but it is NOT the ocean shore or ocean beach, no waves, no ocean thrill...and you can forget an actual experience of walking the dogs on a beach for say more than 50 ft...because that is about all you have in the INLET. There are a few broken up beach access areas in the INLET. But not even close to the ocean. I was considering moving to Port Orange to be closer to this "dog friendly beach." Now, I have decided to buy in Ormond Beach and drive a mere 14 miles to Flagler where one can truly walk their beloved dogs on the ATLANTIC OCEAN BEACH!! All this being said, it was a nice walk around the park, just very disappointed in the "Dog Beach" lie.

We had fun here.....

More than one year ago.

We had fun here.....

We took our dog, Bentley, to this beach in January 2016. It was his first beach experience. Yes, there was someone fishing. No, I didn't appreciate it but it certainly didn't ruin the day. The beach isn't the wide open, public, drivable Daytona each which sounds like what some were expecting. It was a walkable, somewhat swimmable natural beach and Bentley and I loved it and will go back.

Good and Bad

More than one year ago.

Good and Bad

The facilities are a definite bonus but there are a lot of rocks with a few sandy areas. This is not a "swimming" beach for you or your dog. Water is murky and there are rocks and trees growing out of the water/sand. I can see why they made this section the "dog" park. Oh, and dogs are not allowed in every part of the park on the beach, only the inlet part. So those long white stretches of beach? Only in the part dogs cant go in.

Decent Park

More than one year ago.

Decent Park

$5 fee to get in but has bathrooms/showers, picnic tables, and grills you may use. As for the beach area itself, it's a little on the smaller side. It's clean and does has sandy areas but do be careful of the rocks!

Nice Beach

More than one year ago.

Nice Beach

The only thing that is bad about this beach is that you have to keep your dog on the leash. The beach is long, and not crowded like New Smyrna, Daytona, or Cocoa. The sand is a lot cleaner than those other beaches. There are no rocks as the other reviewer said. The place even has a dog wash, showers, and bathrooms. The showers are a plus so you don't get sand everywhere in your car. I personnally like this beach better than the other beaches. It's a good place to get some sun, let your dog enjoy the beach, and enjoy the quitness the beach offers.

Love this Beach!

More than one year ago.

Love this Beach!

Don't listen to the other review, this beach is amazing. First of all, go to the New Smyrna side instead of the Daytona side (he is right about all of the hazards on that side). The N.S. side is just beautiful pearly white sand and a super long, wide beach. The $5 is the same fee they charge for you to drive on the beach, so it's not a dog fee, just a beach fee. In fact, the parking ticket you get is also valid for driving on the beach (you just can't go on it with the dog). It's a pretty long walk from the parking area to the dog area, so if you have two cars, I recommend dropping off one person with the dogs on the dog side, and the other person parking on the beach, all the way at the end, right by the rocks (which separate the ocean side beach and the inlet dog beach) so you don't have to carry all of your stuff the mile or so from the parking to the dog beach. Have fun, there's not too many places around here you can bring your dogs to the beach!

Excellent Facilities

More than one year ago.

Excellent Facilities

My darling pug Lilly LOVED her first trip to the ocean at Lighthouse Point Park. It was easy to find, parking was easy, and the park was beautiful. There were walking paths to the sandy beach areas. Further down the paths were little inlets of cooler, calm water to wade in. There were clean bathrooms. Covered picnic areas were available at several stops along the paths. Some areas of the beach were rocky but others were only sand. Lilly did not mind either. I will definitely be purchasing a season or yearly pass to come back. (tip...Boondocks restaurant is located in South Daytona and accepts pooches!).

Great Place for Entire Family Celebrations

More than one year ago.

Great Place for Entire Family Celebrations

Naturally, I seek dog friendly areas when planning an outing. This dog friendly beach hit the very top of my list. My criteria for this choice was close parking proximity to the beach since we were going to set up a tent and welcome the summer in style. We took the chance of arriving around 11:00 am. A little late for a busy holiday weekend, but nonetheless we spun the dice. Immediately through the gate we were told that parking was almost to capacity. Our plan was to drive up close and off load then park. As luck would have it as we spun around the parking lot closest to the beach a spot was open. We should have played the lotto. There are shower and bathroom facilities. Although, each men and women bathroom is single occupancy which create long lines. But it is a perfect place to engage in conversations. Showers are outdoor. Around the restroom facility are several picnic benches and grills. Next to the shower and along the beach are more grills and benches. These are on first come, first served basis. On the beach there is a larger picnic tent available by reservations only. Dogs are allowed everywhere as long as they are on a leash, even in the water. Jet ski rentals and boat rides are available on the beach. The beach is a mixture of sand and rocks. There are patches of nice soft sand and sharp rocks. Several coves and secluded areas lend to privacy. It is easy to stake claim to an entire section of the beach. What better way to start off the summer frolicking in the water with friends, family and our four legged companions. My entire photo album on Flickr.

Great Time at Tranquil Beach

More than one year ago.

Great Time at Tranquil Beach

This beach was fantastic, we had such a great time. There was both availability for families to BBQ under covered awnings and secluded pockets of the beach to just relax. The mangroves provided some extra needed shade for both us and out pup. Our dog felt welcome from the start where the toll gate operator greeted us with a smile and a bone! 5$ is very reasonable for an entry fee as some cities really hone in on beach parking or access this is nothing for one car! We all had a great time! We will be back!

LOVE IT!

More than one year ago.

LOVE IT!

Our rescue just loves coming to the park, I also love that I can pack a lunch sit at a table & eat, not have to sit in sand if I don't want too. The bathhouse is very near.parkig is so close & During the week is best not too busy ! I will return a million times ! Ty to everyone that has made the park possible!

Dogs on beach

More than one year ago.

Dogs on beach

Best place to take them is Flagler Beach, lots of dog parks around Daytona/ Ormond though

Lighthouse Point Park

More than one year ago.

Lighthouse Point Park

This is all we have been allotted on our beach to bring our dogs to! It is a nice park and now it has increased to 10.00 to visit this park. It used to be prettier here. So sad Daytona want to keep cars.pets, and people off their beaches!!!!

The Dog Beach Is a Hairy Armpit

More than one year ago.

The Dog Beach Is a Hairy Armpit

We are relatively new to Florida and love the fact that our new hometown, Gainesville, is extremely dog-friendly. We hit a home run with our first beach experience at Crescent Beach in St. Augustine but wanted to explore some other areas. Daytona beaches are clean, pristine, and expansive. Sadly, the dog portion of the beach is an armpit. A sliver of a beach covered with nettles, rocks, and lots of other scratchy things. The entrance fee is $10, and we stayed about 10 minutes because my lab reallyreallyreally wanted to swim. If you are committed to a beach retreat with your pooch, choose St. Augustine and have dinner at Harry's which has great food and ambiance and is sweet on dogs. [June 2015]

never been here?

More than one year ago.

never been here?

Only because it costs $5 to get in and because dogs "HAVE TO" be on leashes.:(and

Very Nice

More than one year ago.

Very Nice

I don't know when all these people went who complained about fish, etc., but when we went it was wonderful! I don't like that it cost $5 to get in, but it was a nice beach and we had a great time walking and relaxing here. The people we ran into were friendly, other dogs were sociable, and it was an overall great experience. I wish Daytona Beach had something closer (it was 12 miles from our hotel), but it was worth the trip. There is also a great view of the lighthouse. I would definitely go here again if I visited the area.

Nasty

More than one year ago.

Nasty

I believe Daytona took the worst part of the beach and called it a dog beach. Trash, fish bodies, fishing hooks and line and large boulders at the edge of the water. Daytona could learn about dog beaches from Sanibel Island. I would not take my dog to this beach. Dangerous for them.

danger danger danger

More than one year ago.

danger danger danger

I would not even go there to fish! Let alone take my dogs....The people who are fishing leave such gross stuff laying around, fish innards and line with hooks still on them....I'm ashamed that this is one of the few places to take a pet to the beach!!!!

Shame on Daytona

More than one year ago.

Shame on Daytona

If Daytona want to present itself as a "Family Destination," they MUST INCLUDE the WHOLE FAMILY! Dogs cannot be walked near fish heads and hooks. Who would enjoy and relax in this atmosphere? There IS NO WHERE, as a tourist, to bring our dog to walk on the beach.

Go To Disappearing Island

More than one year ago.

Go To Disappearing Island

If you have a boat, take your dog to the island just across the bay. Everyone brings their dogs here and its a great place for them to run. It's a huge sandbar at the mouth of the Halifax and the other side of the inlet.

Now What?

More than one year ago.

Now What?

Where can we take our dog? We have never gone but based on these reviews we will never, ever go.

This is a BEACH, expect fishermen/women

More than one year ago.

This is a BEACH, expect fishermen/women

This was a very decent on leash park to take your dog to. Lots of distance to walk and some water to swim in. People complaining about the fishing, you're by the beach, in FLORIDA, expect people fishing!!! Your dog is to remain ON LEASH for it's safety.

No off leash

More than one year ago.

No off leash

We went here yesterday and to quote the girl patrolling the beach: "It is not a dog park. It is a $55 fine to have them off leash. Who wants the first fine."

This is a NO!

More than one year ago.

This is a NO!

We recently stayed in Daytona Beach thinking it was pet friendly, but it was not. This is the closest "pet friendly" area around. To keep our dogs safe we passed on letting our dogs out. Other persons fishing and dogs do not mix. Leaving fish hooks and line out is NOT ok. Pet friendly areas should have rules for doing things that can harm said animals in the only areas they are allowed.

FISHING?

More than one year ago.

FISHING?

LET'S SEE: FISH HOOKS, FISHING LINE...ETC. WHERE A DOG IS RUNNING AND PLAYING? NICE PLACE TO BRING YOUR DOG AND YOURSELF!! OBSURD TO HAVE FISHING IN A DOG BEACH!!

disappionted

More than one year ago.

disappionted

These reviews are disappointing to read. Based on them we will look elsewhere to take out pets. :-((

its better than nothing

More than one year ago.

its better than nothing

Correct address is 5000 s. Atlantic ave. Not 500 s. Atlantic ave. The doggy beach is at the very end and yes there were a lot of people fishing but courteous at least. But this was probably the ugliest part of the beach, I did hope for more from this area. I still enjoyed playing with my pup and it was better than nothing.

Just kinda blah.

More than one year ago.

Just kinda blah.

We found the dog beach area to be crowded with people fishing. Some people are even leaving fish parts behind. This beach could be cleaner.

Not so great.

More than one year ago.

Not so great.

More recently I have found more people are fishing and bringing their children to the part of the beach where dogs are allowed. This makes it very difficult and frustrating when you would like to run around or go in the water.
See More Reviews
Submit a Review
Traveler Photos
Want to feature your creature? Upload a photo of your pet at Lighthouse Point Park below! You can also share by using the hashtag #bringfido on Facebook, Twitter, Instagram, or Pinterest.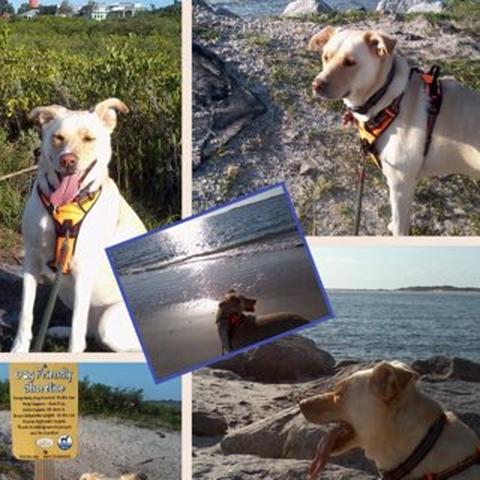 Share a Photo