Description
The west end park is located at the first parking lot past the last condos on the Gulf. All dogs are required to be on a leash, and signs will be posted to designate dog-friendly areas. Doggie bags, disposable bins and handy wipes will be available at this location.
Reviews
Pensacola Beach West Dog Park has received a rating of 3.4 out of 5 bones by 12 dog owners on BringFido.
The dog beach is a joke!

Sep. 19, 2017

The dog beach is a joke!

Come on Pensacola Beach, you can do better! The dog beach is SO small that everyone is on top of one another. Plus in the winter/off season, you still have to keep your dog in these small sections. Our beaches at home have restrictions in summer season....no dogs 10am to 6pm but in the winter , they are welcome anytime. Pensacola Beach needs to adopt something like this AND expand their dog beach area to longer than a football field! Very disappointing.

dog friendly my tail end👎

Sep. 04, 2017

dog friendly my tail end👎

Okay Pensacola call say they dog friendly but it is hogwash. Utter BS. The ocean and beach are nature and u cannot stroll down the beach with ur dog. I love beach walking right by the 💦 to get to places in a leisurely way, like walking to go get lunch but walking the beach to get there. Plenty pet friendly airbnb a and restaurants and they r legit. Both the beach dog parks are jokes . Really they are. My back yard is bigger and it's 3/4 of an acre back yard.There is no difference walking on a beach or the public sidewalk. However the public sidewalks here and houses are not nature... I have teenagers and young adults now and let me say image having some BS like this for your children . Only allowed to go to beach in that area. BS right? Some might think it's not the same but, dogs don't scream, throw sand, cry with tantrums so loud it is over you music. Kids mess with other individuals tranquility more than a dog. Just saying it is not cool to have miles and miles of beach with kids running a muck and have to tolerate the lack of the parents ability to keep their kids in check. Parents would not like a kids beach this small.. just saying I love the house I am staying at, however I will never spend my money in Pensacola again. I will go to a true place in Florida that welcomes dogs cause this dog friendly poop 💩Pensacola has going on is a complete fraud.

Not enough time in the day

Aug. 01, 2017

Not enough time in the day

After spending a couple hours at the East beach where pets are allowed, we'd planed to grab a bite at the high-rated Red Fish Blue Fish. We arrived and were promptly seated outside where it was warm and sunny. Great view of the water! After 5 long classic rock songs and 20 minutes without anyone offering drinks to us or a bowl of water our treats to our dog, we felt it might be best to leave before getting toosick

Really?

Nice SMALL area for dogs to play. Signs on left and right that says no dogs beyond this point so you have about 100 feet wide of beach. You can forget it if you and your dog want to walk the seashore unless you just like walking the same area back and forth.

Dog Beaches Rock!

More than one year ago.

Dog Beaches Rock!

We visited both the East Dog Beach and West Dog Beach and I am so much in love! The West is easier to find but the East was our favorite because it's a little larger. I got directions from (http://visitpensacolabeach.com/things-to-do/dog-beach.php) and we had no problems. The people were great, the other dogs were great, this was probably our favorite vacation ever. My pictures are fabulous. I can't say enough wonderful things. I'm so happy Pensacola Beach offers this.

Retired

More than one year ago.

Retired

I agree with Dawn in Charlotte but am not so generous with my "bones". Having lived in many different places, from Rhode to California, I am of the opinion that Pensacola, with all it's beautiful, sugar, white , sandy beaches is the most "dog unfriendly" place I have ever lived. The area that Charlotte is referencing is just giving "lip service" to out of towners who maybe don't know what a real dog beach is!! I have actually been to the Jupiter, Fl DB many times in South Fl. My dog, Josie and I have swam there together, played ball and walked the beach for several miles. The beach is clean, beautiful, has showers to rinse off as well as a volunteer group to help it stay that way. Josie and I have never been bothered by aggressive dogs, unlike Bayview Park which is to small and to POLLUTED (without warning signs) I would love to be part of the solution involved in making more beaches more accessible to dogs and their owners.

great beach

More than one year ago.

great beach

This beach was really clean and it was really easy to get to. Our puppy had so much fun playing in the ocean.

fun time

More than one year ago.

fun time

We loved this dog beach. Our collie, Daisy always have fun here. Just a short drive from our vintage beach cottage, we come here everyday.

Beach-Pensacola/Gulf Breeze

More than one year ago.

Beach-Pensacola/Gulf Breeze

Im giving this 4 bones simply because whats better than a beach with clear water and white sand. Took off one bone because the area is difficult to find (even the Santa Rosa office had a hard time giving directions). Coming from Pensacola, you need to cross the 3 mile bridge into Gulf Breeze, than 2-3 miles down you'll see an exit for Pensacola Beach/Fort Dickens. From there you cross another bridge after $1 toll. Then you go thru the town of Pensacola Beach for 3-4 miles until you see nothing but 2 new brown high rise condo towers on the left. After that, theres nothing on either side of the road but sand dunes-with the Gulf waters on the right. About 1/2 mile after the towers, look carefully for a sign that says dog beach and a parking lot on the right, with another sign at the front with a picture of a German Shepard on it. Heres the real disappointing part; once you arrive you think, okay it all the way out in the middle of no where, I guess that's why this stretch of beach is open to dogs. No, the whole stretch of beach that far out (with no signs of life) is not for dogs & their owners. As soon as you walk onto the beach from the parking area, you see a sign to your right, than to your left indicating "no dogs beyond this point". So essentially, its not the entire vacated stretch you think it is to walk your dog, rather a small section thats equals a couple hundred feet to each side of you. So basically a small patch to sit on or play with your dog leashed. But no walking the beach with your Dog-even when leashed And off season in February. I dint consider that very dog friendly. And considering most coastal cities allow dogs on public beaches all year long, and only leashed during the high season, I was more than surprised. Out in the middle of no where, several miles from the public beaches & only allowed a small section of the beach-with your dog leashed. The locals need to work to change that. We still had s good time and I would go back as my dog is friendly & met several other similar dogs to say hello to. And because he likes the water, he was able to swim snd play catch with his ball for some exercise. Thats important since any walk with him would've taken all of 2 minutes if we stayed between the designated signs. It was a beautiful view, the clear waters and white sand. Its worth a visit, but it's unlike most beaches in the US that I've visited.

Pensacola dog beach

More than one year ago.

Pensacola dog beach

Really clean beach and friendly pups.

great beach

More than one year ago.

great beach

Very clean beautiful beach. My dog had fun playing with the other dogs there

Emerald Coast

More than one year ago.

Emerald Coast

Perfectly clean and most gorgeous beaches in North Florida.
See More Reviews
Submit a Review
Traveler Photos
Want to feature your creature? Upload a photo of your pet at Pensacola Beach West Dog Park below! You can also share by using the hashtag #bringfido on Facebook, Twitter, Instagram, or Pinterest.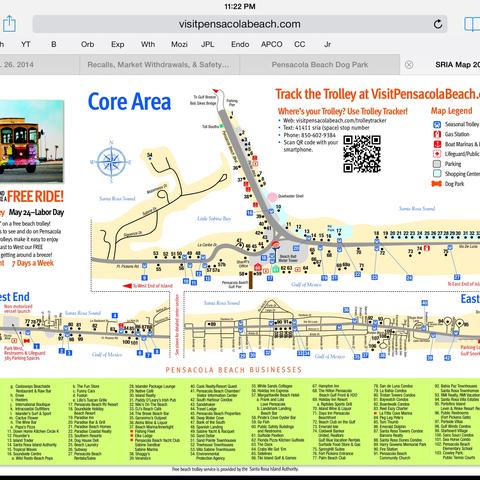 Share a Photo