Patricia Grand Resort Hotel welcomes two dogs up to 20 lbs for an additional fee of $20 per dog, per night. Dogs are permitted in Oceanview Standard Rooms and Oceanfront Efficiencies. Guests with pets are not permitted in Suites under any circumstances. Dogs must be crated when left unattended in rooms. Rottweilers, pit-bulls, dobermans, boxers, German shepherds, and chow chows, and cats are not permitted. THE HOTEL MUST BE NOTIFIED OF WEIGHT AND BREED BEFORE ARRIVAL.
Book Now
Or call 877-411-FIDO to reserve a pet friendly room.
Compare Rates
Book on BringFido to get a low rate on a pet friendly room. There is no booking fee and reservations are always backed by our Pet Fee Guarantee.
Book On:
Book Now
We can only guarantee a pet-friendly room when you book through BringFido or call 877-411-FIDO.
Available Rooms
OUR GUARANTEE: Book a room now! Our canine concierge will make sure you're assigned a pet-friendly room, so there aren't any surprises at check-in.
Description
The Patricia Grand Resort Hotel offers everything that you expect from a luxury oceanfront resort hotel and more. All new for 2007 rooms suites and efficiencies have been renovated. Relax on our oceanfront pool deck or float your worries away in our indoor lazy river. Other resort amenities include indoor and outdoor pools indoor and outdoor hot tubs outdoor kiddie pool business center with free high-speed internet access fitness room game room gift shop and convenience store an onsite restaurant Chantillys restaurant & lounge.Patricia Grand offers newly renovated rooms efficiencies and suites that feature cable TV with Free HBO clock radios hairdryers coffee/tea makers irons and ironing boards.Patricia Grand is conveniently located near the Myrtle Beach Convention Center Broadway at the Beach Hard Rock Cafe NASCAR Speedpark Myrtle Waves Water Park Ripleys Aquarium Myrtle Beach Pelicans Ball Park and a variety of dining options. If you choose to fly to Myrtle Beach Myrtle Beach International Airport is located just 5 miles from the hotel.
Amenities
Free Parking

Parking Available

Breakfast Available

Room Service

Restaurant

Cable Television

Air Conditioning

Business Center

Free WiFi

Internet Available

Fitness Center

Pet Friendly

Non-Smoking Property

Elevator

Laundry Room

Exterior Rooms
Reviews
Patricia Grand Resort Hotel has received a rating of 4.3 out of 5 bones by 12 dog owners on BringFido and 4.0 out of 5 in 1,867 traveler reviews on TripAdvisor.
Great stay

This was our 3rd time staying here and we weren't disappointed. Love that the little park is next to the hotel, that has plenty of grass and baggies! It's walking distance to some restaurants. I just wished their bigger rooms were pet friendly. They were good about cleaning the rooms and trying to keep up with keeping the elevators dry.

CLEAN!!! AMAZING!!!!

Apr. 11, 2017

CLEAN!!! AMAZING!!!!

i can not say enough nice things about this place! The front desk staff was so nice! We checked in at noon and they had a room ready! They let us check in early! They have valet parking. They have bell men to help with the luggage! they unload it from the car and unload in your room! Then when you leave you call the front desk and they come up and help again!!! love that . My doggies loved the view from the balcony. The rooms are super clean. Beautiful view of the water. 5 steps to the beach! Dogs allowed on the beach anytime before April 30. After that its only before 10 am and after 5pm. The rooms have beautiful linen. and furnished balcony. you can sit out and enjoy the view with your fur baby. We were on the 19th floor kept the door open all night and listened to the ocean! WONDERFUL AND RELAXING!!! The Staff at this hotel is just beyond wonderful! We Will never stay any place else !!!!

Pets welcome!

Nov. 17, 2016

Pets welcome!

Greattach place to stay with your dog. We were here off season which meant empty beaches and quite hotel. Staff was great! Dog park next door and endless beaches for dogs to run off leash. Great time!!

great for pups

More than one year ago.

great for pups

This hotel was the cleanest pup hotel we've ever stayed at. As other posts shared, access to potty spot and beach was easy. One serious problem for me was that the balcony didn't have any type of barrier/mesh protecting little doggies from falling through:( Although other pet lovers were friendly and staff were very welcoming, attention to people and our needs weren't met. Having the pups, it would've been great to share coffee/snacks and meals with them. Starbucks was only open 7am-12pm, with no access for coffee or refreshments during the day. Area coffee shops and restaurants weren't pet friendly which made the whole process of dining difficult. The hotel restaurant had limited hours, as well. Food choices for delivery weren't vacation worthy:( Staff wasn't very helpful, phones weren't answered (to request more towels-which resulted in me having to go to front desk each time for face-to-face help); I asked one person wearing a uniform if she could tell someone about a puppy spill by the elevators, she said I should tell the front desk... The front lobby was cluttered with empty carts and counters which made maneuvering with pups difficult. Floors were cleaned often, but large mops remained throughout. Floors were wet and very slippery. Would def try other pet friendly hotels before returning here.

A perfect stay

More than one year ago.

A perfect stay

It was a very pet-friendly hotel, we met lots of other dog owners. The hotel is in good shape. We had an efficiency on the seventeen floor with a great oceanfront view. There is a park next to the hotel for the necessaries. Parking is across the street. We went in November, summer could be more of an issue when it is crowded.

Great experience

More than one year ago.

Great experience

Hotel was in a great location and was super accommodating with pets and all their needs! View from room was awesome and the little park next to the hotel for them to relieve themselves was perfect and right next to the beach. Every dog and owner who stays here is super friendly. Room was clean and had all that we needed for us and the dog. Would def stay again!

Another great visit

More than one year ago.

Another great visit

This was our third time staying ta this hotel. I love the location and the hotel staff is friendly to my pups. There were some glitches to our stay, but they rectified them quickly as possible. Love the little park that's next to the hotel, can make a quick stop at 3am, if your pup gets the urge to go. Will definetly go back next year.

Clean, Friendly, Good Value - Expensive Restaurant

More than one year ago.

Clean, Friendly, Good Value - Expensive Restaurant

We found the rooms to be clean, with no pet smell, and the staff was friendly. The price for the hotel was a pretty good value as well. The area for walking your pet was fairly nice and was a pretty good size. The kids enjoyed the indoor pool, the indoor lazy river, the outdoor pools, and the multiple hot tubs. The elevators were generally pretty fast (there were 3 of them in the section we were staying). They had a small outlet coffee shop (too bad it had to be Starbucks) which was a nice perk.. On the negative side, the rooms are a bit smaller than what I'm used to at the other places I've stayed (but they weren't pet-friendly, so couldn't use them). And the on-site restaurant prices were really quite high - I couldn't see paying at least $150 for dinner for a family of four -- I'd much rather go out, pay less, and have better food. I would definitely stay here again and would consider staying here even if I didn't bring my pet.

Great location, friendly staff!!

More than one year ago.

Great location, friendly staff!!

The staff were super friendly and accommodating to not only us but our dog. The hotel itself was nice but nothing spectacular. This is an excellent hotel to bring a family but I wouldn't recommend it for young couples. The hotel also hosts a summer camp so there are plenty of kids throughout the pool/hot tub areas which makes it a little overwhelming. We spent most of our time on the beach which the hotel had easy access to. The strip of beach right behind the hotel was dog-friendly and they don't really enforce the summer hours which is great. There is a nice grassy unfenced area right beside the hotel that pets can eliminate on and they have little baggies available. There are 3 elevators that are extremely slow so you'll spend most of your time taking the stairs which isn't all that bad unless you're carrying your luggage up and down them. The WiFi and even cell phone reception here is terrible so don't plan to get any work done, I mean why would you? You're on vacation! Our room was clean for the most part though I did notice dust and trash under the bathroom counter. The balcony boasts a nice view however the floor of the balcony was covered in artificial grass and it reeked of urine so we didn't really get to enjoy the balcony. Housekeeping was nice until checkout day, we felt like they rushed everyone knocking on doors well before checkout time. They gave us a card to use on free mini golf, a discount card for use for nearby restaurants and activities as well as a water park with a free shuttle to and from the hotel. Overall we had a good experience.

So Dirty I Didn't Want to Use the Shower

More than one year ago.

So Dirty I Didn't Want to Use the Shower

We were very excited to stay here after seeing the beautiful pictures online and the rave reviews. Our two night stay, however, was anything but picturesque. The room we were put in looked nothing like the pictures -- it looked like something out of a 1970s cheap motel. There was a large stain on the front of the toilet (looked like vomit) - so that obviously hadn't been cleaned before our arrival. The next day, the maid came in and only made the bed - again, didn't clean the very obvious stain. The shower head and shower rod were so badly rusted I didn't even want to shower the entire weekend -- even with flip flops. The smoke detector started beeping at 3:30 AM Saturday. When we called the front desk, they told us they didn't have batteries and to "just pull it out of the ceiling" - something I'm sure is against code. When maintenance came up to replace the battery the next day, they just put the old one back in. When we got back to the room, it was still beeping, which cause our epileptic dog to start shaking uncontrollably. We just took it down for the rest of the weekend. The fridge was rusted and none of the cabinets shut properly. We were also excited about the pool and lazy river -- but didn't see anyone downstairs cleaning it once -- and we were coming and going at all hours of the day. As a result, we opted to not get into the water that was playing host to Lord knows what. When we went to check out and asked to speak to a manager, we were told one wasn't on duty -- at 9:30 AM on a Sunday. The only plus I can give for this room was the ocean view. It is by far the WORST hotel I have ever stayed in and I will never recommend it to anyone else. We work hard for our money and will not be spending it here again.

how cool is this hotel!

More than one year ago.

how cool is this hotel!

better deal to bring the dog along rather than to board him! the room has to be an ocean front efficiency which had everything we needed. our dog had a nice area to "find his spot" and a great access to the beach! The indoor river and pool/hot tub were a wonderful treat! our dog was as happy as ever!

Awesome Accomodations!

More than one year ago.

Awesome Accomodations!

Clean rooms, friendly staff and gorgeous views! There is a small park beside the hotel, which serves as a very convenient doggie relief area and Broadway at the Beach (restaurants, shops, shows, etc) is just a five minute drive. It's the perfect beach destination for you and your pooch!
See More Reviews
Submit a Review
Traveler Photos
Want to feature your creature? Upload a photo of your pet at Patricia Grand Resort Hotel below! You can also share by using the hashtag #bringfido on Facebook, Twitter, Instagram, or Pinterest.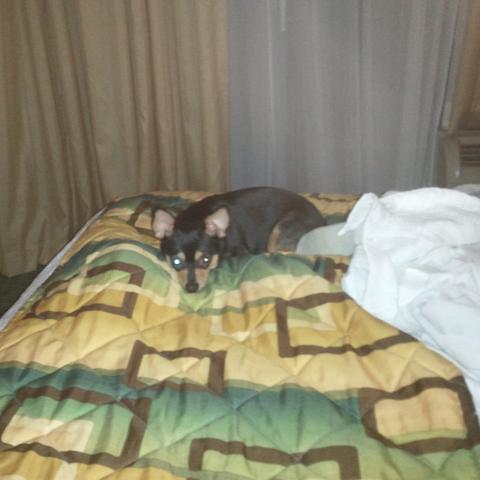 Share a Photo