Description
Bring your dog for a hike along the gorgeous waterfalls in this Minneapolis park. This park has hiking trails through the woods and doggy access to the Mississippi River. An off-leash permit is required to gain admittance. Bring quarters for parking meters.
Reviews
Minnehaha Park has received a rating of 4.8 out of 5 bones by 12 dog owners on BringFido.
Tough to beat

May. 29, 2017

Tough to beat

Not sure if I'll find a better dog park in the twin cities! Beautiful wooded trail when you enter, just follow the fence and signs and after about a 10 minute walk you arrive at the Mississippi river with several sandy areas for dogs to play. Wear clothes that can get dirty given all the wet dogs, including hopefully your own. Quite a few trails lead up into the woods away from the water to walk. Gonna take me a few trips to explore the entire park. Don't forget a pass is required to use Minneapolis dog parks. Parking is $1 and hour near the dog park entrance.

Incredible Park!

More than one year ago.

Incredible Park!

My 2 very energetic dogs absolutely love visiting this dog park. It's huge, wooded, has a river running through it for water play, and lots of twists/turns & hills along the way! It's a nice walk for owners to enjoy as well, plenty of tree coverage to provide shade on a hot day! Just be prepared to give your dogs a bath after visiting, especially if your dog enjoys taking a dip in the water!

Best

More than one year ago.

Best

This is a great dog park, especially for any dogs that like to jump in the water! Can be fairly busy sometimes. Met one grumpy old man along the way but mainly friendly people.

Enormous Off Leash next to Mississippi River

More than one year ago.

Enormous Off Leash next to Mississippi River

Largest off-leash park in the Twin Cities. This is an enormous off leash dog park that requires a $35.00 annual residents permit to utilize (permit gives you access to all city-owned off-leash parks). Large wooded area along the river provides ample trails and wooded areas for dogs to run and play. Depending on time of year river is very high or has nice beach area to walk along. Trash cans throughout the park. Metered parking nearby and 2 hour free parking if you access the area via the nearby national park area. Rough terrain so sneakers, hiking boots useful. Bring bags, water, towel for dogs. Mix of responsible and less responsible owners but majority of dogs are well behaved. Important to be able to recall your dog here, as park is enormous and NOT fenced in everywhere... Park Police do regular checks.

Best in show

More than one year ago.

Best in show

Definitely the park for active dogs who like to run in the wild, climb hills, swim and chase other dogs until they exhaust themselves. You will need good shoes, and relaxed clothes. No strollers, seriously. The trails can be a little rougher in the winter and spring so prepare for a hike. Pay attention to the signage, part of the trail down to the park is not technically fenced and I've witnessed a couple people yelling for their wayward companions. It's popular so the Park Police do regular tag checks. We typically spend at least an hour to walk all the way down to the sandy point and back to the car, just fyi. Once you try this park you will have a hard time justifying a trip to any other.

Excellent Park - Permit Required

More than one year ago.

Excellent Park - Permit Required

July 2013: annual permit is $60 for non-resident, $35 for residents. We went in with a local resident & had a blast. What an amazing park - I SO wish we had something like this in our hometown! Absolutely gorgoues with trees, brush, trails, water, the river... couldnt ask for anything more except that it be closer to my home! Loved it!

Should be in Minnesota!

More than one year ago.

Should be in Minnesota!

The yearly fee is $35 for residents of Mpls. This is by far the best dog park I have been too! The scenery is wonderful, the walk into the gorge to the Mississippi is stunning and the people are always friendly and happy to be there. The riverside offer both rocky and sandy shores , many swimming dogs get busy playing and fetching in the river. Be careful in the spring when the currents get strong. There are also options to walk through the woods both in and on top of the gorge, the top of the gorge does not have a fence so don't let your dog chase the squirrels! I have seen bald eagles and foxes in the park, its my dogs favorite place in the world. Imo the 2nd best dog park in Mpls is Victory Prairie Dog Park @ 4701 Russell Ave N. The people in the park are very friendly but the neighbours yell at people if they park in front of their house. This park is 2.5 acres, has a few shade trees, its mostly grass with some woodchips. The regulars have supplied water dishes and bag to clean up messes

Permit

More than one year ago.

Permit

Requires annual permit $60

Why is this not in the top 10??

More than one year ago.

Why is this not in the top 10??

I've been to almost all of the "top 10" dog parks, and none of them come close to this location. It's one of the few dog parks that's as enjoyable for people as it is for dogs. While some parks don't even have a waste bin, the city even has waste service down by the river. The only downside to this park is that it's vast, and if your dog doesn't recall very well then this park would be frustrating.

best dog park ever

More than one year ago.

best dog park ever

this is the bet dog park it is so fun, me and my dog could hangout there all day every day

Best dog park

More than one year ago.

Best dog park

I am originally from bloomington and frequently brought my dog to this dog park. My family members still do and I visit everytime I am home. It is a long beach where tons of dogs can run and swim, also woods if they want to venture back there. I now live in NC and have been searching for another dog park that measures up but have not found one yet. I will be home in June with my dogs and that will be the first place I bring them, they are going to love it.

Great Place

More than one year ago.

Great Place

You and your dog will love this park. there is water for the swimmers and trails through the wooded area for the others. lots of dogs to play with. MSP does enforce there off leash permit from time to time. which is good for one year and kinda pricy but a wonderful park.
See More Reviews
Submit a Review
Traveler Photos
Want to feature your creature? Upload a photo of your pet at Minnehaha Park below! You can also share by using the hashtag #bringfido on Facebook, Twitter, Instagram, or Pinterest.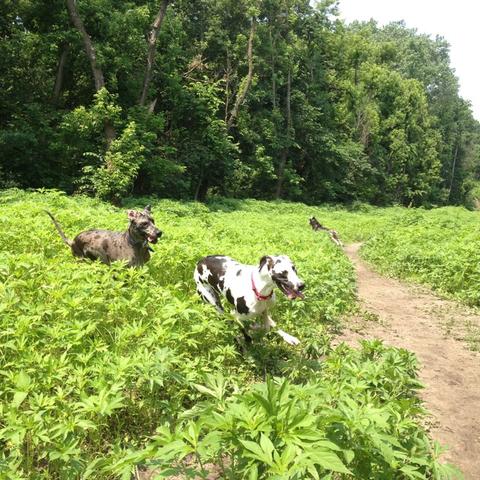 Share a Photo