Tatum
Member since May 2018
Hello! I am Tatum and my 8 month old (rescued) lab mix is Carti.
He is so much fun, a bit of a turd when it comes to listening (we are working on that) but super friendly and energetic.
Reviews
(1)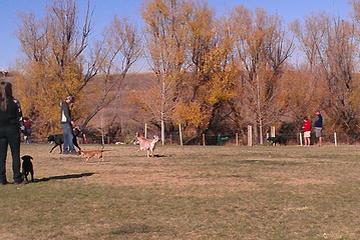 "Friendly & Clean"
Wynetka Ponds Dog Park
We come at least every week. The owners and pups have always been friendly. If a dog has been a bit sassy the owners have been pretty good about staying on top of them or leaving. It stays clean thanks to everyone cleaning up after their dogs. Lots of tennis balls to throw around and bowls for water. Definitely bring a jug or two of water for your pup! There are a few benches and a nice shaded area for owners and dogs to take a break from the sun.
For it's size (considering its location), grassy area, and cleanliness I give it 5 out of 5 bones!