Roony
Member since October 2018
Reviews
(1)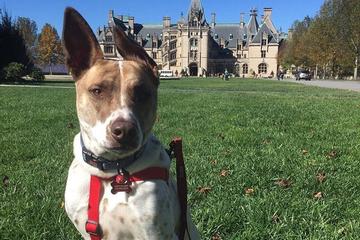 "Wonderful Experience"
Biltmore Estate
First off—forget the dog kennels. We were told the ones in Park-C (next to the mansion) were closed but the ones in the Village parking lot were open. We took forever to find them but if you drive beyond the parking lot and behind the animal farm you'll see a sign. I was expecting dog kennels like the ones you see at Petsmart but these were really disappointing. There were four stalls with chain link fencing and some wooden boards/ bare concrete. There's enough room to house a few big dogs in one stall but the water bowl is filthy with bugs and leaves. Speaking of bugs, there were so many cob webs and spiders around you can tell no one is in charge of cleaning these kennels and they're so far away from the village its like the dog kennel idea was an afterthought. It was cold today too and there was no heating/comfort for Fido-just cold slab of concrete. If it rained I think the pups would get wet too and there isn't much of a view—just workers driving around. I don't expect the staff to treat dogs as well as we owners do and I know this is just a convenience thing but I truly wish they would put more thought into these kennels considering how much revenue the estate takes in. Seriously, at the very least cleaning the area once a month would be an upgrade. It felt like we were surrendering our pup to the most run down shelter by leaving her here so we changed our minds and took her with us the rest of the trip. I highly suggest if you go in groups to split: while a part of your group explores the house the other group can go gift shopping or tour the trails and that way you can take turns taking care of Fido and no one has to drive back and forth to those awful kennels. If you absolutely have to leave your pup in a kennel know that the house tour is 2 hours long so definitely bring your dog a bed and water bowl.
Besides that this was a great day for us and our pup, she got a lot of exercise and there was plenty for her to see and we couldn't believe we spent 8 hours here hurrying back and forth between tours and trying things out before shops closed. The estate is enormous and there's so much you can do, the gardens/ trails covered sooo much land you'll spend at least 2 hours there and Fido is welcome there and everywhere outside. Shops and all the restaurants have outdoor seating as well. Tip: if you have a doggy stroller or a dog bag and your pup well behaved you're likely to be welcomed in the shops.