Rosario
Member since May 2018
Reviews
(3)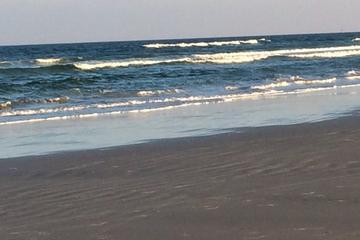 So much fun!
St. Augustine Beaches
Leash required, vilano beach has an area for off leash but not that big.
I am actually FOR having the dogs on a leash, yes theres plenty of space however a lot of "entrances" to the beach belong to hotels, residential areas and parks, you dont want them just running up to anyone Or another dog. Both are unpredictable in reaction. Plus when we went in the AM when there was hardly anyone there, there were a lot of people with their dogs on leashes enjoying the shore. Later on more people arrived and some driving on the beach too.
I will add if you do go, to please pick up after your dog, I saw one person just cover it up with sand to only be stepped on later by bare feet from someone else,so i myself got my doggy bags and cleaned it up(not happy about that) clean up or else they'll make this beach dog-free zone. It was a previlege to be here, treat it with respect.
Also,PLEASE BRING WATER FOR YOUR PET! no shower area near by, doggies will get thirsty.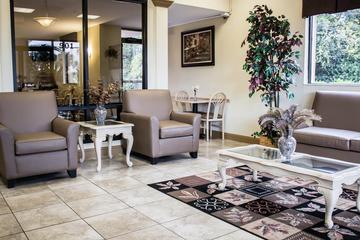 Great for bigger dogs
Quality Inn St. Augustine Beach
I brought my husky with me on vacation, her first time to the beach!
Theres is a designated area behind the hotel to let your dog relieve themselves and doggy bags are also provided w a bin for disposal.
We had the suite so the pull out couch was awesome for my dog. Park in front w a beautiful walkway that leads straight to the beach. If you have an overactive dog, the walk there should tire them out a bit(it's not THAT long). Only reason i am not giving this place 5bones is because when we arrived, everything looked clean, except the shower, there was a bar of soap from the previous person and it had a hair on it, so being so late at night when we arrived, I went out and bought cleaning things myself and well cleaned the shower. Theybhave tile floors as well, if that helps some doggy parents out and they have an accident.Staff was super nice, great location, furry friends welcomed, great price for location.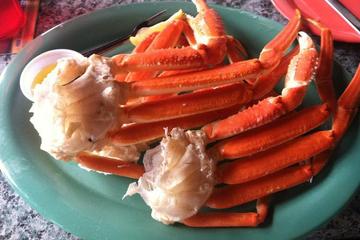 Amazing food!!
World Famous Oasis Restaurant
There's an outdoor area with a sign to eat outside with your furry friend. There were tables set out when we arrived, unfortunately it was cloudy and it started to sprinkle a bit but they helped us move under cover so we and our pet would not get wet. They provided a waterbowl w clean water for our dog as well. The food was so good i had to eat my husbands plate that he did not finish. Overall, great for well behaved pets, awesome service and amazing food. GO CHECK THIS PLACE OUT! When your done and full, beach is 5minutes away so you can relax w a full happy belly.