Wildfires are unplanned fires that occur in natural areas and can rage uncontrolled, covering a vast area at an alarming speed. When these fires spread into developed communities, they threaten homes, businesses and the lives of the people and animals who live there. Wildfires can occur throughout the U.S. but are especially dangerous in times of extended dry, hot weather when wind conditions are high. If you live in an area susceptible to wildfires, staying informed and prepared in the event of an evacuation is essential to keeping your human and furry loved ones safe.
How to Prepare, Be Aware and Act Early
Wildfire preparedness includes protecting your property, educating yourself and making a plan. Before a wildfire occurs, create and maintain a defensible space around your property by keeping the area within 100 feet on all sides of your home clear of brush, tree branches and other flammable materials. Leave hoses connected to spigots and use fire-resistant materials for landscaping and buildings. Sign up to receive alerts from the National Weather Service and your local community. Educate yourself on the difference between wildfire alerts and warnings and be ready to take immediate action in the event of an evacuation.
Wildfire Watches mean forecasted weather conditions could lead to wildfire spread in the area. If a wildfire watch is issued in your area, ensure you are adequately prepared for a wildfire warning or evacuation. Stay alert and regularly check in with your community's warning system in addition to monitoring the Emergency Alert System (EAS) and National Oceanic and Atmospheric Administration (NOAA) Weather Radio emergency alerts.
Wildfire Warnings, known as "Red Flag Warnings," are issued when conditions are particularly dry and could result in combustion and/or the rapid spread of wildfire. If a warning is given, it is time to take action. Clear brush from around your home and gutters, verify your emergency supplies are in order and be prepared to leave as soon as you are told to do so.
Unlike other natural disasters, the nature of a wildfire usually allows some time for planning an evacuation. Stay up to date with the path of the wildfire and make sure you know how it could affect you. Making smart use of this early warning, even if it's just a day or two, can be critical in helping you and your loved ones reach safety before disaster strikes. Stock up on extra gas by buying and filling up containers specifically labeled for gasoline storage.
After a Wildfire
Monitor pets closely, as their health can be affected by the poor air quality resulting from nearby wildfires. Animals with cardiovascular or respiratory disease are especially at risk. Look for signs of possible smoke or dust irritation in your pets, including coughing, difficulty breathing, fatigue or weakness, and disorientation. Contact your vet if your pets are experiencing any of these problems.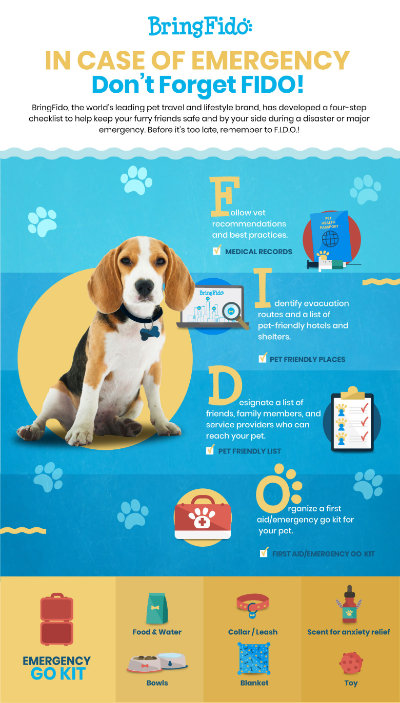 Don't Forget F.I.D.O.
BringFido, the world's leading pet travel and lifestyle brand, has developed a four-step checklist to help keep your furry friends safe and by your side during a disaster or major emergency. Before it's too late, remember to F.I.D.O.!
Standing By
BringFido stands ready to assist you during any emergency evacuation. Our Canine Concierges have secured thousands of hotels, vacation rentals and shelters for evacuees, while offering essential advice on how best to navigate these highly stressful times. Visit our website or mobile app, where you can browse and book more than 250,000 hotels and vacation rentals around the country. Or, call us and let us do the legwork for you. Our Canine Concierge team contacts the hotel to confirm the assignment of a pet-friendly room and can even help with any exceptions or special requests that you may have.
Remember that when you book with BringFido, you enjoy the benefit of our Pet Friendly Guarantee, and you'll never pay a booking fee. Call us at 877-411-3436 to speak to one of our friendly agents, or save some time and book online. Either way, our service is free.
The animal members of our family turn to us for safety and protection during natural disasters. Taking the time to prepare could be the difference between tragedy and a silver lining. Follow the four steps of F.I.D.O. and check in with #fidosafe to let us know you're safe.
Are you and your pet prepared to act in the event of a wildfire? Leave a comment or tweet us @BringFido!