Dorothy
Member since July 2018
Reviews
(1)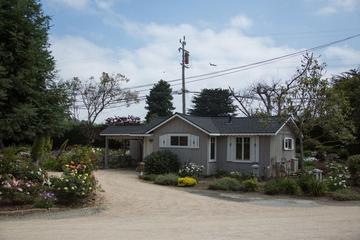 Clean but small, very dog friendly
Carmel River Inn
We had a studio cottage (with kitchenette). It felt a little cramped; there was no counter space in kitchen b/c microwave and coffee maker. The shower was very small (i'm 5'5" and had trouble washing my hair without bumping elbows).
That being said, the place was clean and the property was nice to walk around with a couple grassy areas. They provided a top sheet to protect the bed (we always bring one but it was nice for them to think of it) and provided a couple poop bags at check-in. There were also bags & trash can by the grassy area. Two shopping/eating centers less than a mile away with lots of food choices and several dog friendly patios.
The whole area, however, is not pedestrian friendly (no sidewalks!) but that's not the hotel's fault. We were able to walk through the neighborhood instead of the highway to get Carmel Craft Brewery. There is a big shoulder on the main highway but again, no sidewalks.
It's a 10ish minute drive into Carmel, 20ish to Pacific Grove/Monterey.