One tap of an app and a car's waiting at your door, ready to take you wherever you want to go, but who wants to go anywhere without Fido? The growing popularity of rideshares and the arrival of pet taxis (and even pet limousines) has made getting from A to B with a dog easier than ever before. Check out our guide to the fast and the furriest options.
Rideshares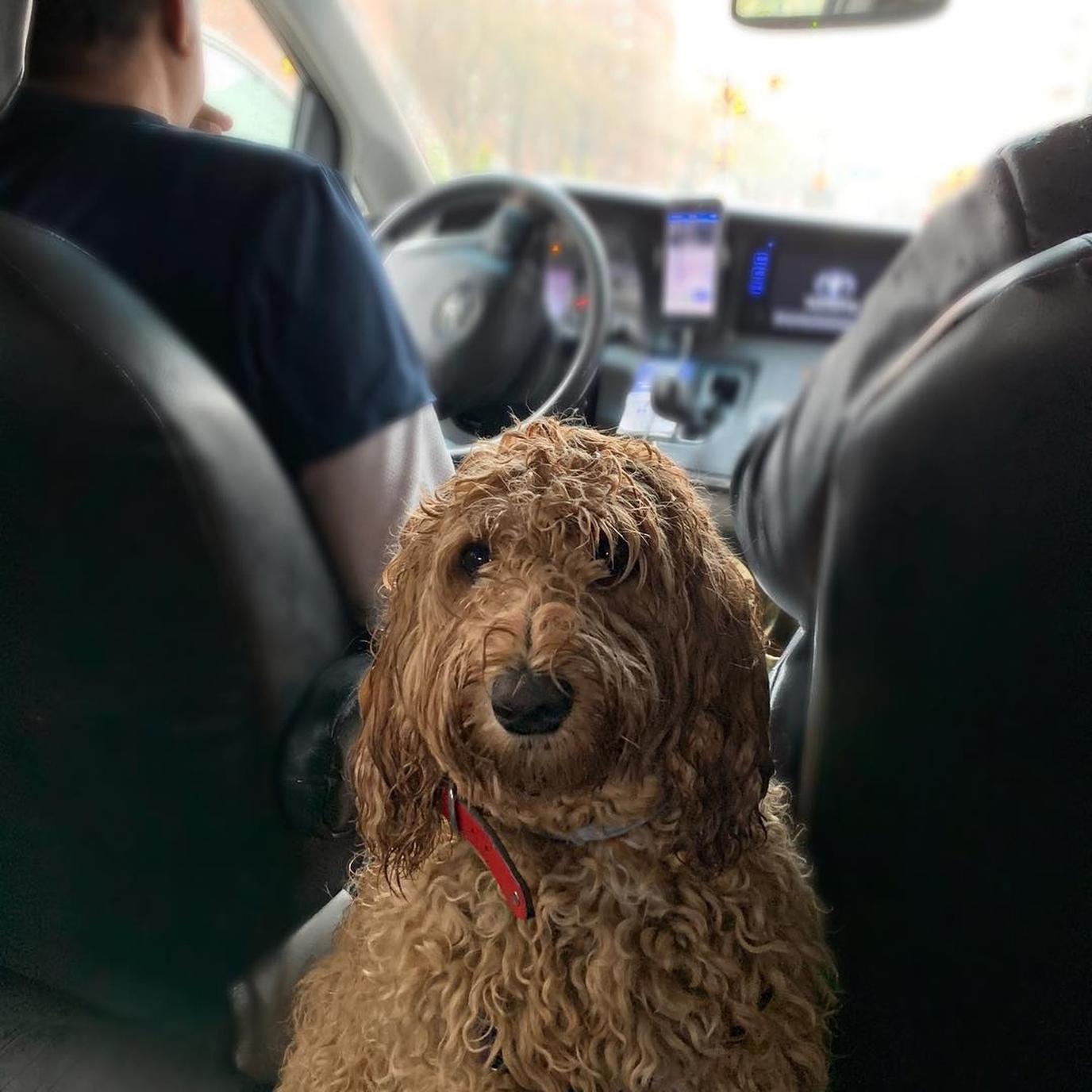 Raining? Just grab a pet-friendly Uber.
Ever since Uber hit the scene in 2009, rideshares have changed the way we get around. Not surprisingly, it wasn't long before drivers were inundated with requests from customers who wanted to ride with their pets. But do our dogs get a fare deal? It turns out that rideshare companies around the world have varying rules on bringing pets on board.
Uber
Because Uber drivers aren't employees but rather contractors who drive their own cars, the company couldn't enforce a blanket Uber pet policy. Instead, the decision was left to each individual driver. Once you've requested your ride, call the driver and ask them if it's ok to bring a dog. Canceling the ride immediately after contact will prevent a cancellation fee if they say no. Riders should request an UberX for smaller dogs and an XL if Fido is XL. Other options include high-end Uber Select and Uber Black cars, as well as UberPool, in which you share your ride with other people. Passengers in any ride should bring a clean blanket with them to keep the Uber's seats hair free. Be warned, any mess left behind by your pet could mean you get hit with a cleaning fee—the bigger the mess, the bigger the fee. Some drivers also allow cats on board as long as they're in a pet carrier. Ratings are like gold dust to drivers, so give them a nice review if they've made your pooch's journey comfortable (and you better hope Fido's on his best behavior, as drivers review passengers too). Uber operates in six continents, 83 countries, and over 850 cities. There are more than 75 million Uber riders and three million drivers around the globe.
Lyft
Lyft was established in 2012 and has fast become Uber's biggest competitor in the U.S. Many of the rules that govern pet rides in Uber also apply to Lyft, and many drivers work with both companies. The decision to allow pets is left to each driver, and customers should get approval before they bring Fido. In addition to a standard car option, Lyft offers Lyft Lux, Lux Black, and Lux Black XL, offering riders luxury upgrades and roomier vehicles if needed. It also has a shared ride service in case you and your pup like carpooling with others. Customers who are charged a fee after a Lyft driver has canceled their ride due to your pet can tap 'Contact Support' on the app to have it refunded. As with Uber, ratings matter to Lyft drivers and riders, so be kind to your driver if he or she accepts your pup. Lyft operates in over 350 U.S. cities, as well as Toronto and Ottawa in Canada.
SpotOn
Despite only having 3% of America's population, New York makes up a quarter of the country's ridesharing market. Aparna Srinivasan realized that many people who use these services in the Big Apple don't want to go through the hassle of finding a driver who would accept a dog on board their Uber. She started SpotOn, which guarantees users a pet-friendly ride. Sign up to the app or visit the website, and SpotOn will match you with an appropriate car for your pet's size (Great Danes need an SUV, but Pugs can fit in a Mini). All of their cars are equipped with seat covers and a special harness to keep dogs safely secured. Although the service is only available in New York City and the boroughs at the moment, SpotOn is hoping to expand as its popularity grows.
Via
A carpooling service operating in Chicago, New York and Washington, DC, Via picks people up and drops them off at designated points, rather than door to door. As it's a carpool, riders share their Via-cle with other people who might not be dog lovers (how dare they!). With all of their customers in mind, Via asks that dog and cat owners transport their pets in an airline-approved carrier.
Juno
Another New-York based company, Juno prides itself on giving drivers a better cut in the deal than other apps. The socially conscious dog owner can jump in a Juno car with Fido as long as he specifies this detail by using the "Requests" button when booking his ride.
Wingz
Wingz specializes in rides to airports across the U.S., from Miami to Portland and beyond. People traveling with dogs must add their request to the "Options and Instructions" section when booking their reservation.
RydePet
Ryde, a rideshare app currently operating across Singapore, Hong Kong and Malaysia, has a special service just for pets. RydePet is an option on the app, so just tap it and wait for a driver to accept you and your pet. It's not just Fido that can ride in the passenger seat either. RydePet also welcome dogs, cats, rabbits, turtles, hamsters, birds in cages and fish in bowls or plastic bags (perfect if you've just won big at the carnival).
Pet Taxis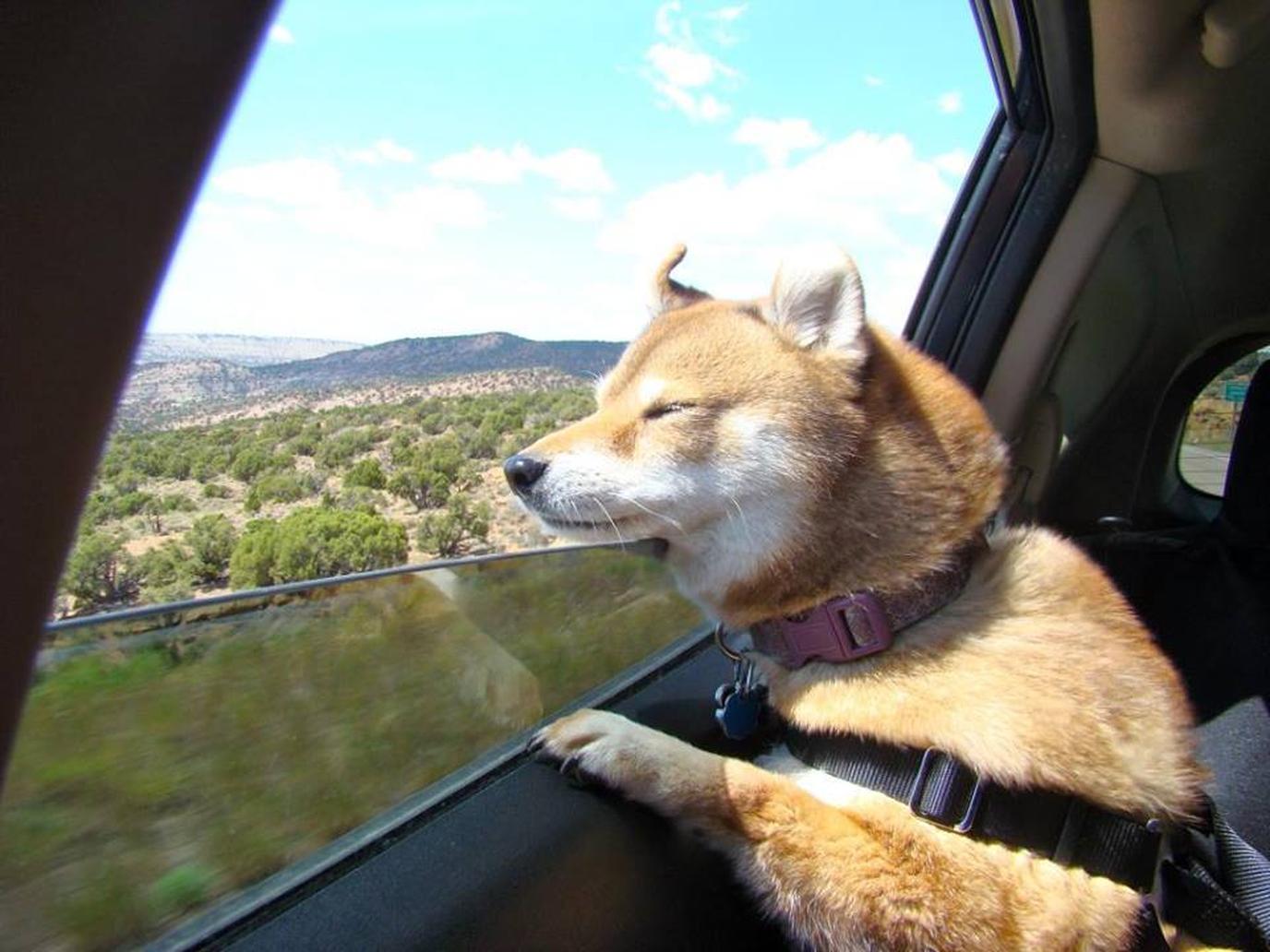 Now this is the way to ride!
Pet taxis are a relatively recent cottage industry that offers rides for passengers and their pups. While many offer only local coverage, the below options have nationwide and international coverage.
Pet Pro Services
Pet Pro Services Pet Taxi is a premium service specifically designed for dogs. Sure, it'll cost you more than a ride in an Uber or Lyft, but you get a tailored-made experience for your dog in return. They offer transportation services to/from veterinarians, groomers and boarding facilities in your local area, as well as airport shuttles and first-class, door-to-door travel services for pets traveling alone. Pet Pro understands that driving to the airport may also just be the start of Fido's journey, so they also offer assistance in arranging aircraft travel and offer a document courier service. They even supply airline-approved pet kennels if required.
Sixt
Sixt is a car rental company that operates in 105 countries. It also offers pet-friendly taxis in over 150 cities across Europe, Asia and the USA. The main perk of Sixt is that you can choose the type of vehicle that will best suit you and your dog. Some cars require pets to be in carriers, so make sure you confirm this with Sixt before reserving.
Taxi Apps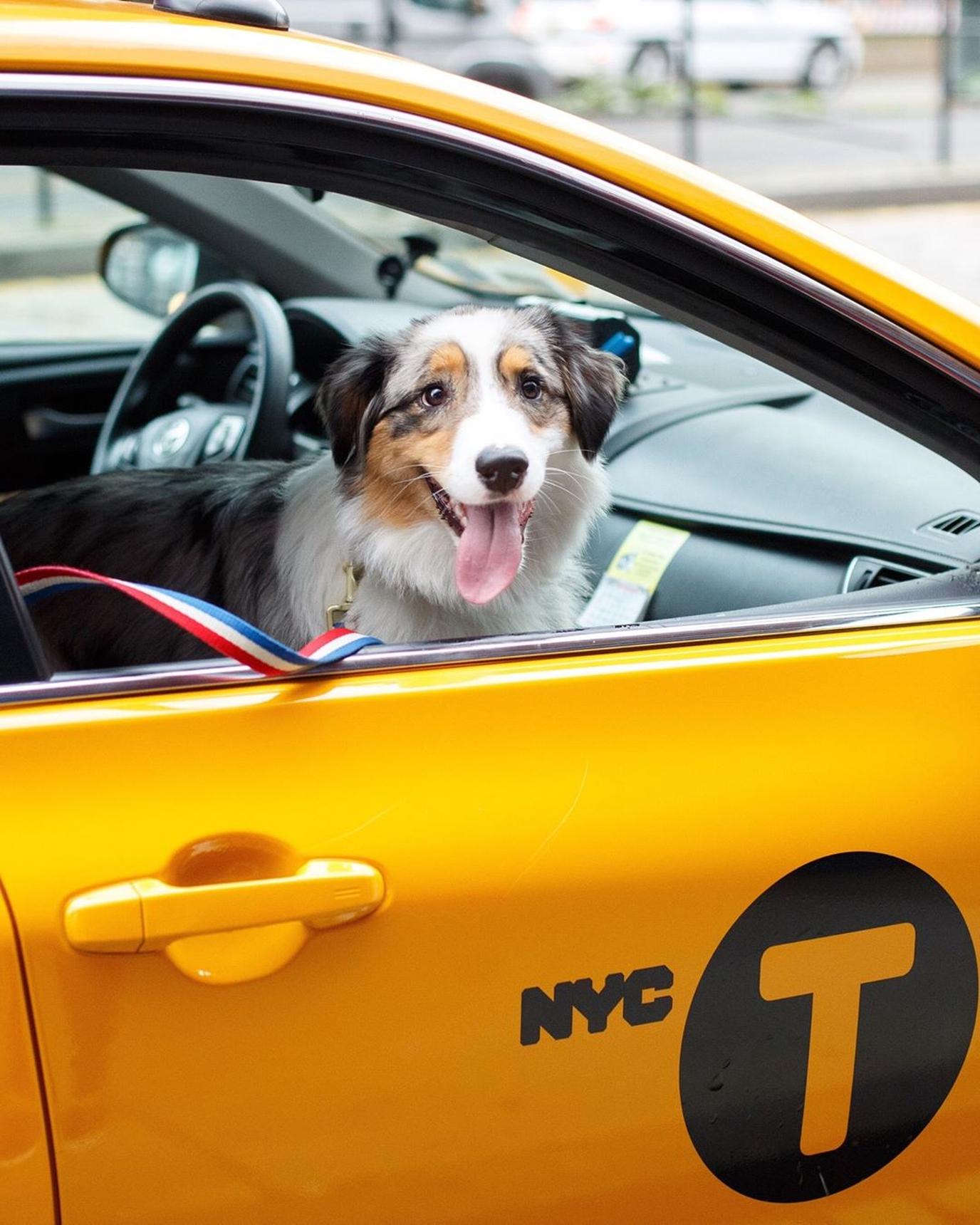 The rise of rideshare apps has had at least one positive effect on taxi companies in many cities in the U.S., but especially the Yellow Cab capital, New York. Cab drivers have had to get smarter about acquiring new customers. They can't just rely on their recognizable brand of car getting whistled down on the streets like they used to. Dog owners will know that this is especially difficult when you're with Fido.
Curb
The people at Curb decided if you can't beat 'em, join 'em! They work with roughly half of all yellow (and green) cabs in New York, and across 30 other big cities in the states, to provide the taxi version of a rideshare. Use the app to virtually hail a nearby Curb Taxi. Its meter becomes locked and the driver won't accept any other rides on the way to you. There is no specific way to select a dog-friendly cab, but like Uber or Lyft, you can book a ride and then call the assigned driver to ask if he or she would be ok with giving your pooch a ride, too. This step gives you peace of mind that the driver won't just drive through a puddle and splash you both, but actually stop and pick you up.
Grab
Grab, a taxi hailing app based in Singapore, has trained a number of drivers in animal handling, allowing two medium or one large pet to ride in a GrabPet Car. Drivers are provided with an in-car kit that includes a back-seat cover, microfibre towel and an air freshener. Getting around with Fido will soon be as easy as, well, hailing a cab.
Gett
Juno, the New York-based rideshare app, was recently purchased by Gett, an Israeli black-car service available in 120 cities around the world, including London, Edinburgh, New York and Moscow. They clearly love dogs, as you can tell from their Gett Dogs page, and have roughly the same pet policy as Uber and Lyft (leaving the decision up to the driver). Users just need to make sure to add it to the notes section. Gett is comparable to rideshare apps when it comes to cost, but what really sets them apart is that they don't charge surge pricing. Uber and Lyft are known to ramp up prices during bad weather, rush hour and special events because of demand increase (the app will tell you when this is happening), but a ride with Gett in New York, for example, is $10 no matter what (anywhere below 110th).
Ola
Ola started life in Mumbai, India and now works with 1,000,000 cars across 169 cities, including cities in Australia, New Zealand and the UK. Whether you're heading into town or the airport, the cab-hailing app allows customers to select their service, from economic to luxury travel. Although pets are not permitted in the shared rides that the company offers, the decision to allow dogs in individual city taxis is up to the driver.
Flywheel
Working with taxi drivers in a number of cities across the U.S., Flywheel is another e-Hail app. Once you've booked a cab, check its distance on the virtual map and trust the local driver to get you where you want to go as quickly as possible. Some drivers will allow dogs but make sure to leave a comment for your driver in advance to avoid any unpleasant rejections.
As new and innovative pet-friendly taxis and rideshares sprout to serve dog lovers around the world, it will only get easier to hail a ride with Fido.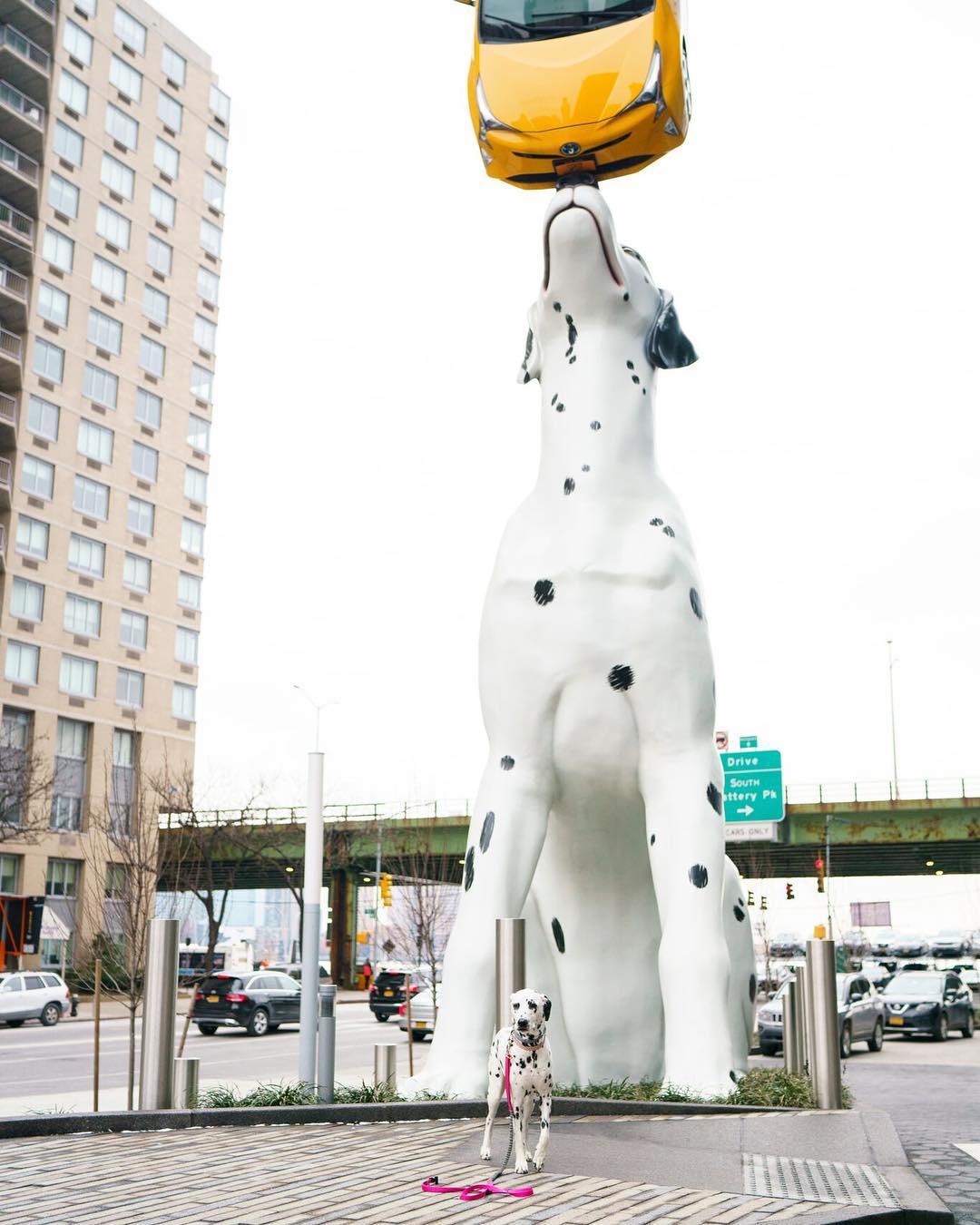 "I don't care how many dog biscuits I get, I'm not balancing a taxi on my nose!"
Photo by @nyulangone
Have you taken your dog in a rideshare or pet taxi? Leave a comment or tweet us @BringFido!