With 300 days of sunshine, a downtown that's easy to explore on foot, and an abundance of dog-friendly places to eat and play with the Rocky Mountains as a backdrop, Denver, CO is a great destination for a weekend jaunt with Fido. Founded in 1858 as a gold mining camp, The Mile High City is located at the base of the Rockies, exactly one mile above sea level. It's long been a destination that welcomes four-legged tourists, so you know there's a lot of fun to be had here with your pup! Enjoy dog-friendly Denver and discover parks, tours, hiking trails, breweries and places to eat where your canine companion can join in the fun.
Friday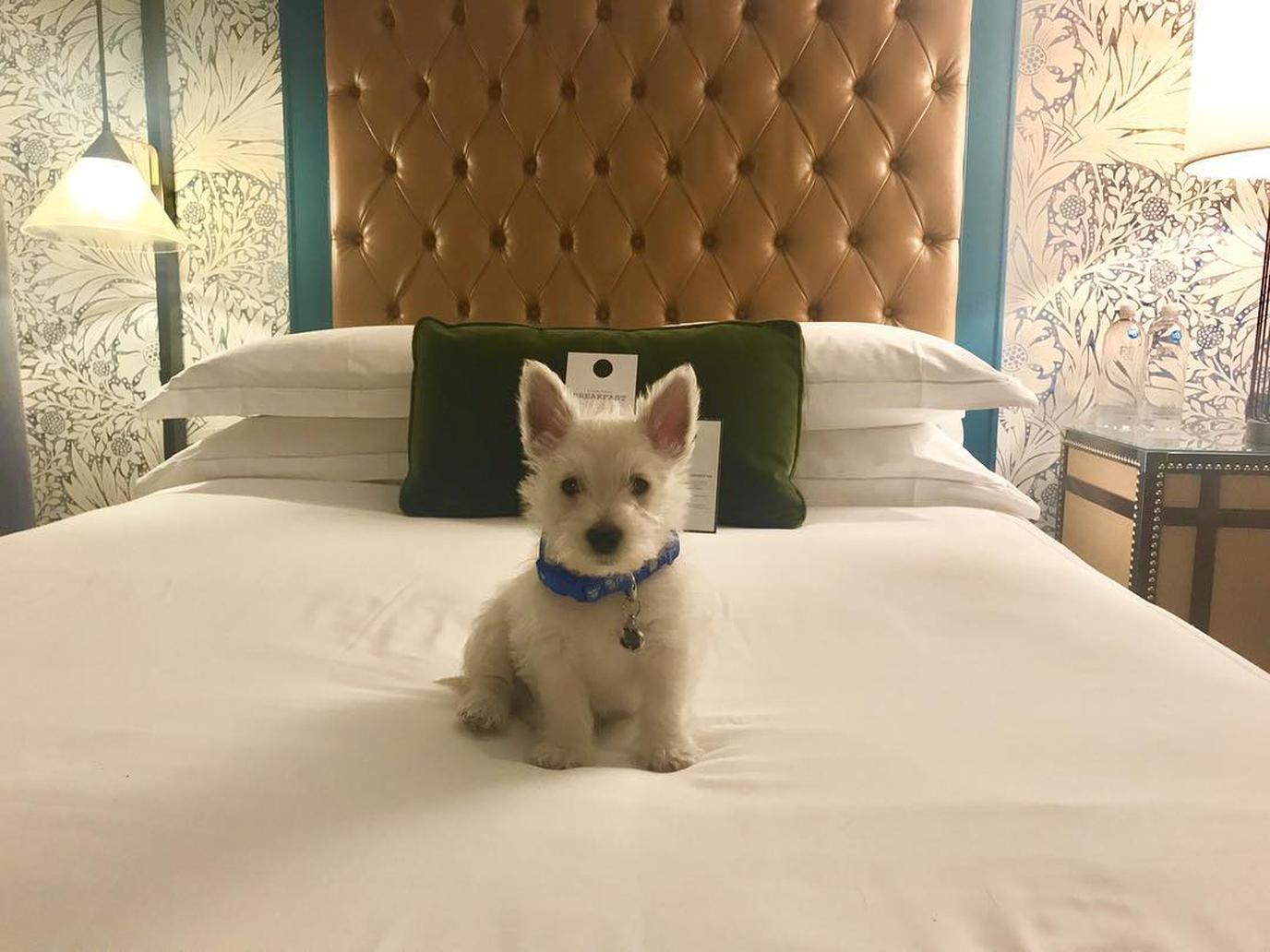 Dogs will have a comfortable stay with you at the Hotel Monaco Denver.
4 p.m. The Kimpton Hotel Monaco Denver
Check in to your pet-friendly digs in the heart of downtown Denver. Your canine companion will be greeted by name and welcomed with loaner beds, bowls and mats in the room. The Kimpton Hotel Monaco really spoils pets, and you'll also enjoy creature comforts like an inviting bed with luxurious linens, a gourmet minibar to satisfy any late-night cravings, and your own yoga mat so you can stretch in the downward dog pose.
Be sure to put the provided hang tag on your door to alert staff that there is a dog inside your room. Once you've unpacked, take a moment to relax and recharge or walk the dog through Skyline Park, conveniently located two blocks away.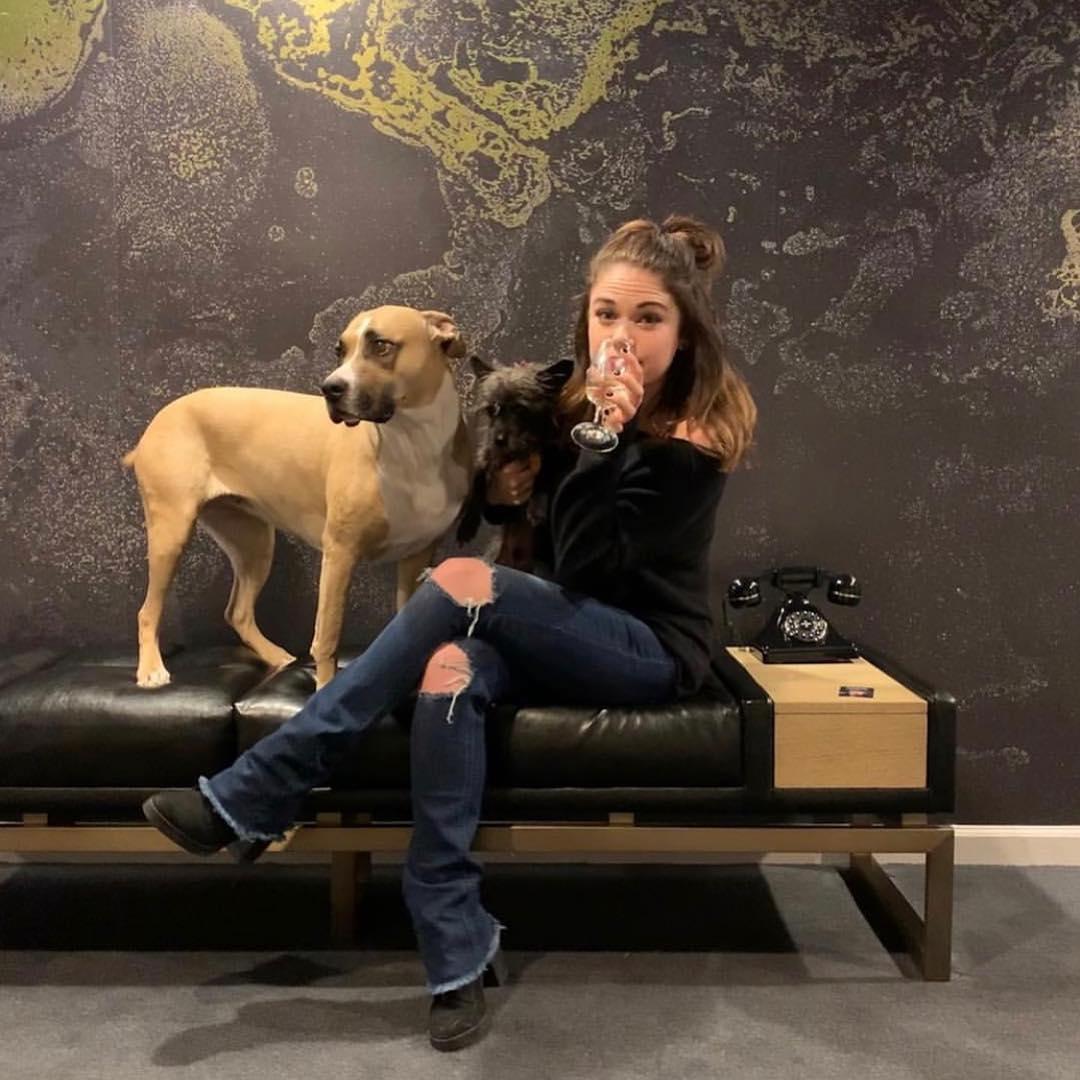 Free drinks, appetizers, massages AND you can bring your dog? Sign us up!
Photo by @thereneebaker
5 p.m. Yappy Hour
Join the gathering in the hotel lobby for a dog-friendly happy hour featuring complimentary wine, beer and appetizers from Panzano, the hotel's award-winning restaurant, along with five-minute chair massages courtesy of VEDA Salon & Spa. It's a fine opportunity to mix and mingle with other two-legged and four-legged hotel guests. Pop by the concierge desk if you need to arrange any dog-walking or pet-sitting services during your stay.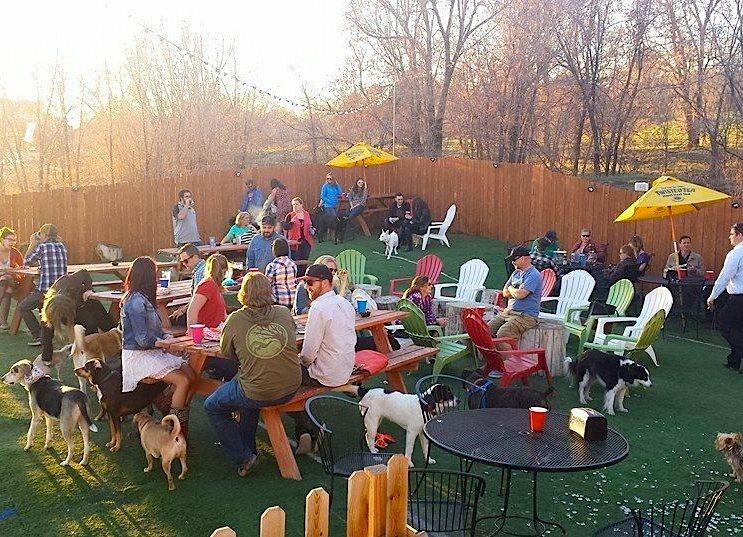 Dinner in the dog park.
6 p.m. Dinner at The Watering Bowl
Grab a bite and treat your pup to a night out on the town at The Watering Bowl, which is part dog park and part tavern. This dog-friendly gem is making a splash with its own on-site, 9,000-square foot dog park seating area. Watch Fido play and make new friends while you enjoy waiter service for drinks and pub grub like chicken wings, pizzas and burgers. Order your furry friend some dog treats or his own cake if he gets hungry. You may even see some canine nuptials while you're there, as The Watering Bowl occasionally hosts dog weddings!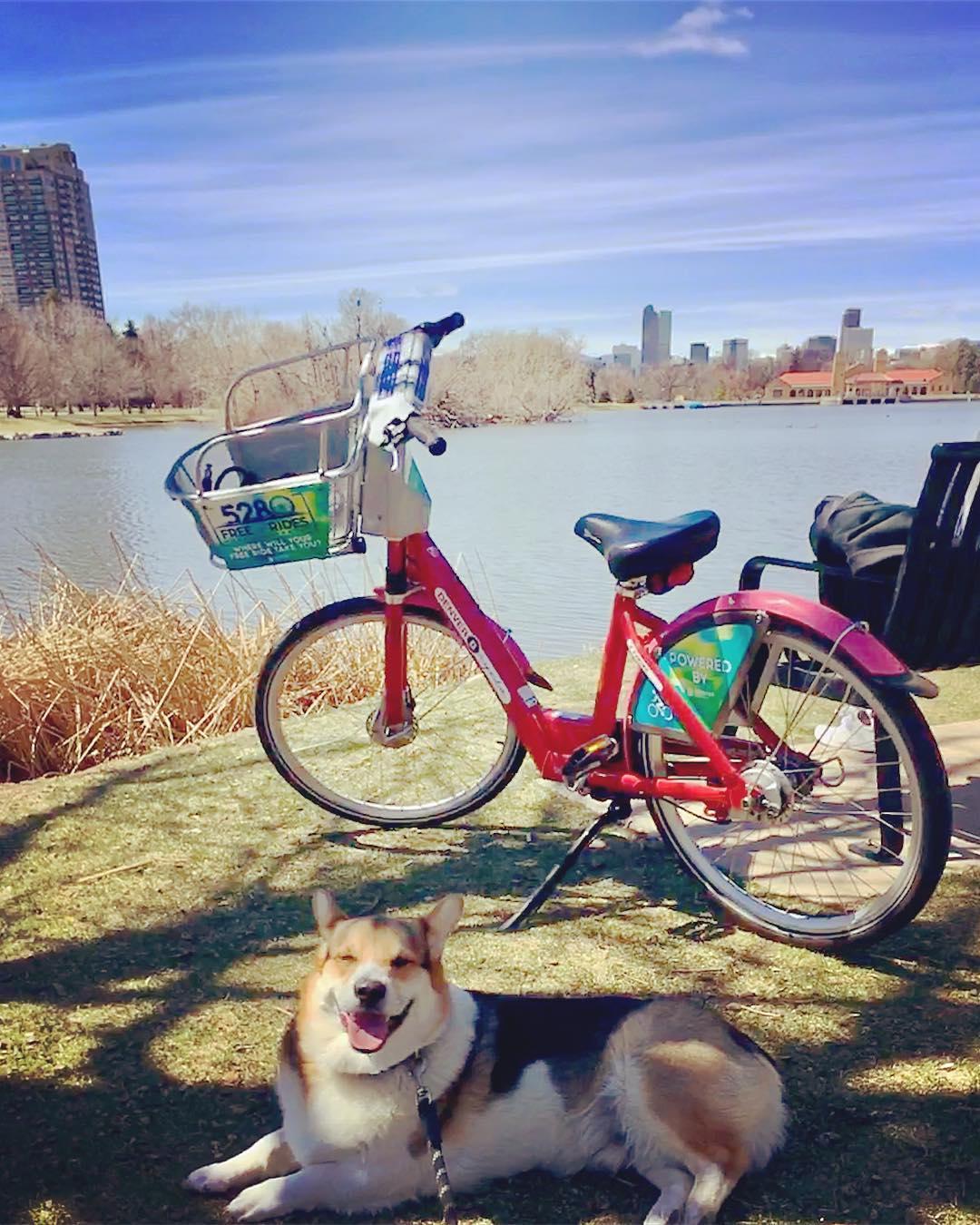 Take a ride on two wheels with your four-legged friend.
Photo by @gusguscorgi
8 p.m. City Park
Denver's 850 miles of paved and off-road trails make it easy to get out on two wheels. Rent a bike from a Denver B-cyle bike-share station and explore City Park with your leashed dog running beside you or, if he's small enough, cruising in the basket. With 7.5 miles of bike paths, City Park offers one of the longest trails in the city. You and Fido can burn off some steam with an evening ride that takes you past duck ponds, civil rights memorials and lush foliage.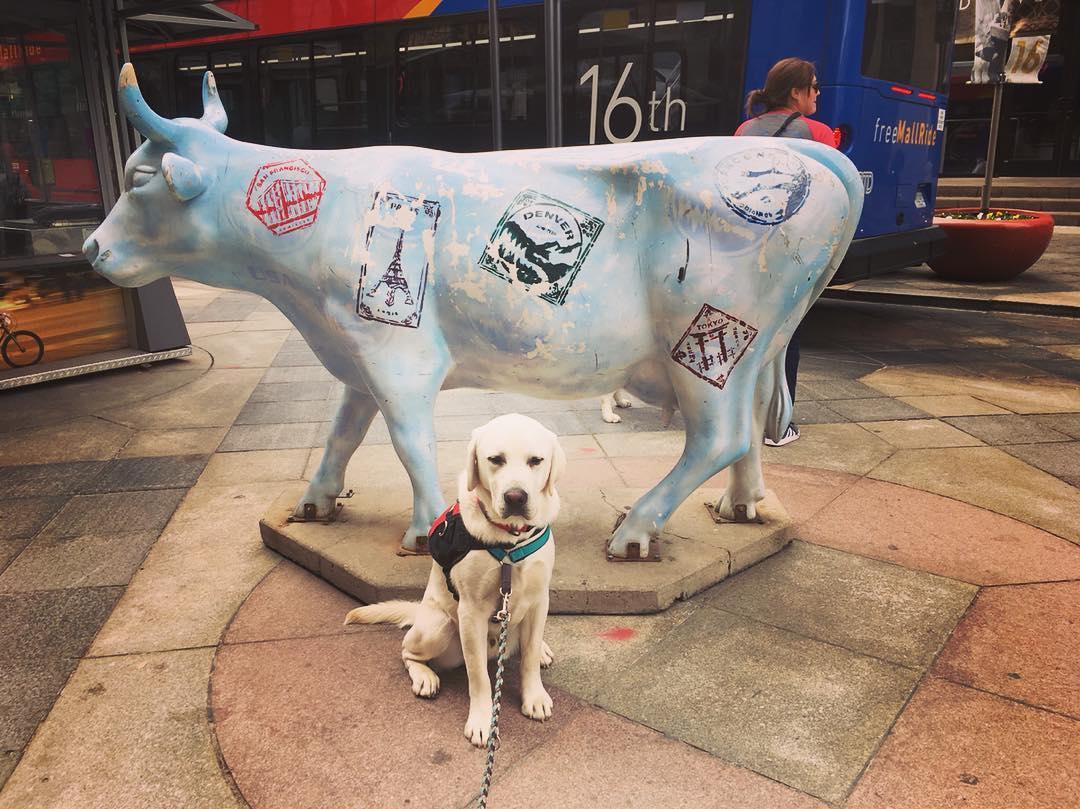 9 p.m. 16th Street Pedestrian Mall
If you're not ready to turn in just yet, walk across the street from your hotel to the 16th Street Pedestrian Mall. Designed by famed architect I.M. Pei, the walkways are made of red, white and gray granite in a repeating pattern that, when viewed from above, resembles the scales of a diamondback rattlesnake. You'll pass several pet-friendly places to eat, drink and shop. Stop and request an outdoor table at Rock Bottom Restaurant & Brewery to sample local beer or indulge your sweet tooth with one of the pub's Mason jar desserts. Bourbon pecan pie, anyone? Ask for a bowl of water for Fido, too.
Saturday
Enjoy the free perks at this dog-friendly Denver hotel.
7 a.m. Coffee Time
Get your caffeine fix for free this morning in the hotel lobby. Complimentary coffee, tea and infused water are available in the hotel's living room, where your dog is always welcome. Fuel up on energy bars, jerky and plenty of water from the convenience store on your way out, and hit the road for an early start in the mountains.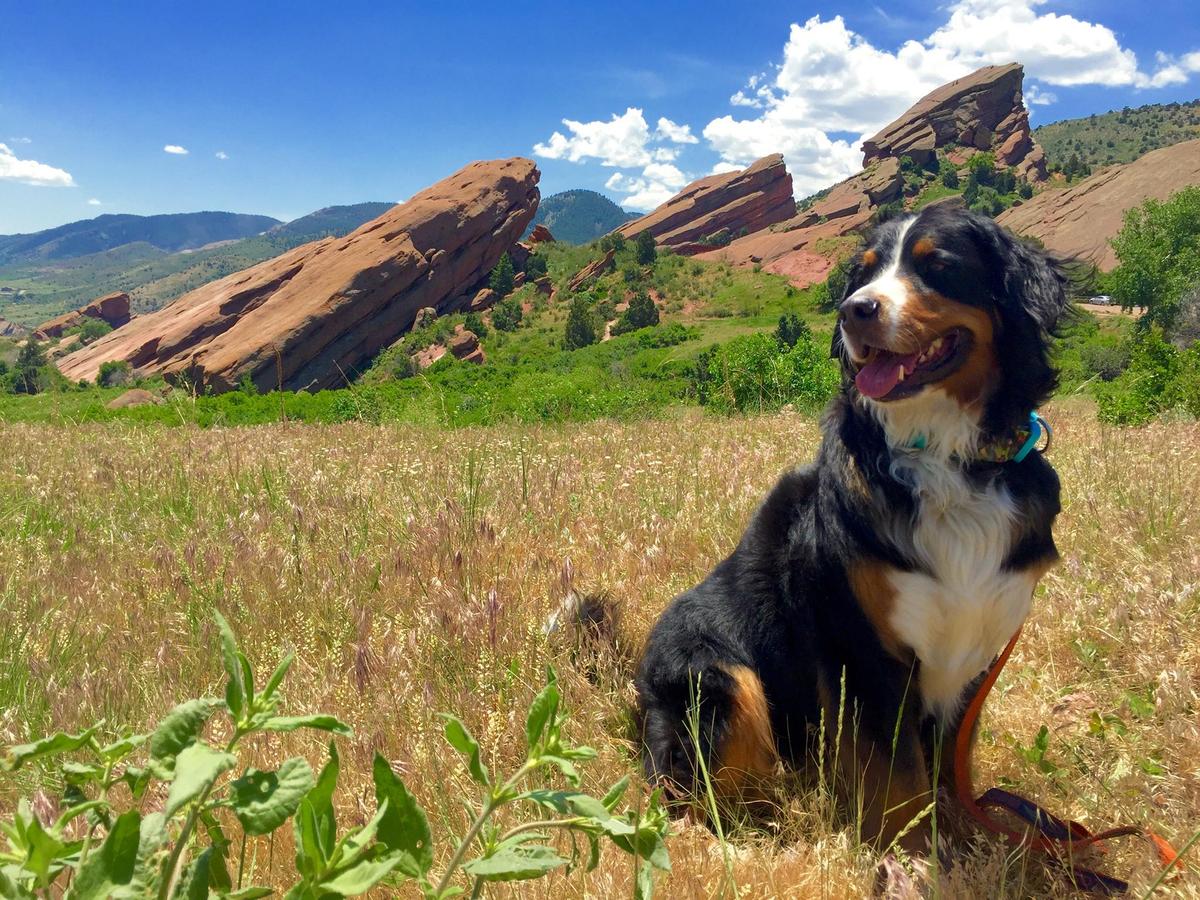 Enjoy the natural beauty of Colorado during your hike at Red Rocks.
8 a.m. Red Rocks Amphitheatre & Park
Red Rocks Park, a Denver Mountain Park, is named for its towering 300-foot sandstone rock formations. There are several dog-friendly trails located within the park's 640 acres. Most are less than three feet wide, so keep Fido on a short leash. Even though the trails aren't above the 8,000 feet that constitute high altitude, hiking at 6,280 feet above sea level is harder on your body (as well as your pup's). Start off slow and take breaks as needed. You'll burn calories at a faster rate in the moderate altitude, so refuel with the high-calorie snacks you purchased. Drink lots of water and share some with your four-legged hiking buddy. And be aware of signs and symptoms of altitude sickness and ways to prevent it, like taking deeper, longer breaths.
All of the hard work will pay off as you pass through spectacular rock formations, valleys and meadows, and see breathtaking 200-mile panoramic views of Denver. If you just want to take it all in without exercising, find a seat in the amphitheater and snap a few pics of your dog checking out the incredible vistas (don't forget to #BringFido).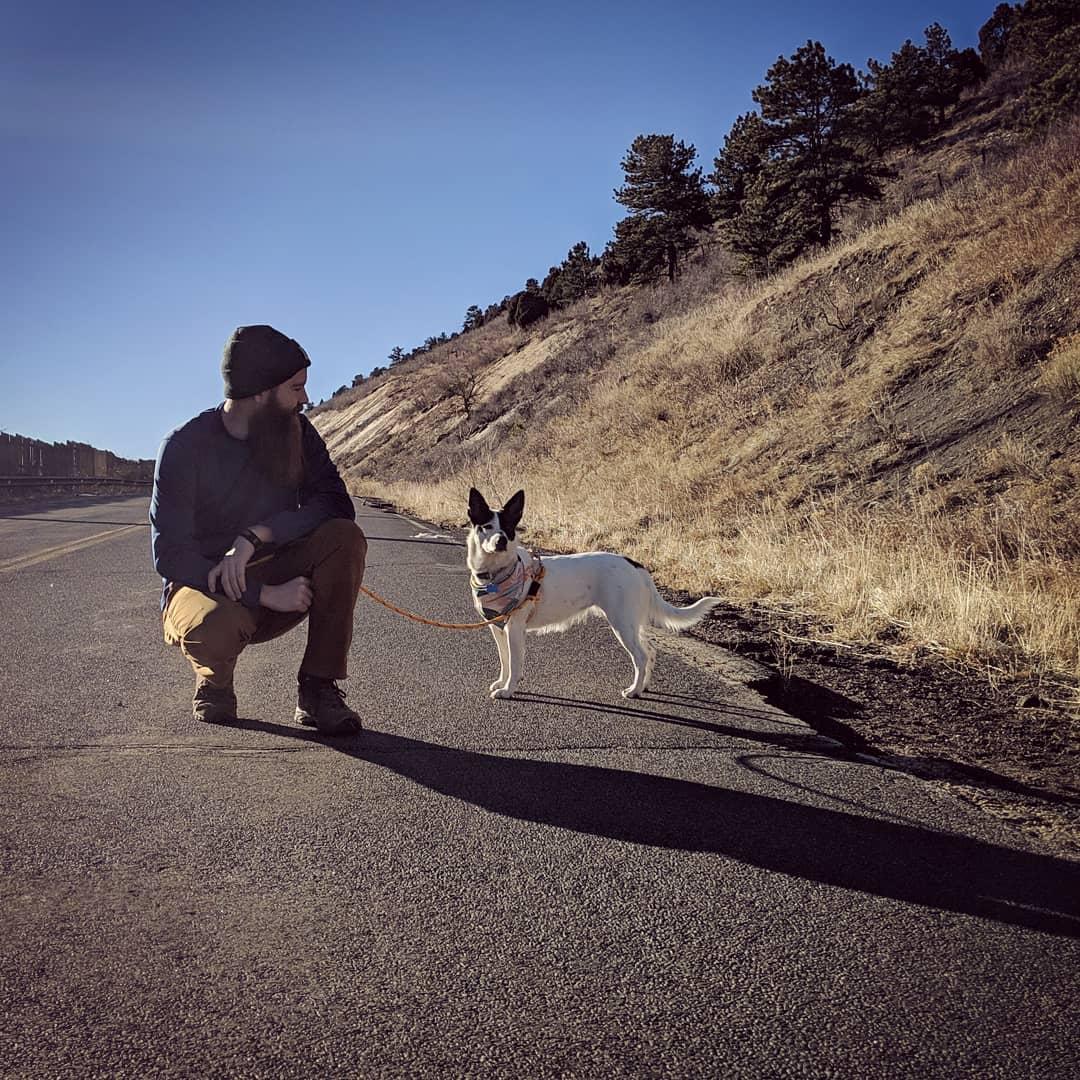 See ancient dinosaur fossils with Fido.
Photo by @ashleydolen
11 a.m. Dinosaur Ridge
Drive seven miles to Dinosaur Ridge and the Triceratops Trailhead, located one block east of 6th Avenue and 19th Street in Golden, CO. This National Natural Landmark has over 300 fossilized dinosaur footprints to view. Take a walk back through time to 68 million years ago during the Age of the Dinosaurs on the Triceratops Trail, the only dog-friendly trail in the landmark park.
This 1.5-mile hike has a gravel path and will take about an hour and a half to complete. The trail winds between sandstone walls and into reclaimed clay pits with many viewable dinosaur tracks including those left by three-toed Tyrannosaurs and four-toed Triceratops. Along the way, there are interpretive stops that will tell you all about clay mining and the dinosaur, bird, mammal, insect, palm fronds and invertebrate tracks and traces you'll see.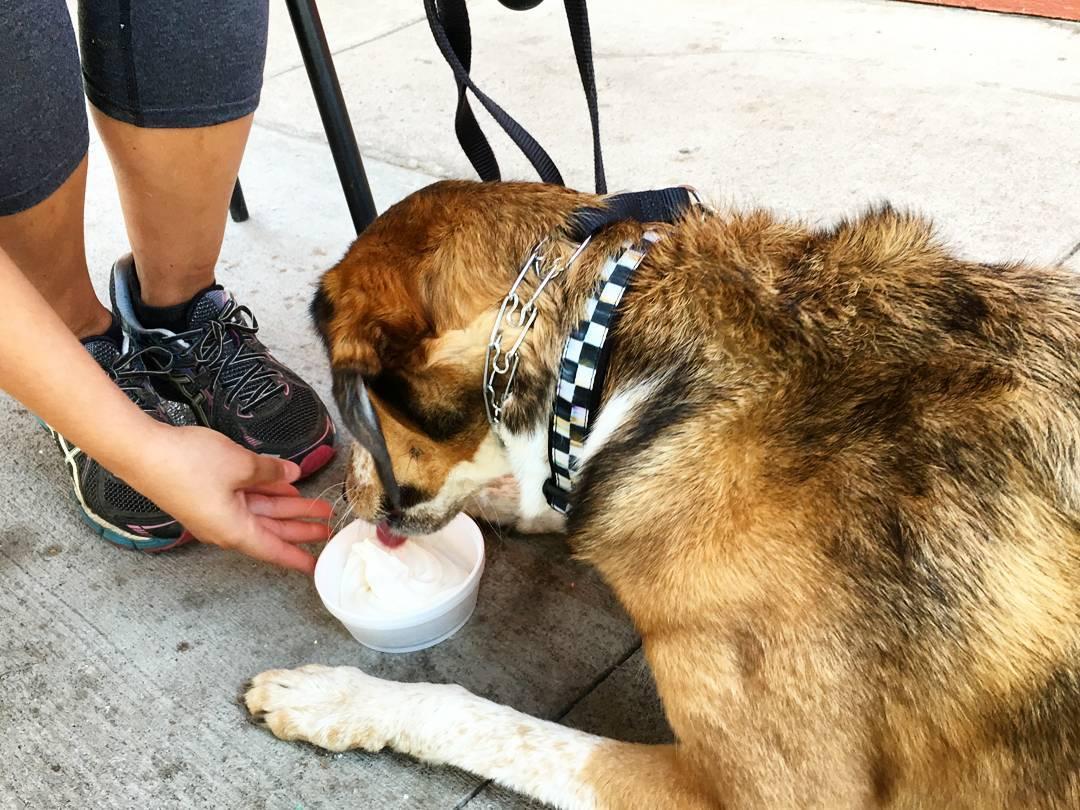 Order a post-hike ice cream for your canine companion.
Photo by @mihshhehl
1 p.m. Lunch at The Cow, An Eatery
Once you've worked up an appetite, bring Fido with you to dine on the covered outdoor patio at The Cow, a creekside restaurant in Morrison. Take in the sights and sounds of Bear Creek, which flows by the back deck dining area, while you savor hearty fare like juicy burgers, green chile chili, fish and chips, or chicken fried chicken. For dessert, treat your pup to a refreshing cup of vanilla soft serve and yourself to one of The Cow's famous milkshakes or malts.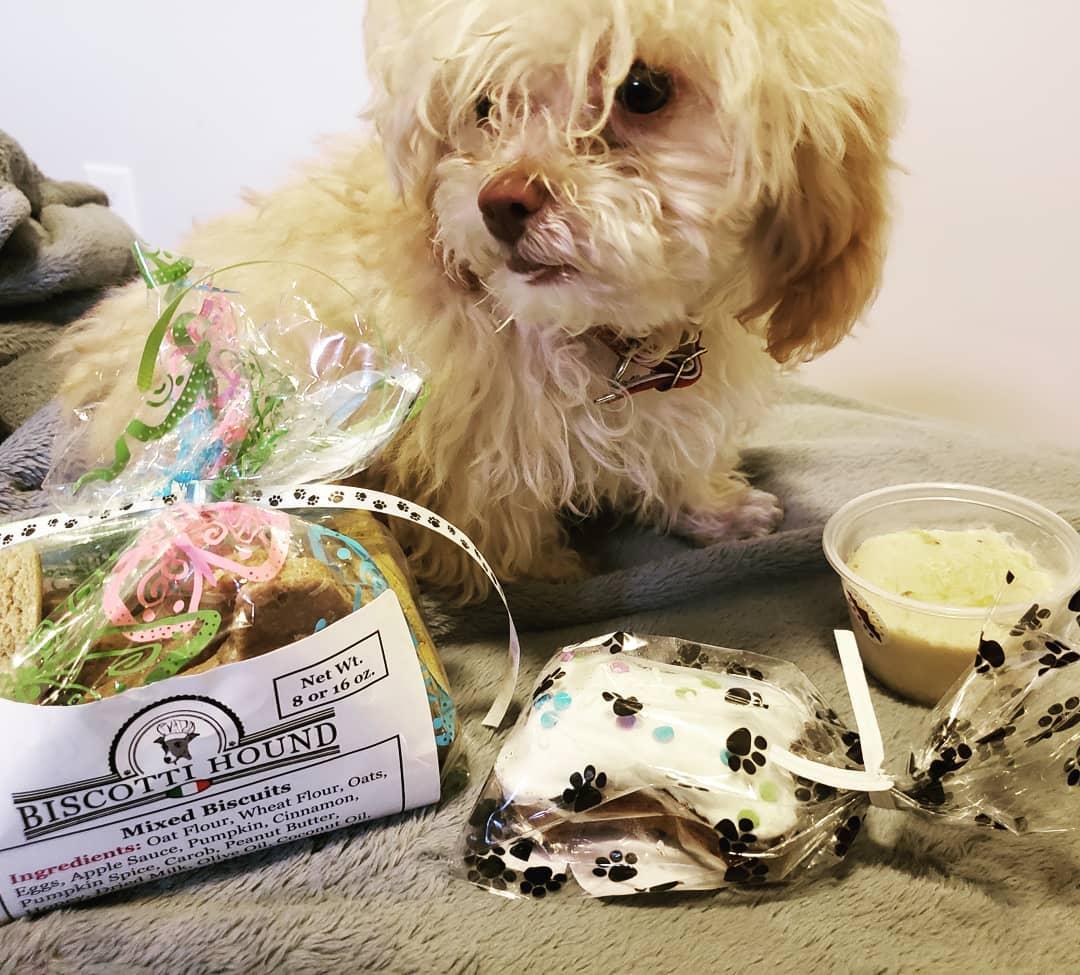 Buy your furry friend some edible souvenirs from Denver.
Photo by @pup_almond
2 p.m. Biscotti and a Break
On your drive back into Denver, make a pit stop for freshly baked dog biscuits at Biscotti Hound. Options include coconut, carob, mint and parsley, pumpkin, peanut butter, and apple flavors. Or buy a mixed bag with all of them! The dog bakery also sells doggie gelato, cannoli, pupcakes and birthday cakes. Your pup's tail will be wagging with whatever you choose!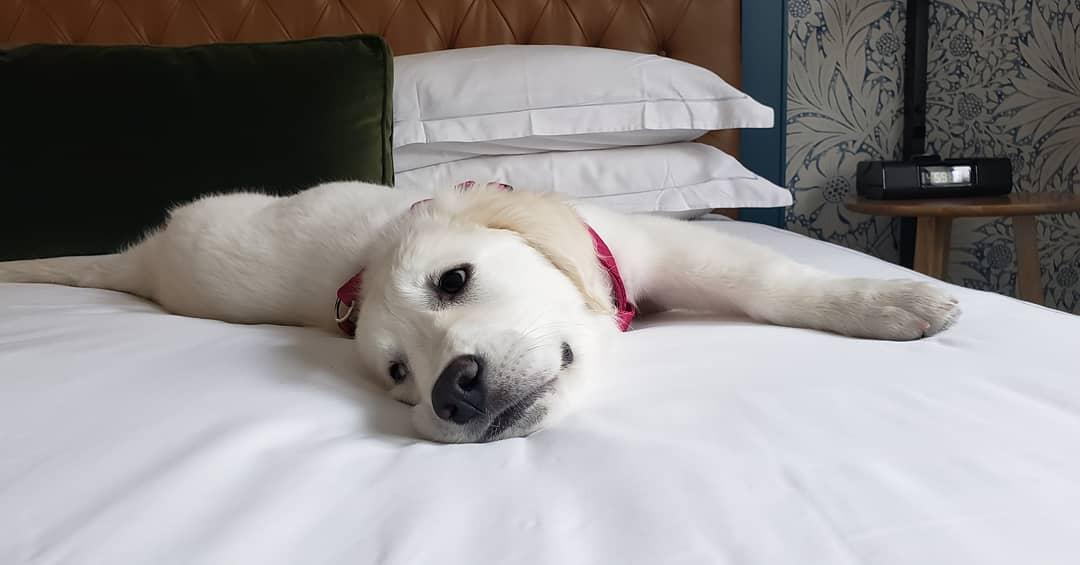 Back at the Kimpton, relax and allow Fido to rest his weary paws. Cuddle up and catch some z's or read a book for some well-earned downtime.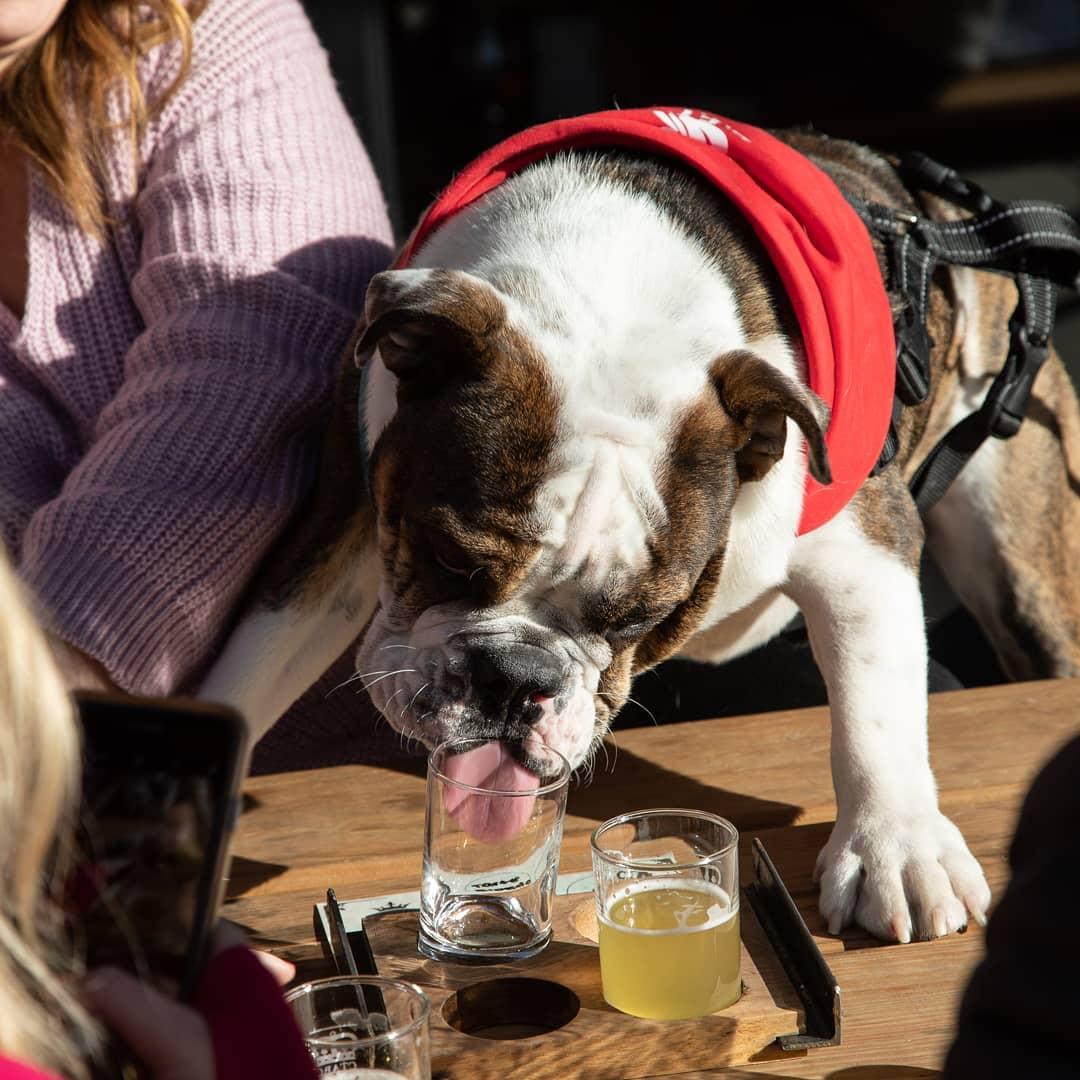 5 p.m. Brewery Hopping
No trip to The Mile High City would be complete without a visit to a few of the approximately 150 breweries that call Denver home. Most of the ones that offer outdoor seating welcome dogs. Among our favorites are Great Divide Brewing Company, Banded Oak Brewing Company, Call to Arms Brewing Company and Goldspot Brewing Company. End you tour at Denver Beer Co. where Fido can sample a dog "beerscuit!" After spending your Saturday hiking and drinking craft beer with your dog, you can practically call yourself a Denverite!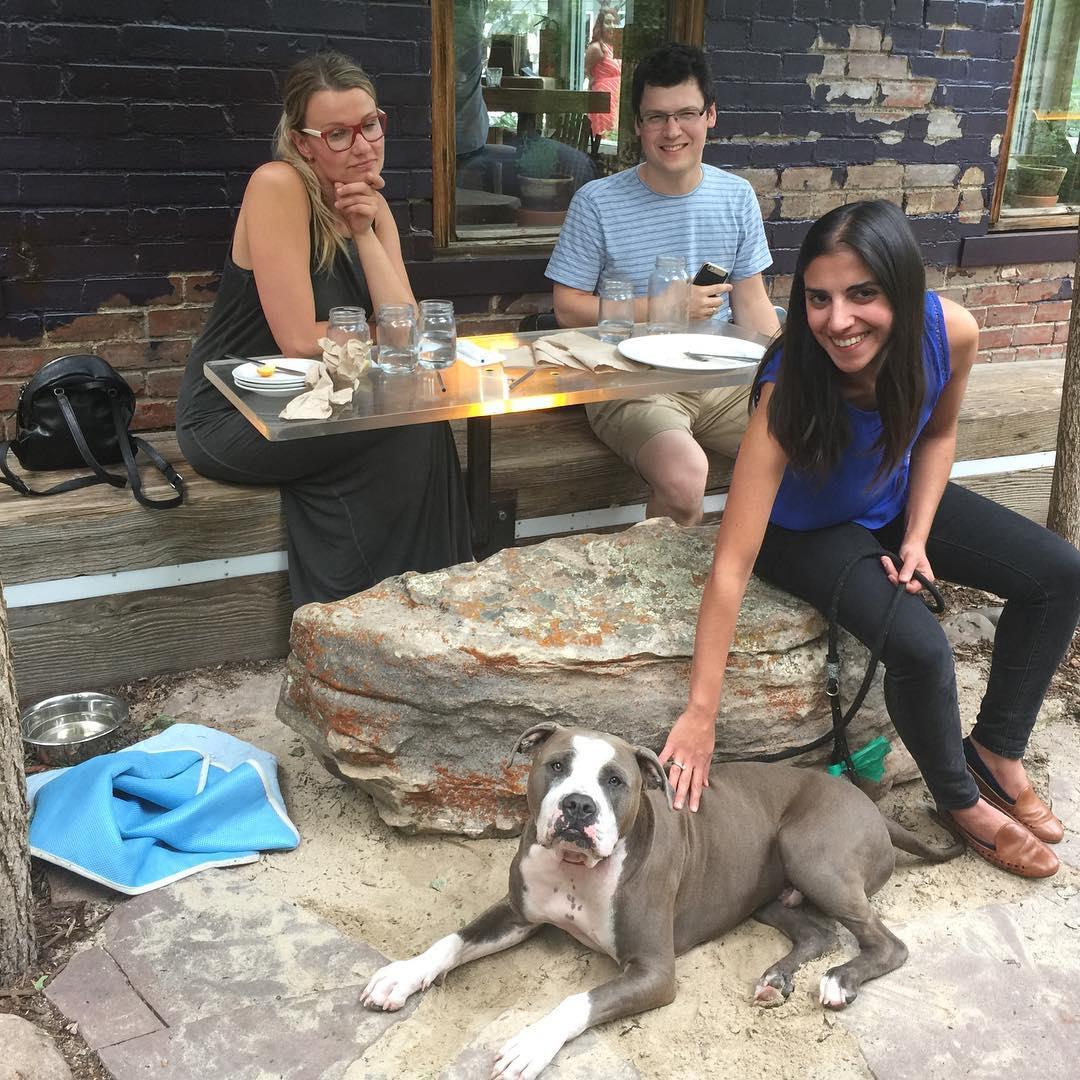 Enjoy dinner on Forest Room 5's patio.
Photo by @annedenver
8 p.m. Dinner at Forest Room 5
Just a few steps from Denver Beer Company, Forest Room 5 is the perfect choice to end your day with a tapas-style dinner. Try to snag a seat by the fire on the restaurant's pup-friendly patio. Warm fry bread, elk sliders, truffle fries, fish tacos and gouda-bacon mac and cheese are sure to please. If you have a larger appetite, order the bison short rib or flatiron steak. Your waiter will bring his four-legged customer a bowl of fresh water.
Sunday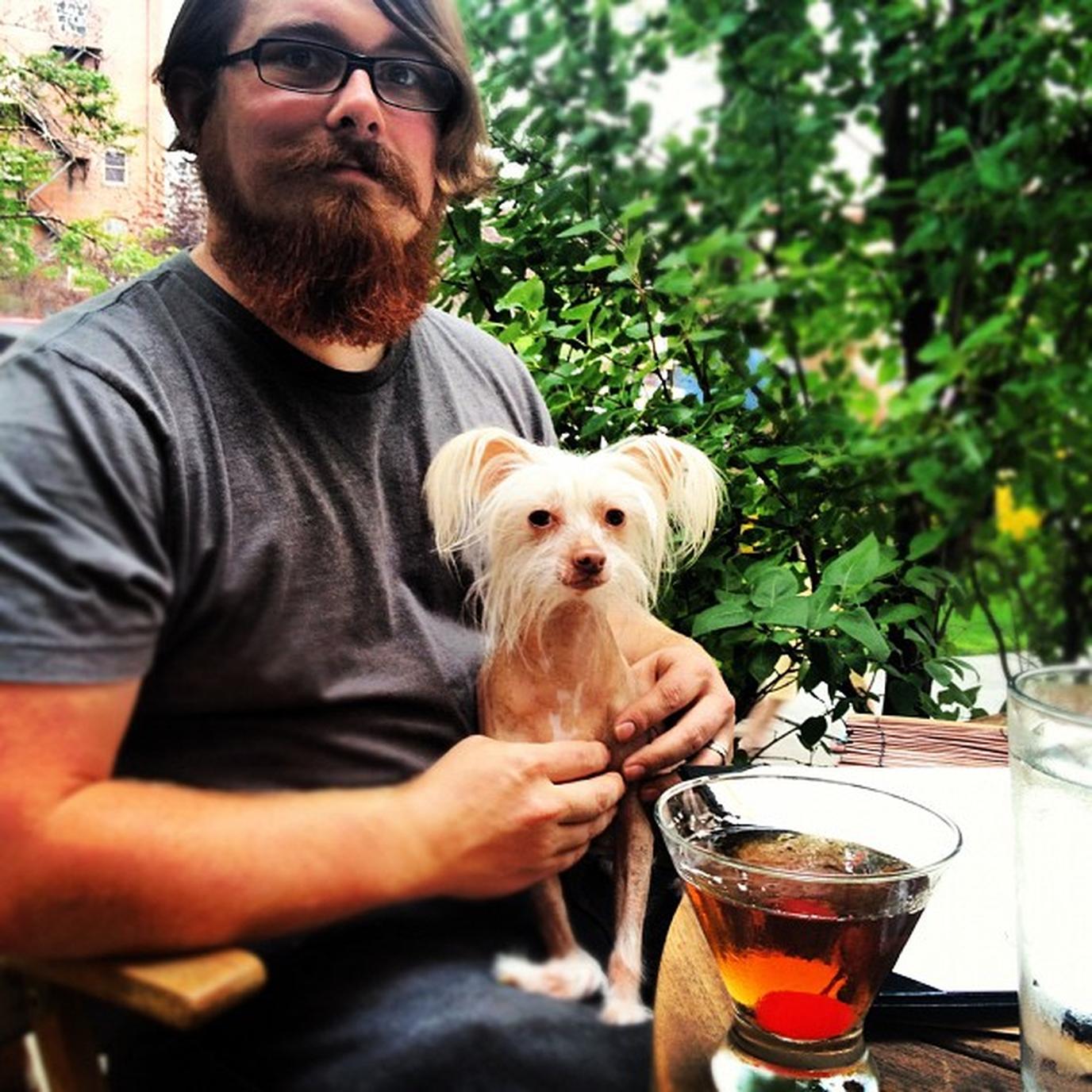 Eat breakfast at Randolph's before touring the city.
8 a.m. Randolph's Restaurant & Bar
Pack up your and Fido's things and check out of the hotel, then head to Randolph's for a nice breakfast. Dogs are welcome at several outdoor tables. If you have a big appetite, the breakfast buffet encourages you to load your plate with waffles, bacon, sausage, made-to-order eggs and omelets, fruits, pastries and cheeses. Coffee, tea and juices are included in the $25 cost. If you're not as hungry, à la carte items like yogurt parfaits or oatmeal are available.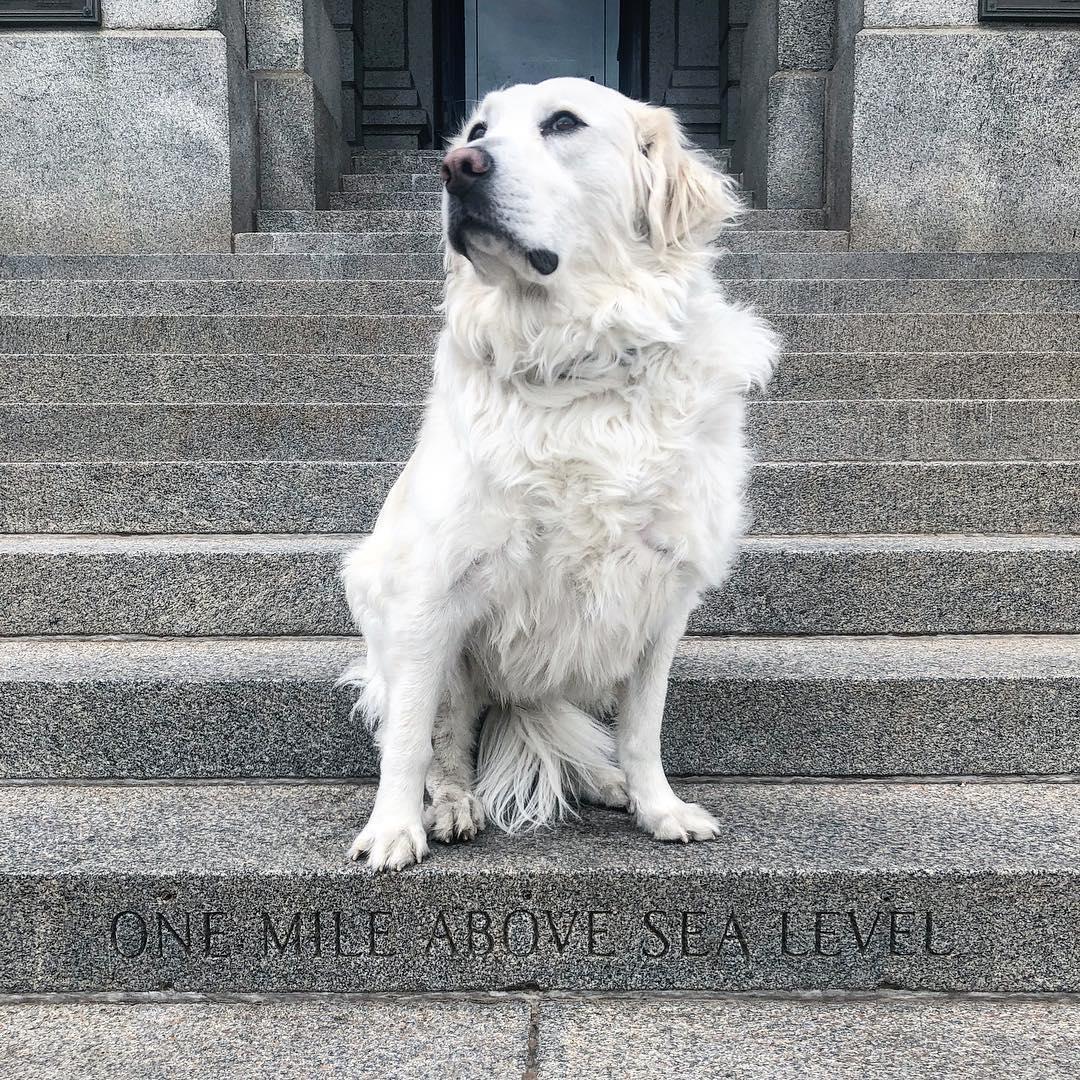 9:30 a.m. Mile High Marker at the Colorado State Capitol
Your next stop takes you to the historic, gold-domed Colorado State Capitol, which was modeled after the United States Capitol in Washington, D.C. This is one of the most Instagrammed spots in the city, thanks to the 18th step that leads to the building. Take a photo of your furry friend at the Mile High Marker, which lies exactly 5,280 feet or one mile above sea level.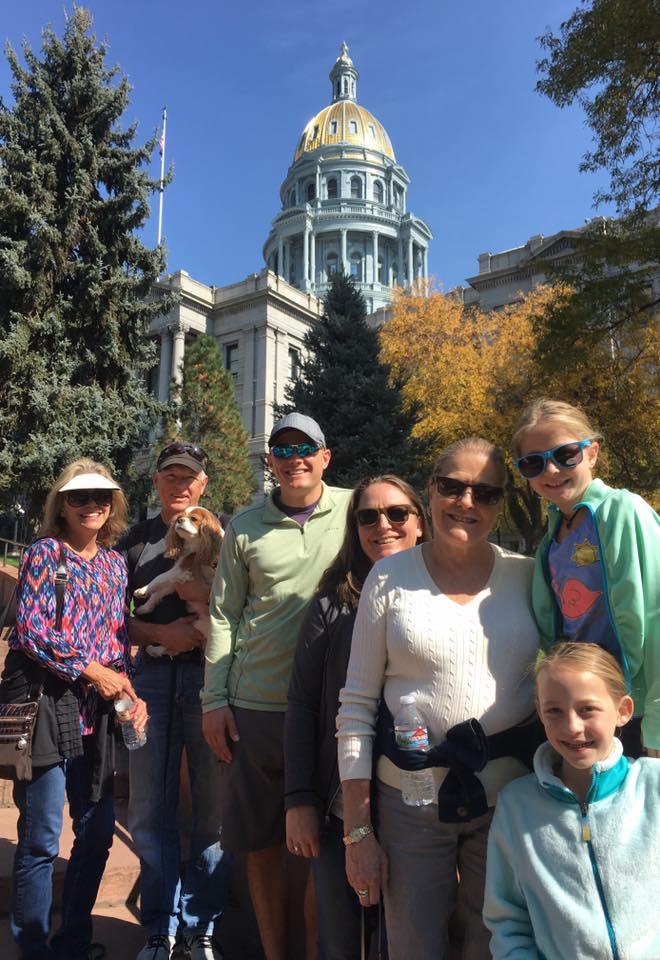 10 a.m. Denver Walking Tours
Look for the guide in the neon yellow shirt at the front steps of the Colorado State Capitol before 10 a.m. for the free, pet-friendly Denver Walking Tour. You'll visit the city's main sights, learn about its storied history, and cover 1.7 miles during this 2-2.5 hour walk. Bring water for you and Fido and check the company's Facebook page the morning of the tour in case there's an event at the Capitol Building and the meeting location has changed. It's a free activity but works on the pay-what-you-like tipping model, so bring some cash, too!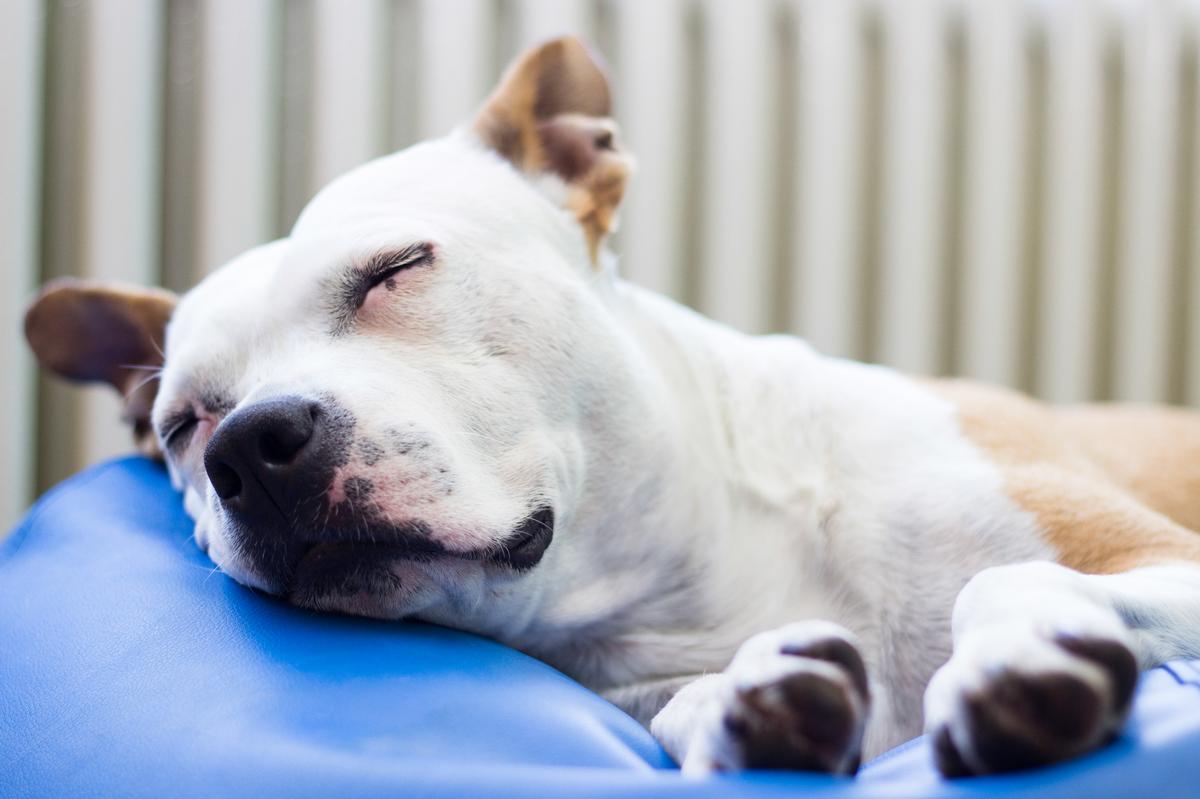 Dreaming mile-high dreams.
1 p.m. Depart Denver with a Dog-Tired Fido
Hikes, walks, yappy hours and beerscuits make for a full weekend for even the most active of dogs. We're sure your pooch will give Denver a five-bone rating on his way out of town, and will soon be dreaming of the day he gets to come back for more!
Did we miss any of your favorite dog-friendly spots, or do you have any additional advice for travelers visiting Denver with their pet? Leave a comment or tweet us @BringFido!