More than 11 million people visit Memphis, TN every year. Tourists flock to the self-proclaimed "Birthplace of Rock n' Roll" to visit Elvis Presley's Graceland, eat world-famous barbecue, listen to rock and blues music that originated here, learn about the civil rights' movement, and experience Southern hospitality at its finest. Best of all, a trip to dog-friendly Memphis won't break the bank. The city consistently ranks as one of the 10 most affordable in the U.S. Memphis is a pet-friendly destination year-round, but it's especially popular in the spring when the weather is mild, flowers are blooming, patios are open, and people start spending more time outside. This itinerary for a pet-friendly weekend in the city is sure to make your dog's tail wag to the Memphis beat!
Friday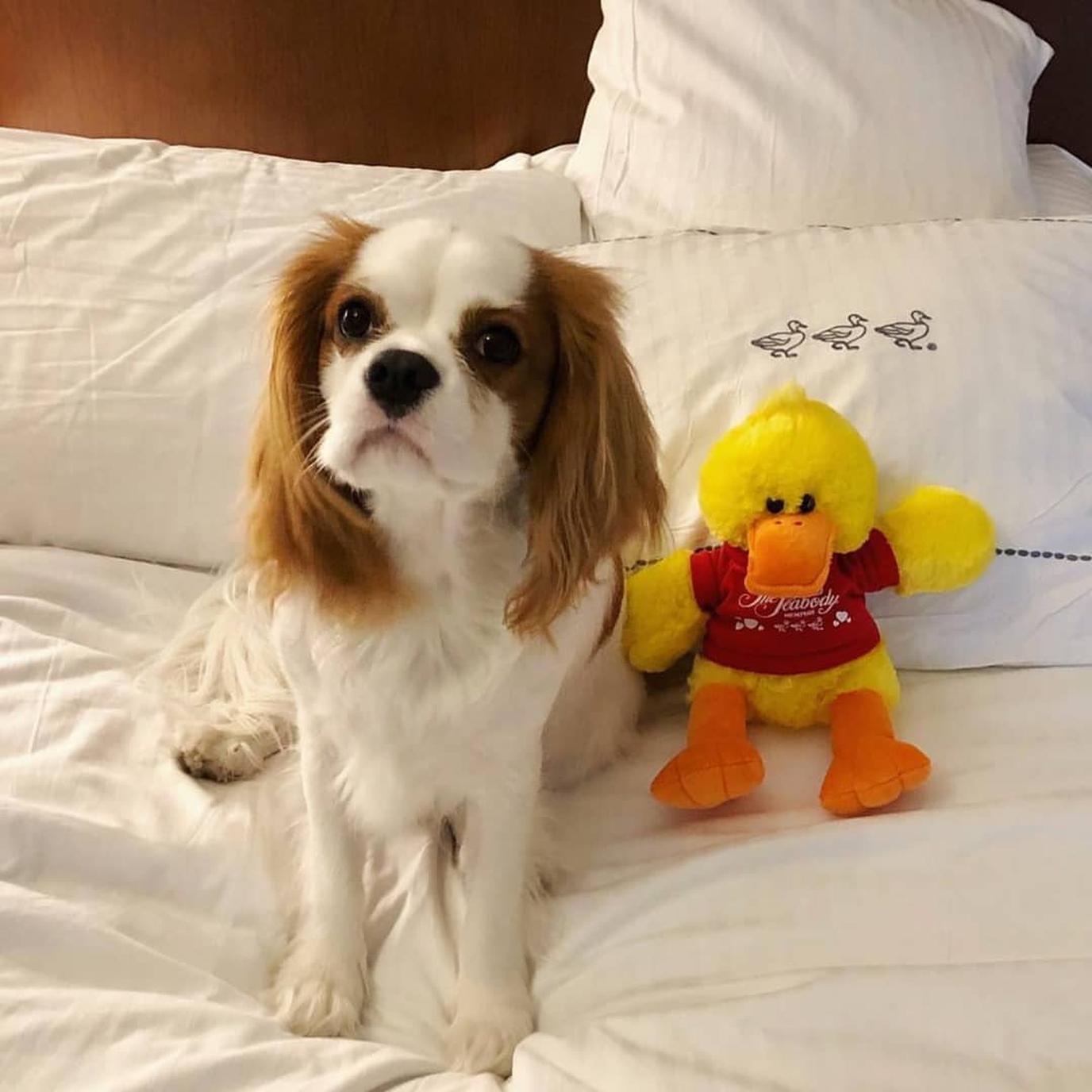 Dogs are special guests at The Peabody Memphis.
4 p.m. The Peabody Memphis
Check in to The Peabody Memphis, a historic pet-friendly hotel in the heart of downtown. When you leave your car with the valet in the motor lobby, have them point out the dog-relief station located there so your pup can have a potty break. Once you enter the lobby, you'll notice the luxurious details from the enormous fresh flower arrangements to the piano player that have made The Peabody "The South's Grand Hotel" since 1869. The lobby's centerpiece is the fountain where five mallard ducks swim every day from 11 a.m. to 5 p.m. after walking the red carpet during the March of the Peabody Ducks (more on that later.) The hotel also rolls out the red carpet for #PeabodyPets. Fido will be welcomed with a duck-shaped treat, water bowl and waste bags at check-in. The Peabody welcomes pets up to 75 pounds for an additional fee of $100. Nightly rates start at $219.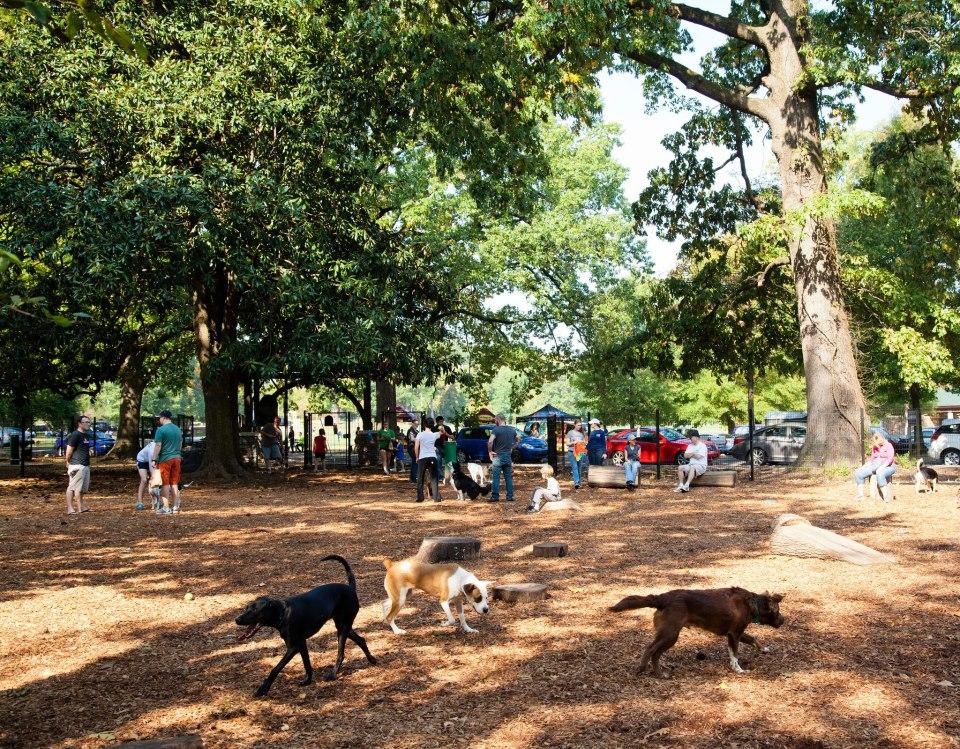 5 p.m. Overton Bark
Once you've unpacked and settled in, grab Fido's leash and take a 10-minute drive out to Overton Park in Midtown. This 342-acre area not only houses the Memphis Zoo, The Memphis Brooks Museum of Art and Memphis College of Art, but also a dog park called Overton Bark. Let your furry companion run off any pent-up energy from your travels and meet new friends off-leash. The park has separate areas for large and small dogs and offers obstacles for them to play on. Watch your dog from one of the shaded benches, or take part in the fun with a game of fetch. The dog park has water fountains where your pup can rehydrate, and a clean-up station in case he gets muddy paws.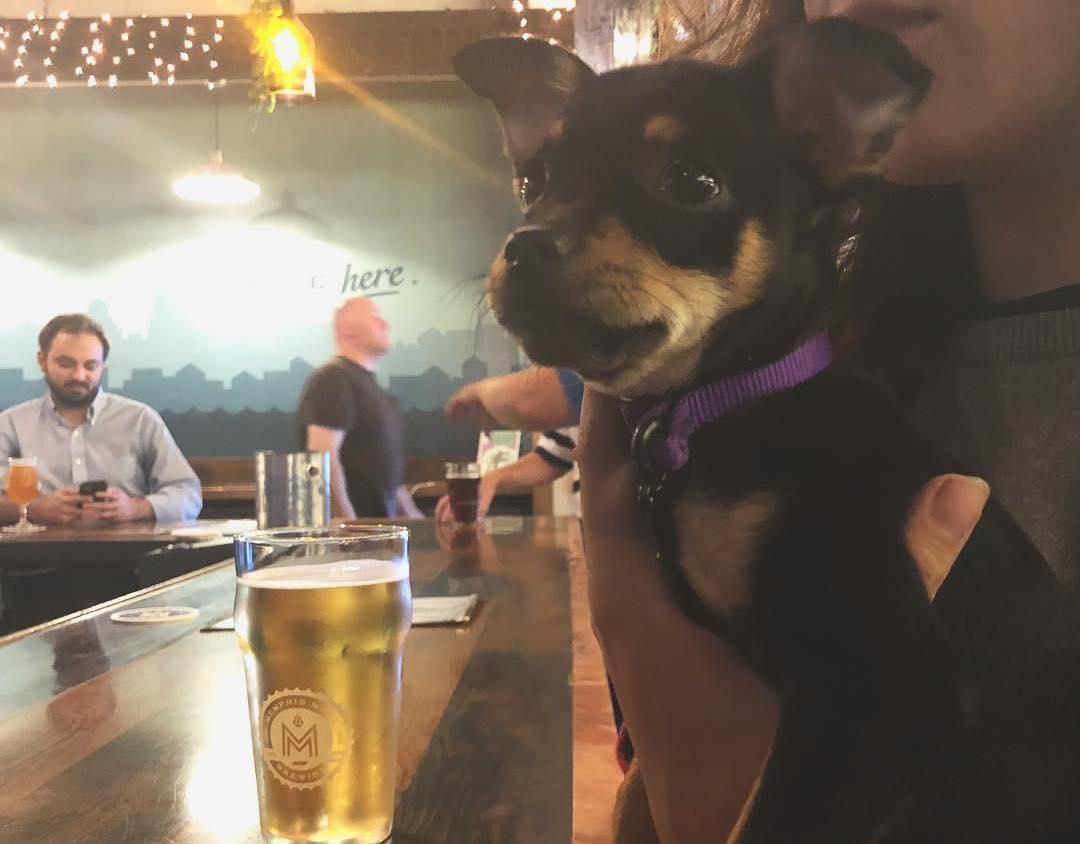 6 p.m. Beer and Barbecue
Once Fido's had his fun, head over to the Cooper-Young neighborhood, also in Midtown, and Memphis Made Brewing Co. Your dog can belly up to the bar inside and enjoy a "Dog-Weiser" water while you try local craft beer like the Cat Nap IPA or Junt Cream Ale. Challenge a new friend to a game of cornhole out back, or snap an Instagram-worthy photo with your pup in front of the "I Love Memphis" mural (don't forget to #BringFido!). Depending on the day you visit, there might be a food truck selling snacks or a band playing live music.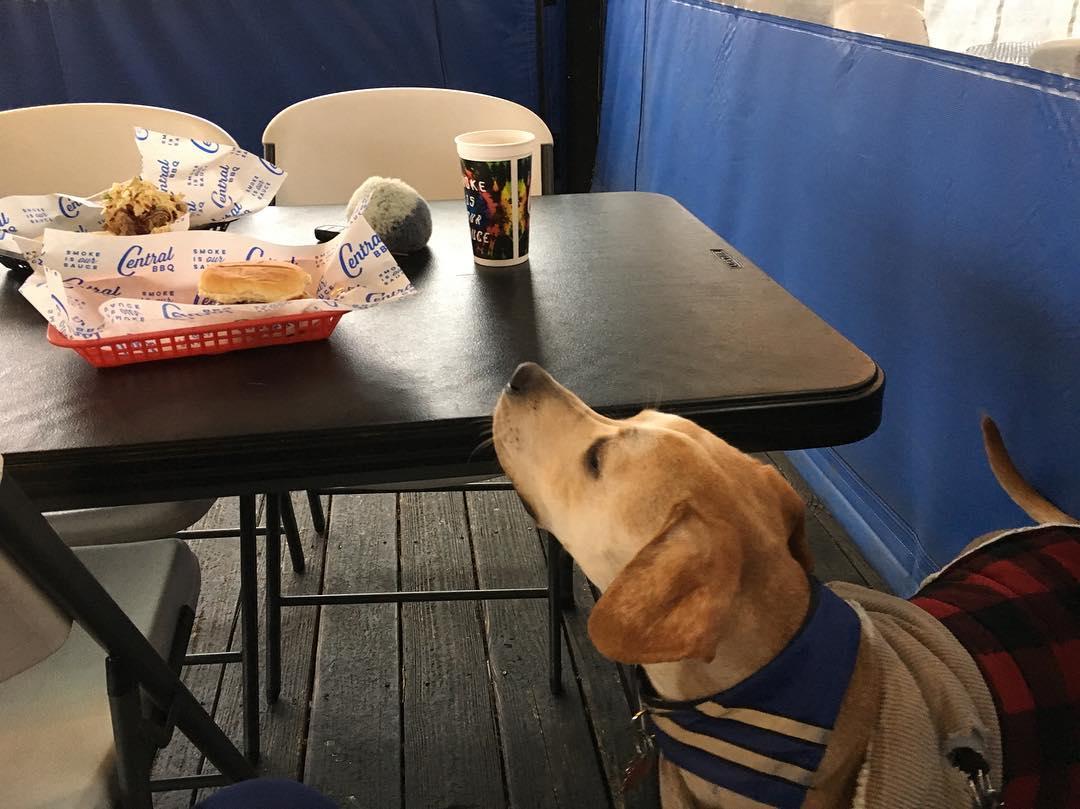 Everybody knows you can't visit this city without sampling what many consider to be the world's best barbecue. Memphis-style 'cue is slow-smoked in a pit and then either served with dry rub spices or wet with barbecue sauce. Take Fido on a short walk from the brewery to the covered front deck at Central BBQ, and indulge in their award-winning smoked meats. Your dog will be in hog heaven with all of the delicious smells and the thought that he might snag a fallen meaty tidbit. It doesn't matter whether you choose a slab of ribs, smoked sausage, pulled chicken, beef or turkey; you'll leave satisfied. Just be sure to start off with a heaping pile of nachos topped with pulled pork, barbecue sauce, two types of cheese, jalapeños and a dusting of dry rub seasoning - it's a Memphis thang!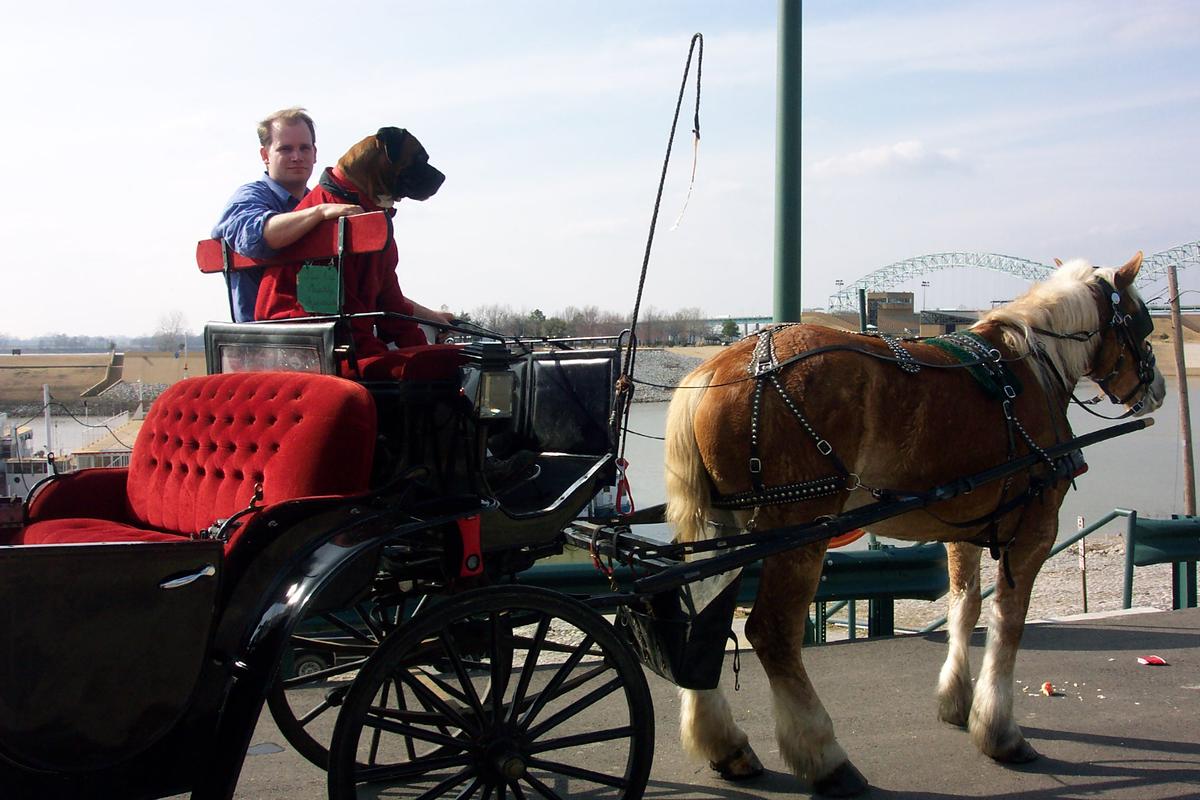 7:30 p.m. Uptown Carriage Tours
Explore Memphis in style on a dog-friendly tour with Uptown Carriage Tours. Pre-book the Cotton Row Tour and let them know you'll have your dog with you. They'll arrange a pet-friendly carriage to pick you up at The Peabody. This 30-minute horse-drawn carriage ride includes visits to Court Square, the South Main Trolley Line, Memphis Park and Cotton Row. Almost all the carriages have a dog on board, so your pup will be in good company. Ask your driver to time the tour just right so you can watch the sunset over the mighty Mississippi at Memphis Park. The Cotton Row Tour costs $65 and lasts around thirty minutes. Uptown Carriage Tours offers several other dog-friendly tour options, in case you can't make this one.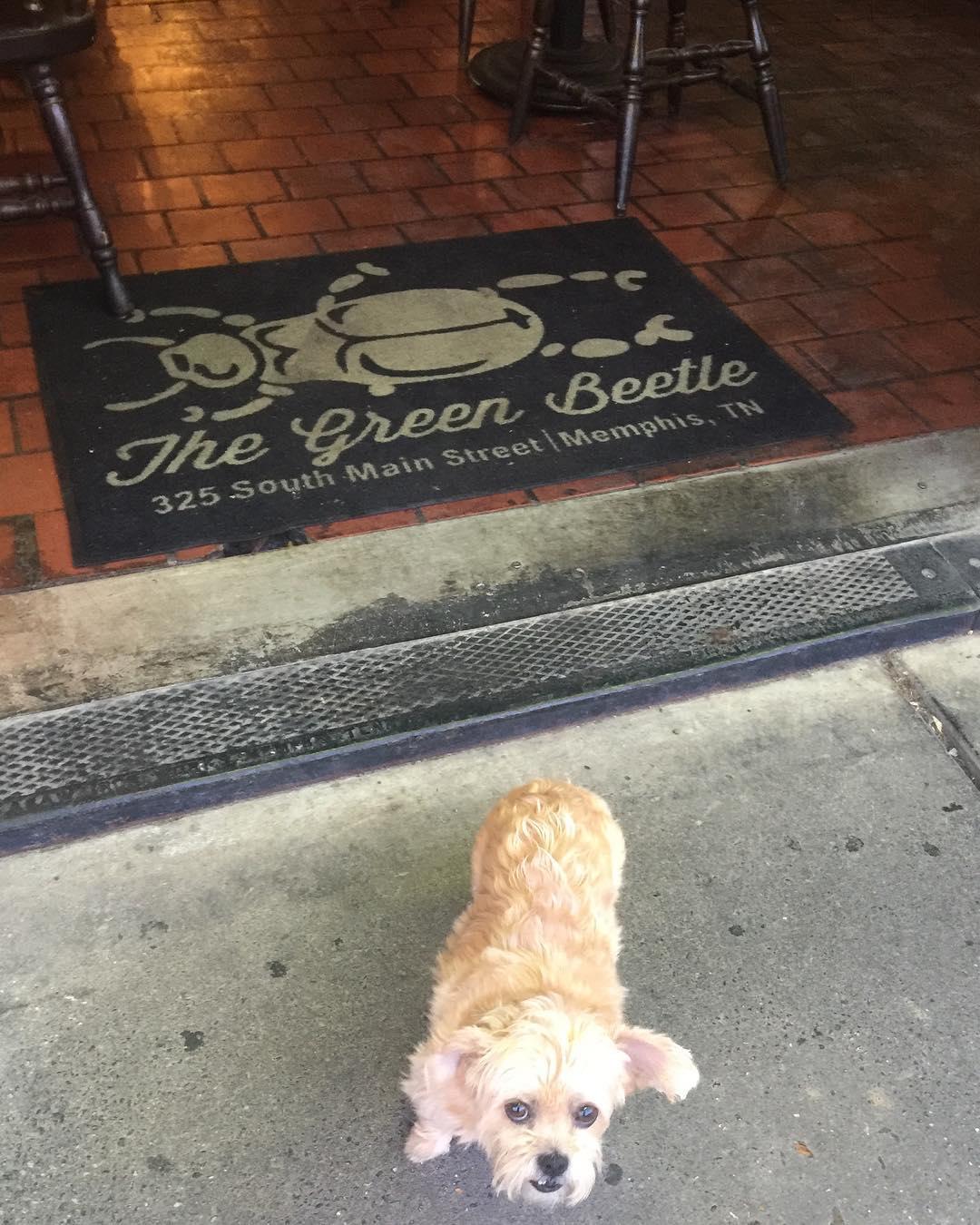 Your pup will love The Green Beetle's patio.
Photo by @2patiopups
9 p.m. South Main Street
If you're ready to hit the town, take the dog for a leisurely stroll to South Main Street. Memphis will be abuzz with the sounds of blues and rock music coming from the juke joints on Beale Street, the clanging of the trolley, and the unmistakable smell of charcoal and meat wafting out of The Rendezvous' alley. Stop in at The Cheesecake Corner for a slice of decadent pecan pie cheesecake to savor on one of the pet-friendly tables along the street. For a nightcap, make your way to Memphis' oldest tavern, The Green Beetle, which opened in 1939. The stiff drinks are popular among locals, as is the bar fare if the aforementioned cocktails sneak up on you. Sipping at one of the sidewalk tables makes for excellent people- and trolley-watching, and Fido will likely see other four-legged barflies, too. When you return back to The Peabody, your bed will be turned down and ready for you to rest.
Saturday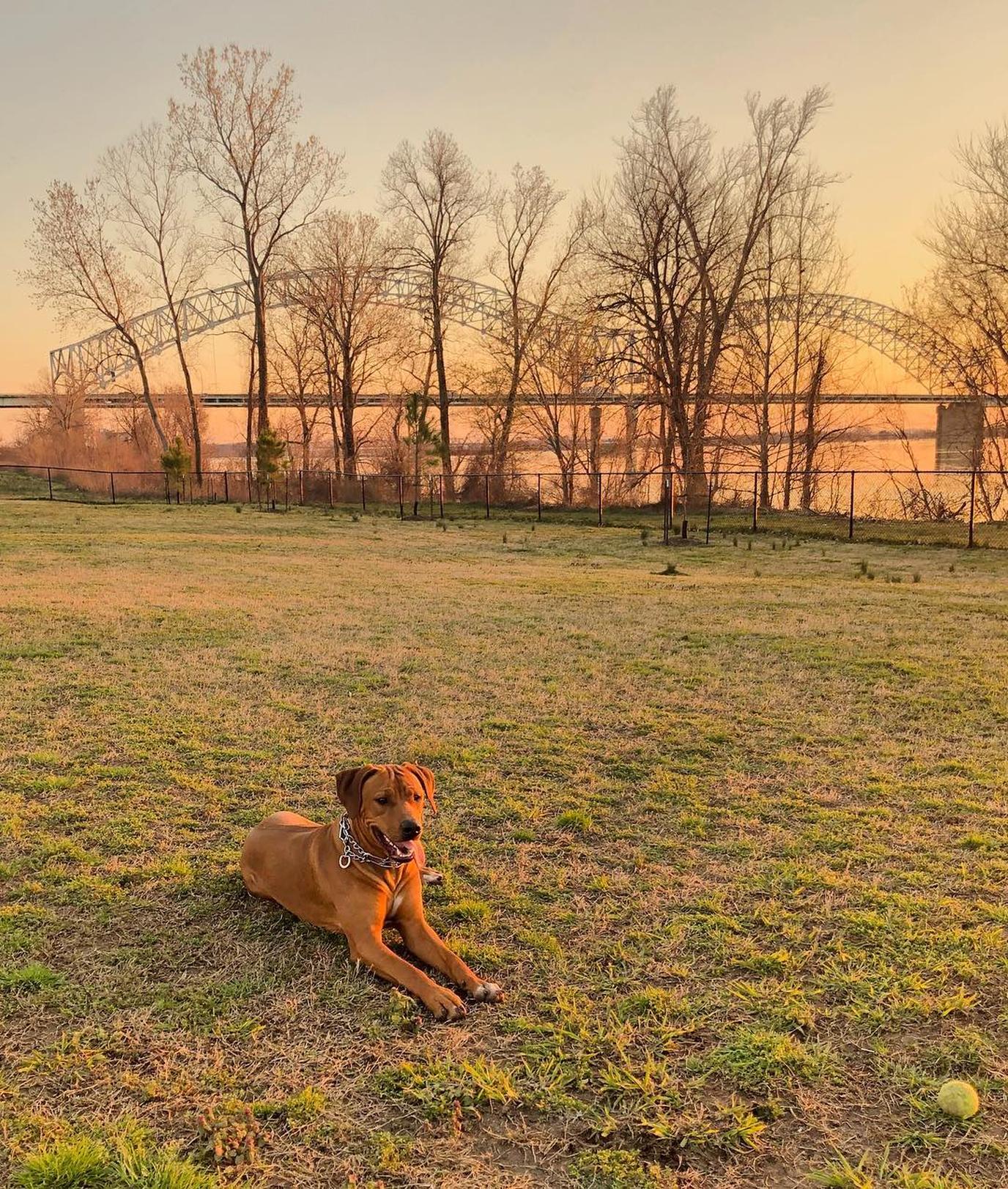 Enjoy the morning view from Mud Island Dog Park.
8 a.m. Walking (The Dog) In Memphis
Wake up, put on your walking shoes, grab Fido's leash and set out for an adventure. Start with an iced latte from across the street at Tamp and Tap to take on a scenic 1.7-mile trek to Mud Island, a resort-like peninsular neighborhood adjacent to downtown Memphis. You'll pass the iconic Memphis Pyramid, now home to the Bass Pro Shops in the Pyramid. Dogs are welcome inside the enormous, 535,000-square-foot outdoor recreation store in case you want to check it out.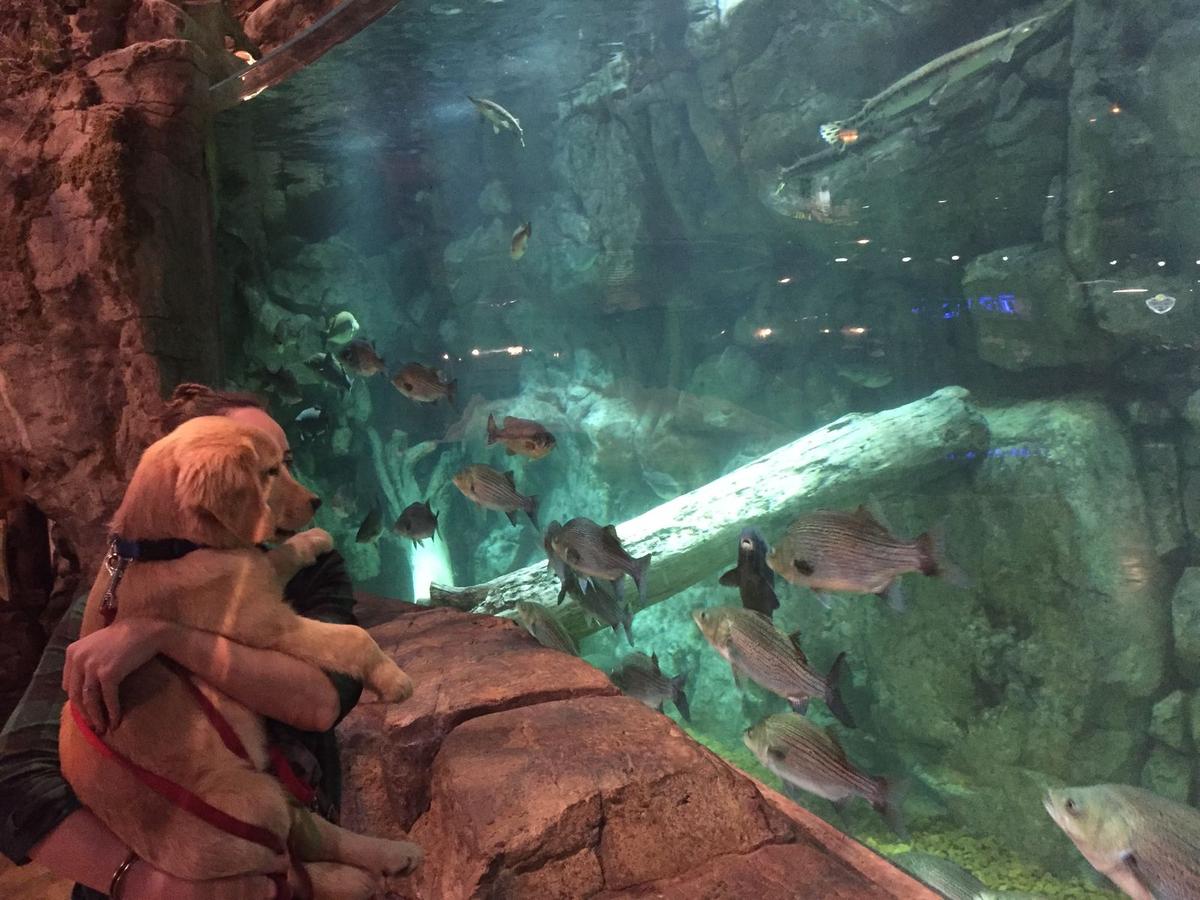 Dogs can check out the aquariums inside Bass Pro Shops in the Pyramid.
Photo by BringFido
After you cross over the Wolf River Harbor on the AW Willis Bridge into Mud Island, take a left at the traffic circle onto Island Drive and cross the street into Mississippi River Greenbelt Park. Take in the early morning views of the river as you make your way to Mud Island Dog Park. The 1.3-acre park opened in the fall of 2018 and features separate areas for large and small dogs. Rest on a bench and watch your furry friend frolic off-leash. If he gets thirsty, there are water fountains where he can get a drink.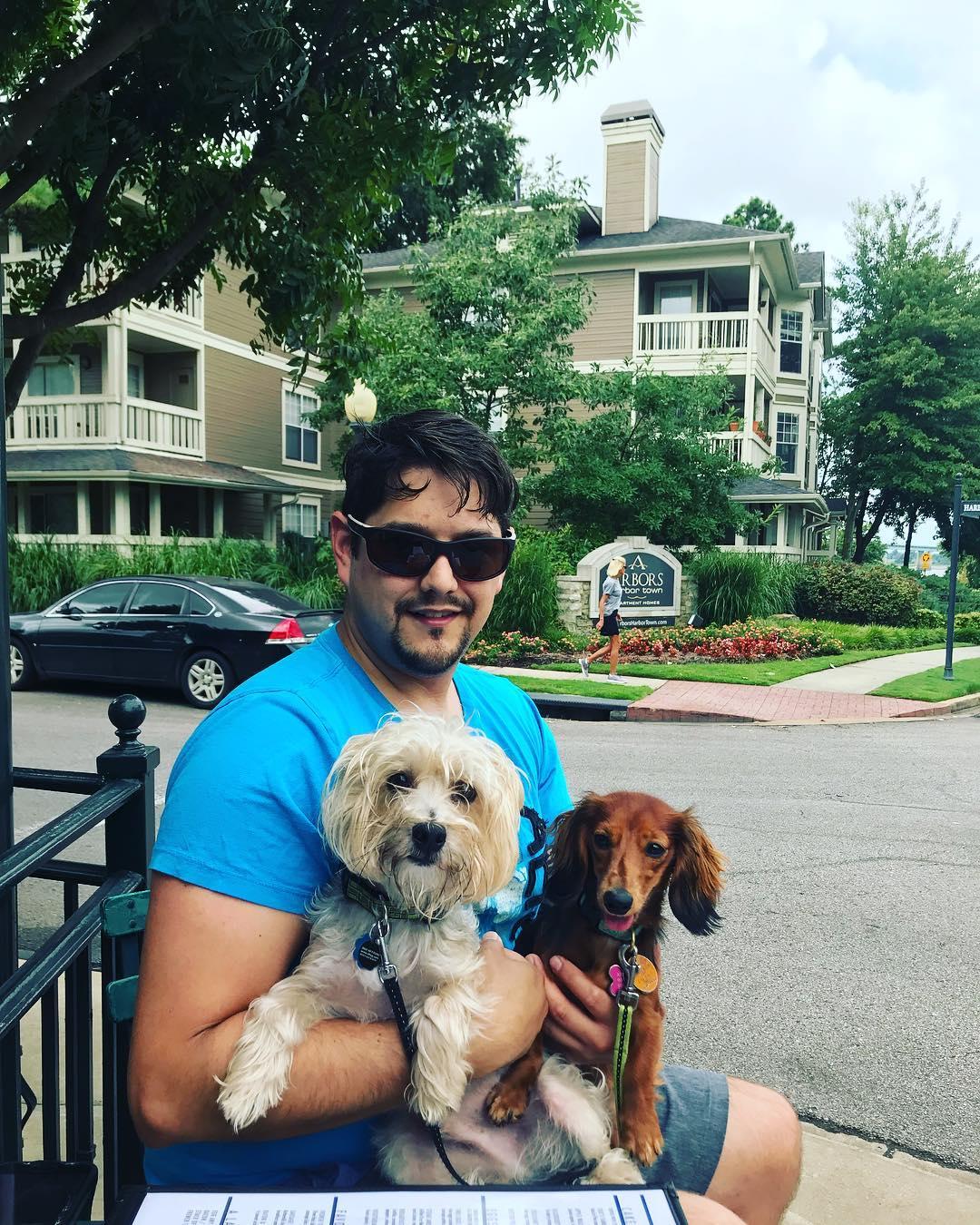 10 a.m. Tug's - A Casual Grill
Once you've worked up a healthy appetite, walk across the street to Tug's for a hearty brunch. Dogs are welcome and will be given a fresh water bowl on the patio overlooking the river park. Refuel after the morning's exercise with an order of the pub's pancakes or an omelet. You can also order Fido an egg for just $1.50. After you've feasted, walk off some of those calories as you make your way back to the hotel, where you can rest and recharge before your afternoon of sightseeing.
Dogs will have fun on this walking tour of Beale Street.
Photo by @boogikramer
1 p.m. Afternoon on Beale Street
Bring Fido on an hour-long historic walking tour of Beale Street with Backbeat Tours. You'll hear the story of how "America's Most Iconic Street" (as voted by USA Today) went from a gangster's paradise to the "Official Home of the Blues." The tour also passes by A. Schwab's, the oldest and only remaining original business on Beale Street, and the old Lansky's clothing store which was "The Clothier to The King" in addition to Johnny Cash, Carl Perkins and Jerry Lee Lewis. Other highlights include visits to Saloon Row and Handy Park. Backbeat Tours offers other pet-friendly tours such as the Memphis Walking Ghost Tour, Memphis Mojo Bus Tour, and Historic Memphis Dog Tour, all of which welcome animals. They've even had a monkey and a snake on their tours! The Beale Street Walking Tour costs $15 per person (your pup walks for free) and lasts about one hour.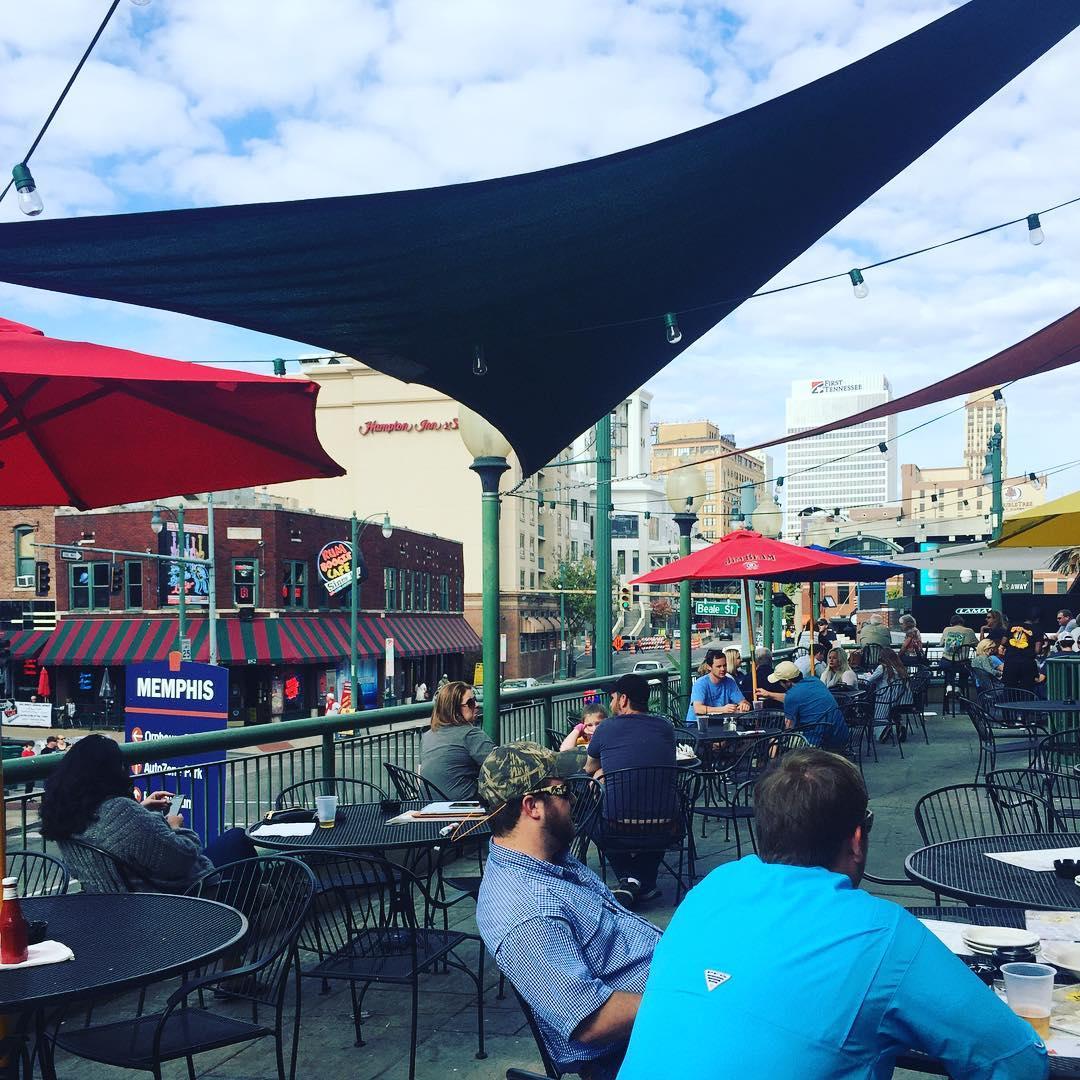 The patio of Alfred's is a great spot to enjoy a late lunch.
Photo by @cmillington20
The Beale Street Walking Tour ends right at Alfred's on Beale, where you can snag a table on the dog-friendly rooftop patio to eat lunch and get a bird's-eye view of all the action. Try Alfred's award-winning baby back ribs (they won 3rd place in 2009 at the Memphis in May World Championship Barbecue Cooking Contest), paired with a Fishnet Freeze (frozen Chattanooga whiskey and Cherry Coke) or sweet tea.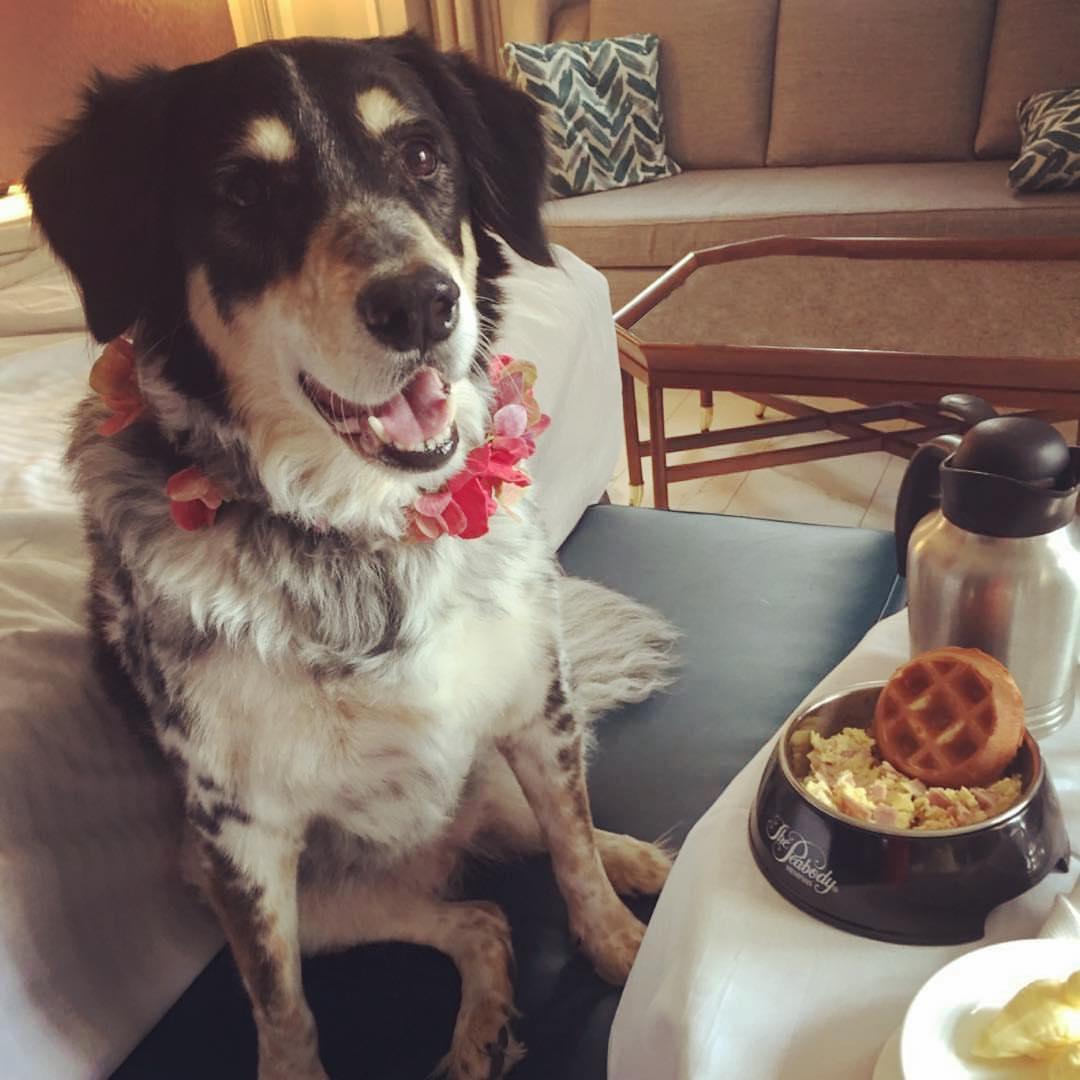 Spoil your dog rotten with his own room service tray.
Photo by @peabodymemphis
4 p.m. Order Fido Room Service
Give your dog the VIP treatment back at The Peabody with a beef or chicken meal for $8 from the pet room service menu. Call room service a few minutes after 4 p.m. so Fido can lap it up in the room when you head downstairs at 4:30 p.m. to secure a good spot to view the March of The Peabody Ducks. The ducks march at 5 p.m. sharp. Unfortunately, the event isn't dog-friendly because sometimes dogs and ducks don't get along. The evening ceremony is when the ducks walk the red carpet as they leave the lobby fountain with their Duck Master and take the elevator back upstairs to their rooftop home. As it attracts a large crowd, it's wise to get to the lobby with time to spare so you can see the spectacle. If you happen to miss it, you can always take the elevator to the roof to visit the ducks in their Royal Duck Palace during their off-work hours at night.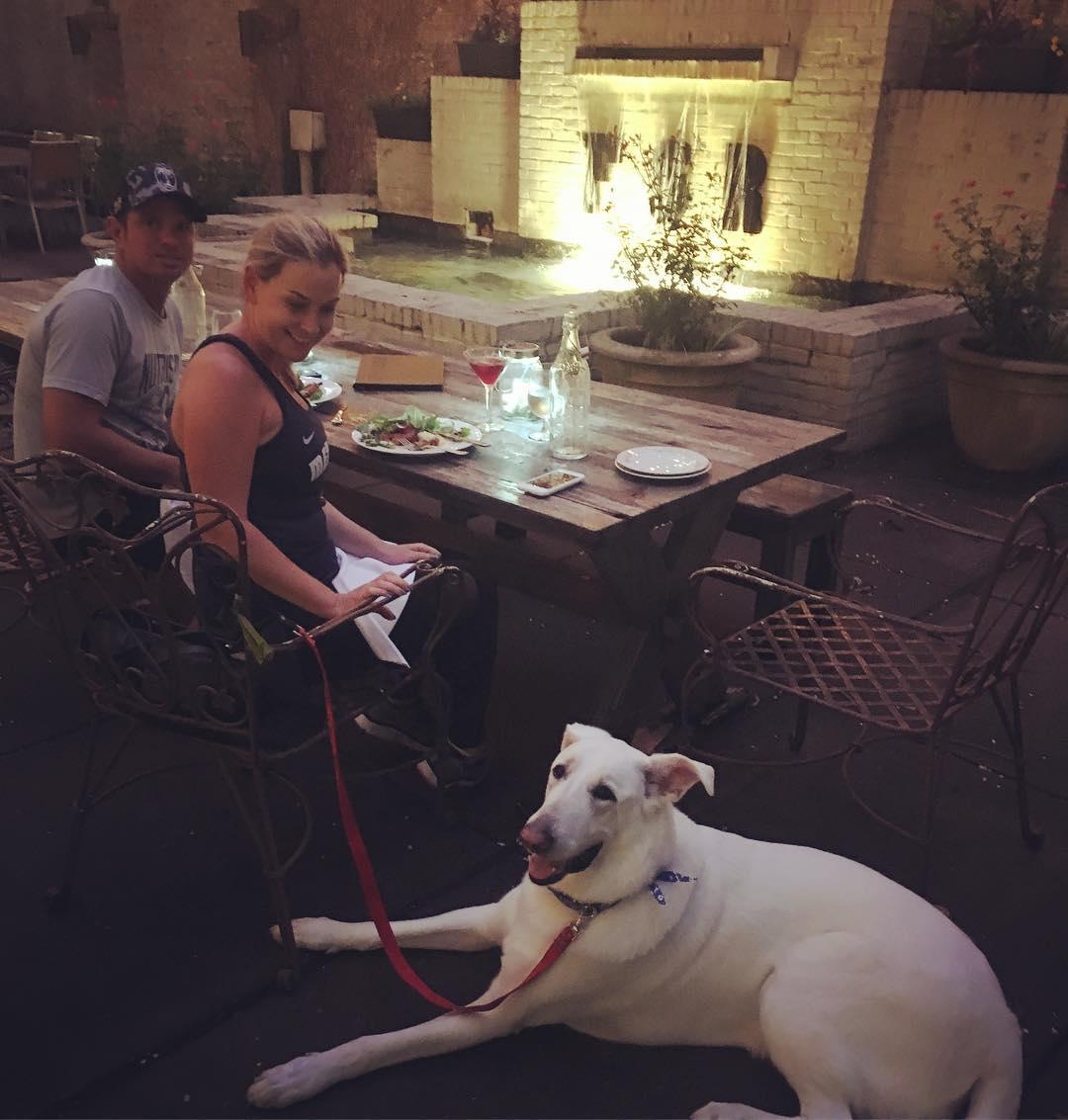 7 p.m. Felicia Suzanne's
Feast on Southern cuisine for dinner with your canine companion on Felicia Suzanne's expansive tree-lined patio, lit with romantic twinkle lights strung overhead. Most summer weekend nights feature live music outside. While you savor signature dishes like shrimp and grits or buttermilk fried quail, Fido will be treated to a free slice of bacon and a bowl of water. Reservations are recommended.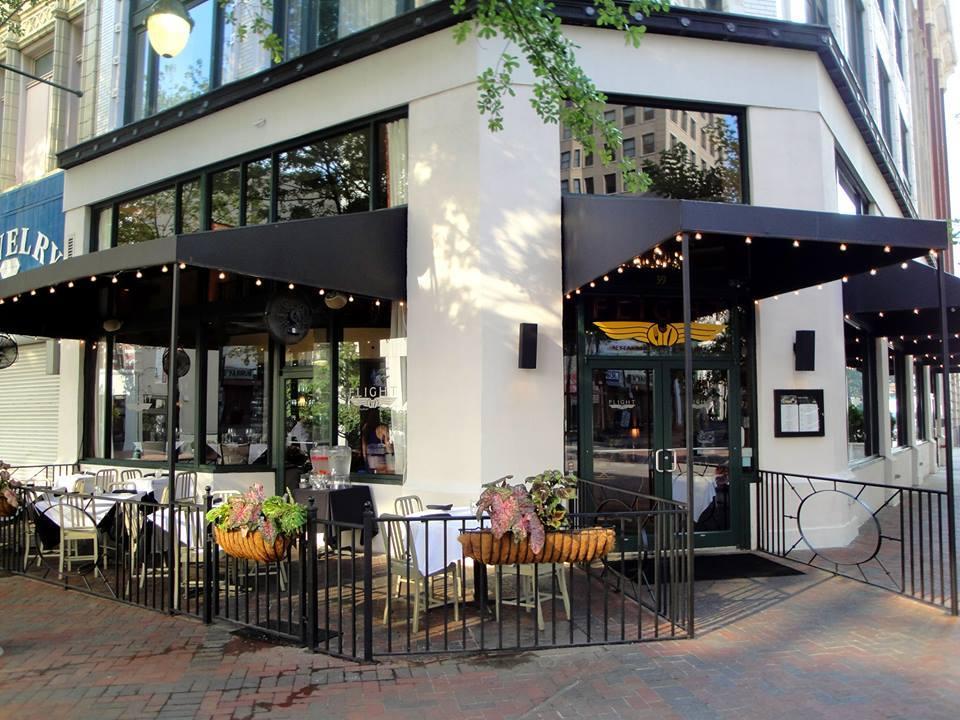 9 p.m. After-dinner Drinks
After your meal, walk over to Automatic Slim's on 2nd Street or Flight on South Main Street for an after-dinner drink with your four-legged associate. Dogs are welcome at both establishments at outdoor tables. Automatic Slim's is known for their creative specialty martinis, while Flight boasts an extensive wine list.
Sunday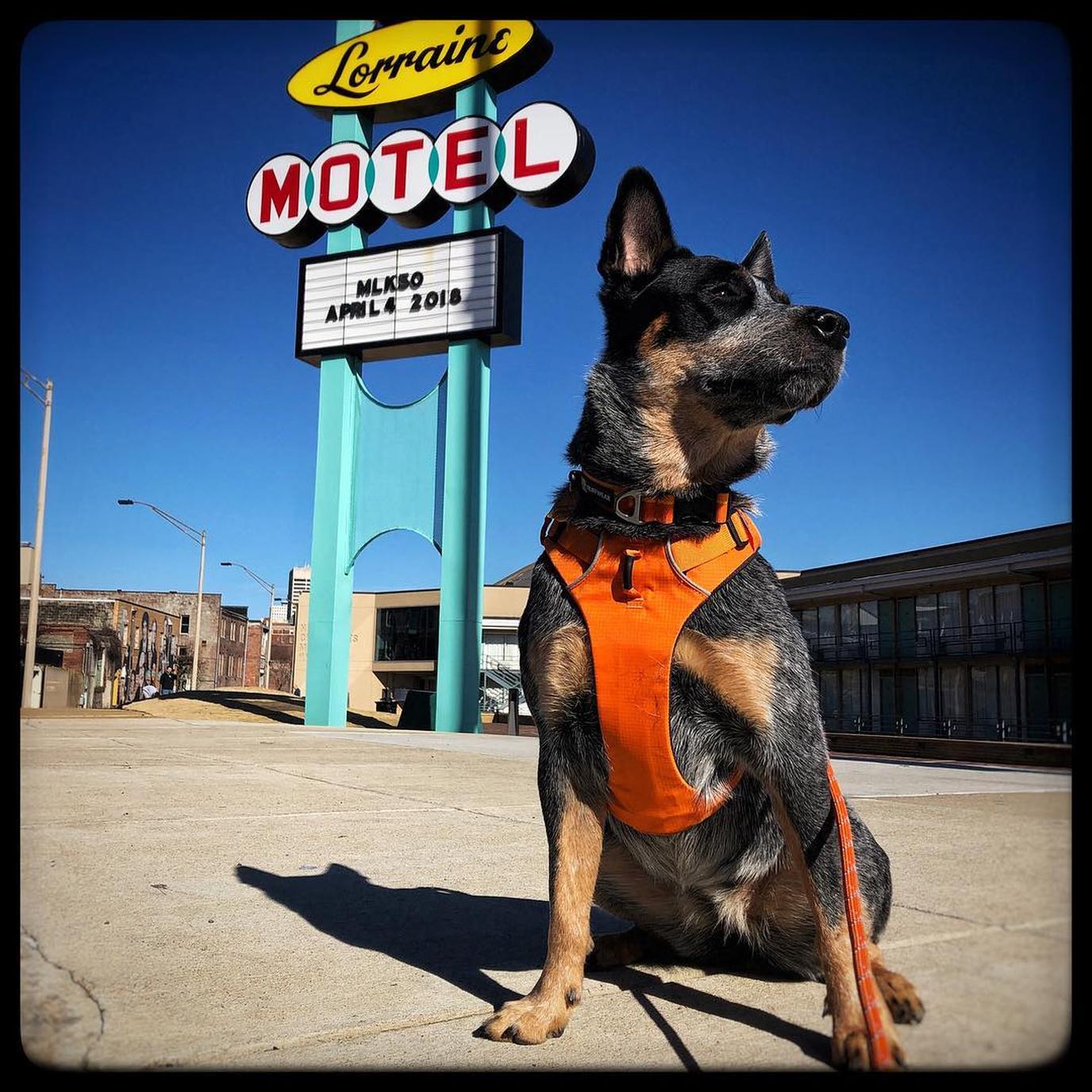 Honor MLK's legacy at The Lorraine Motel.
8 a.m. The Lorraine Motel
Pick up a coffee in the hotel lobby and walk the dog downtown for about 15 minutes toward the The National Civil Rights Museum at The Lorraine Motel. Dogs aren't allowed inside the museum, but there is signage outside the the motel detailing Martin Luther King, Jr.'s last hours before his assassination. You and Fido can view MLK's hotel room balcony where he took his last breath along with two replica cars, a '59 Dodge Royal and a '68 Cadillac, parked beneath in the same positions they held on that fateful day.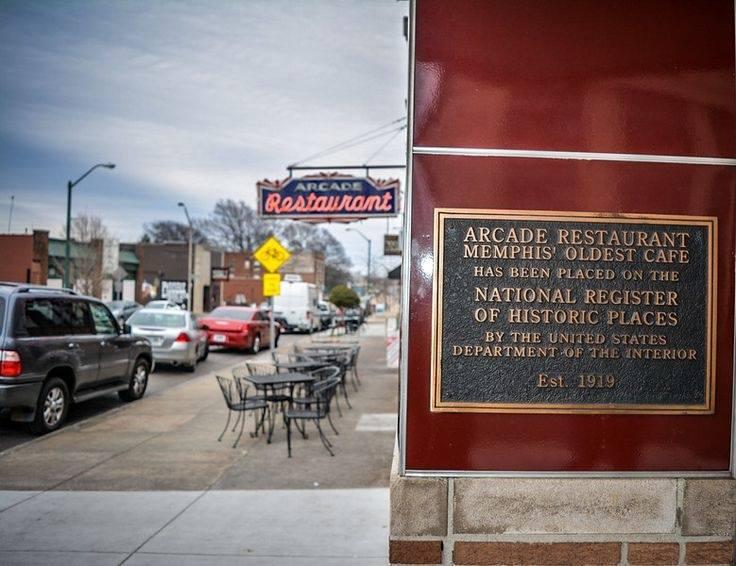 10 a.m. The Arcade Restaurant
Just minutes from The Lorraine, tuck into a Southern-style breakfast at one of the dog-friendly outdoor tables at the oldest cafe in Memphis, which has been open since 1919. Elvis Presley was a regular at The Arcade and several movies have been filmed at the diner, including "Walk The Line", "The Firm", and "Great Balls of Fire," just to name a few. For a meal fit for a king, choose Elvis's favorite menu item; a fried peanut butter and banana sandwich that you can share with Fido.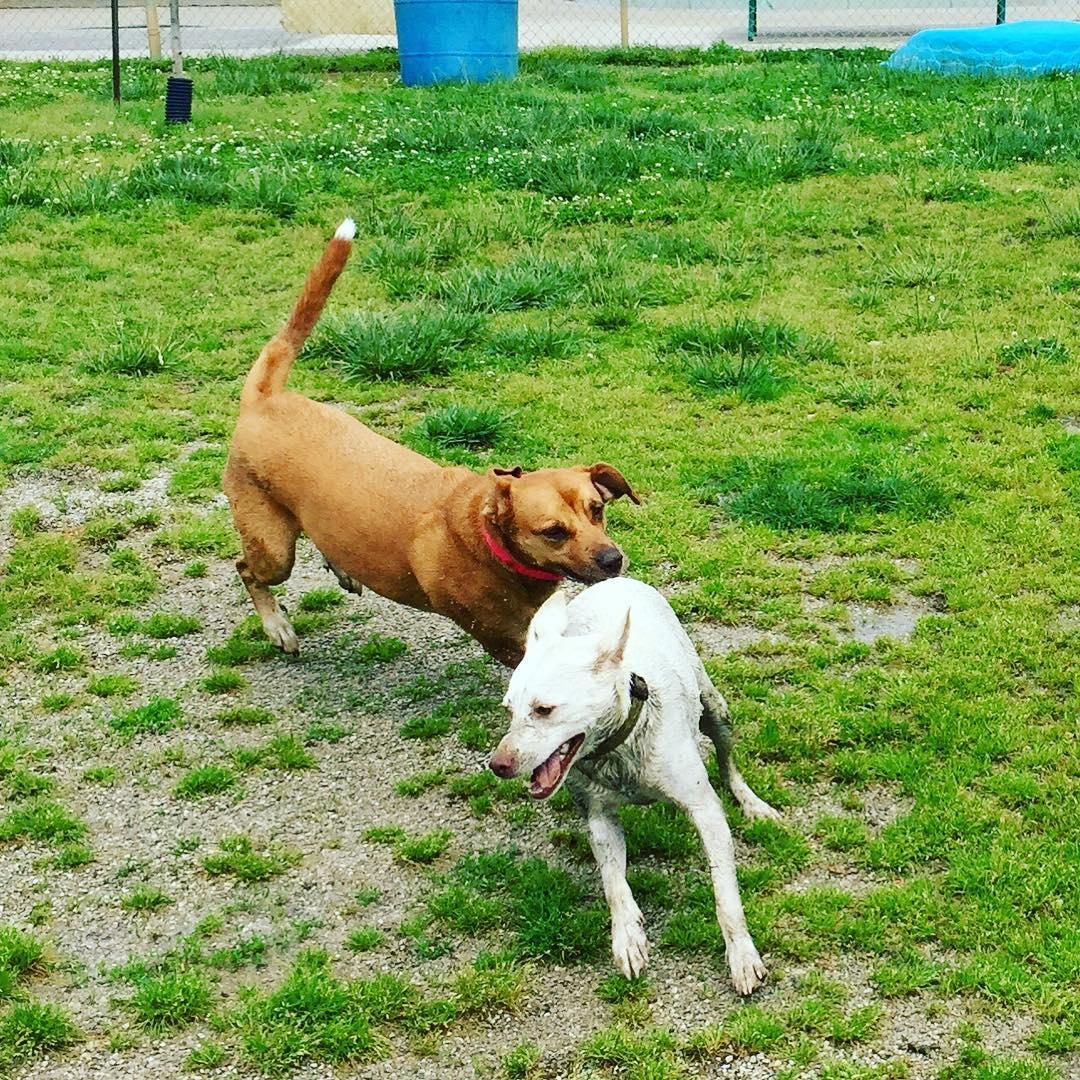 Let your dog run wild before he's cooped up in the car or plane.
Photo by @alfredogooddog
12 p.m. City of Memphis Dog Park
Check out of your hotel and drive to the Memphis Dog Park to let your pup expel some energy before the trip back home. Two separate areas for big and small dogs will let him make friends his own size. The park also has waste stations with bags for easy cleanup, but be sure to BYOW (bring your own water) because it doesn't have any water fountains.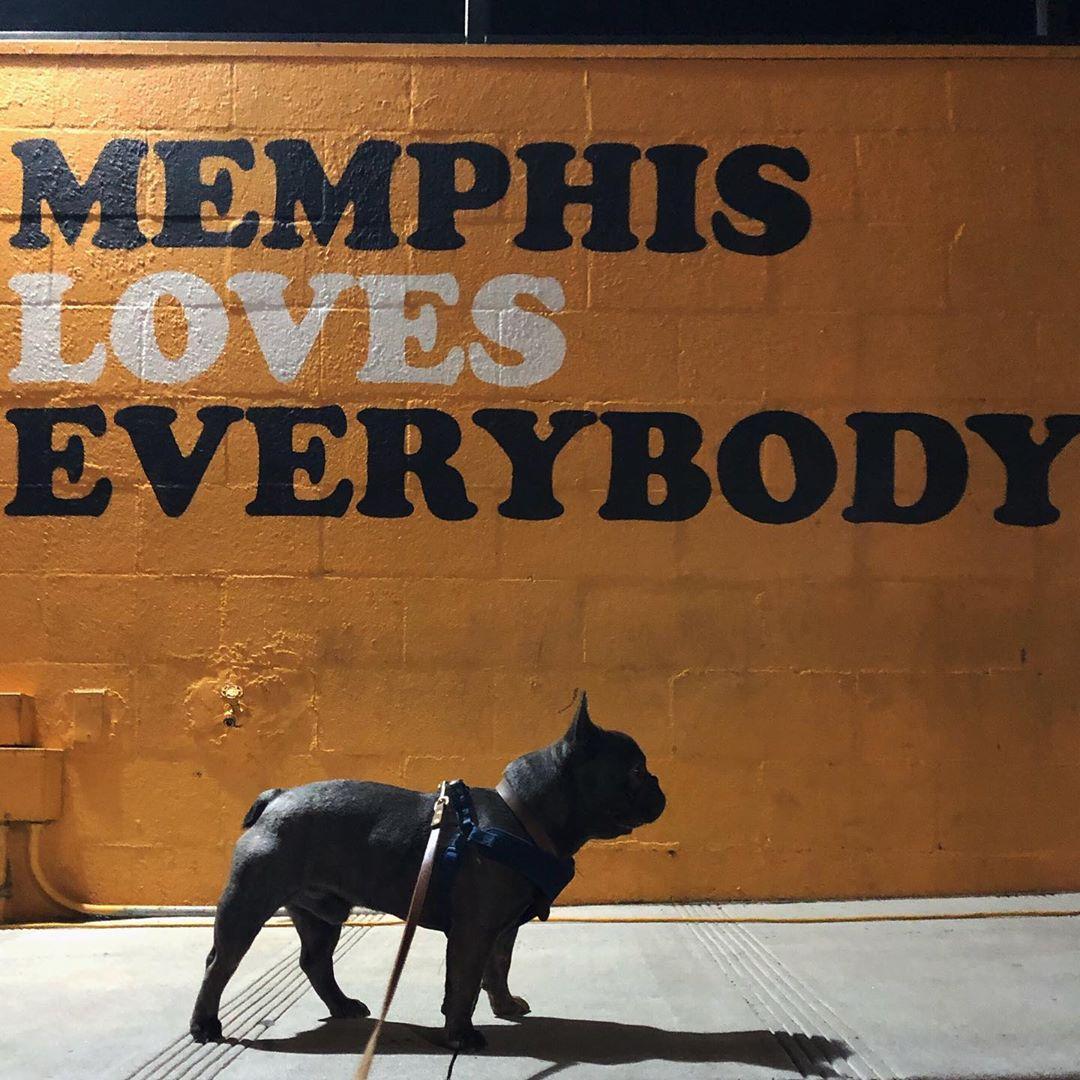 2 p.m. Depart Memphis with a Dog Biscuit and a Dog-tired Fido
Before you bid a fond farewell to dog-friendly Memphis and it's succulent barbecue, inimitable music scene and storied history, make one last pit stop on Cooper Street. At Muddy's Bake Shop - Midtown, you can pick up freshly-baked dog treats to reward your good boy.
Have you been to Memphis with your dog? Leave a comment or tweet us @BringFido!