Pack your bags for a weekend with your dog exploring beautiful Savannah, GA. This enchanting city has a rich and haunted history. Spend the days sightseeing and walking Fido along the cobblestone squares under the canopy of live oak trees draped in Spanish moss. Almost everywhere you go has a macabre past, so it makes sense to plan your weekend around "Howl-o-ween." In the fall, the sweltering heat turns to crisp, cool air, perfect for an evening ghost tour with your pup. The autumn season also brings Picnic in the Park, the SCAD Savannah Film Festival, and dog-friendly events including Tybee Island Pirate Festival, Wag-O-Ween and Savannah Oktoberfest and Weiner Dog Races. So what are you waiting for? Grab Fido's leash and plan the perfect fall weekend at this Southern Belle of a city.
Friday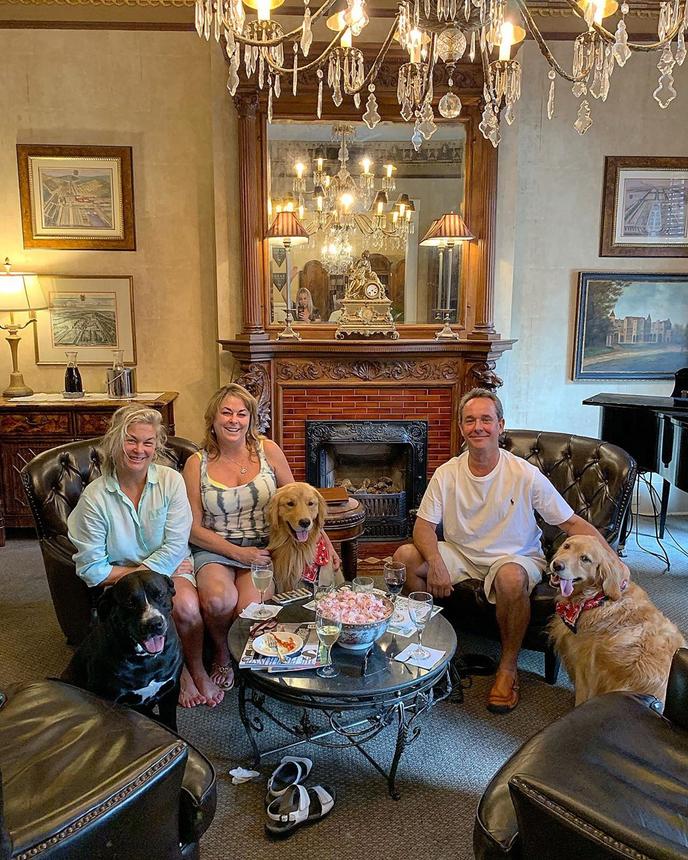 Wine and fur d'oeuvres with your best friends. How civilized.
3 p.m. Foley House Inn
Begin your tour of dog-friendly Savannah by staying in one of the city's haunted, historic mansions facing Chippewa Square (where the famous bus stop scene in "Forrest Gump" was filmed). Canines staying at Foley House Inn enjoy Southern hospitality with treats and bottled water at check-in. They're also welcome to join their owners for the included full breakfast in the courtyard, complimentary afternoon tea from 3-5 p.m., and for wine and cheese from 6-7 p.m. In keeping with Savannah's haunted reputation, the inn has its own resident ghost named Wally, whose skeleton was discovered behind a wall during renovations in 1987. Maybe you'll feel one of the otherworldly breezes guests have recounted, or see Wally, the well-dressed specter, wearing a top hat and taking a walk in the garden while you're out with your pup. Dogs of any size are welcome at Foley House Inn for an additional fee of $50 per dog, per stay. Nightly rates start at $179.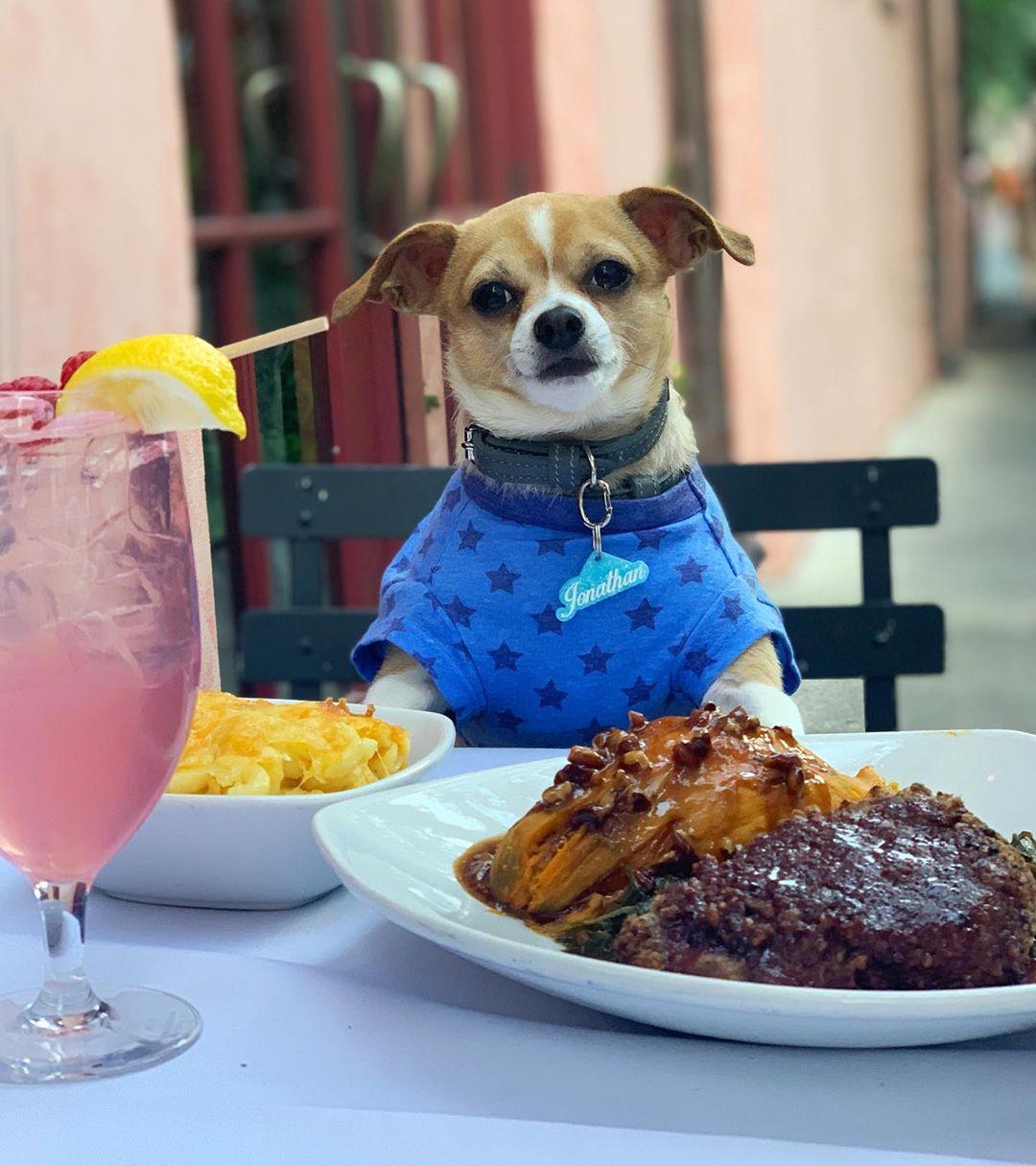 8 p.m. Dinner at a Historic Savannah Mansion
After the wine and cheese hour at the inn, take Fido for a leisurely ½-mile stroll down Bull Street to supper. Reservations are recommended at The Olde Pink House, a popular restaurant located within a house that dates back to 1779 and boasts several spirit inhabitants. Your furry dinner companion will be given an ice-cold bowl of water to enjoy while you dine on Southern fare on the lush patio overlooking Reynolds Square. Start off with an order of blue crab beignets with a lemony dipping sauce, followed by the BLT salad topped with a decadent fried green tomato. For your main course, choose from locally sourced seafood, prime-aged beef or lamb. Finish your meal on a sweet note with a slice of Key Lime pie or an after-dinner cocktail like Planter's Punch or The Pink Lady. If you're lucky, you might be visited by the apparition of a Revolutionary War soldier who will lead you in a toast but vanish before you take your first sip. Other sightings include the original phantom homeowner lighting all of the candles on the tables and spooky servants walking around aimlessly. Be sure to ask the staff about any other paranormal activity they've experienced while working at the restaurant.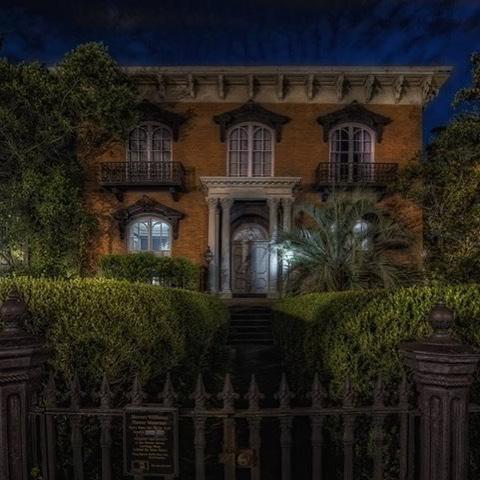 Learn about Savannah's sinister past on a guided Ghost City Tour.
Photo by @ghostcitytours
11 p.m. Dead of Night Tour
After dinner, head over to Johnson Square to meet your tour guide, Skippy Spiral, for Ghost City Tours' Dead of Night Tour. This dog-friendly, adults-only excursion is offered nightly and requires advance reservations. During the 90-minute adventure, you'll explore some of Savannah's most haunted homes and cemeteries while listening to your guide recount spooky tales and strange occurrences. At the halfway point, you'll stop at the haunted Six Pence pub for drinks and bathroom breaks. Since it's Savannah, you can buy a pint to go, too. Your tour will continue past midnight and covers 1.5 miles of Savannah's most spirited sites. The Dead of Night Tour costs $29.95 for humans and is free for dogs.
Saturday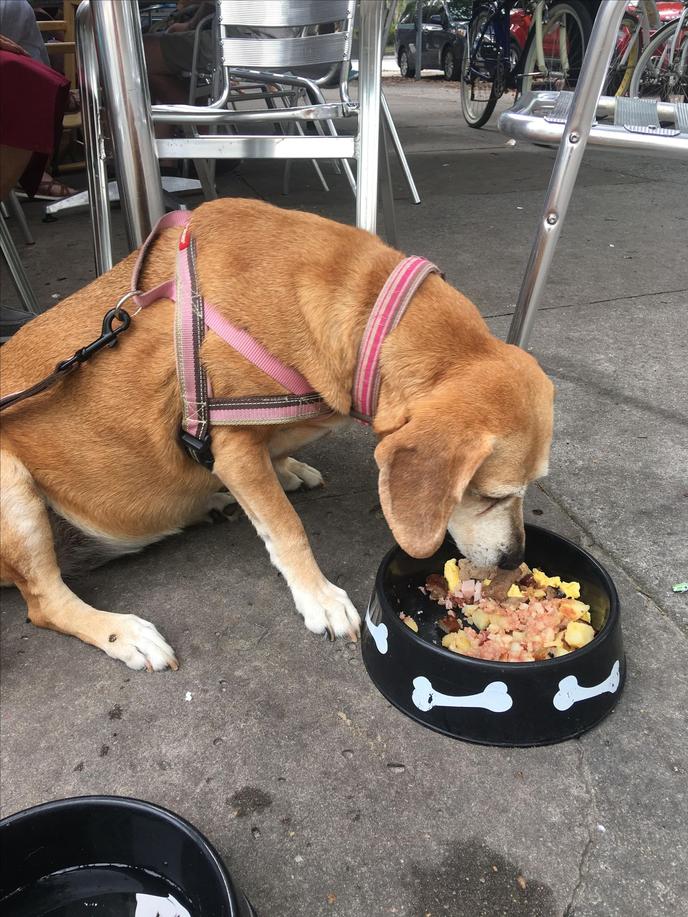 Your pup can chow down on his own meal at J. Christopher's.
8 a.m. Breakfast at J. Christopher's
Wake up bright and early and drive to J. Christopher's, where the only scary things are some of the customers before they get their first cup of coffee. This dog-friendly restaurant serves tasty breakfast fare for two- and four-legged customers on the outdoor patio. From the dog menu, order Fido either the Puppy Chow (skillet potatoes, scrambled eggs, bacon and sausage) or The Bulldog (skillet potatoes, scrambled eggs, bacon, sausage, chicken, ham and turkey), depending on his appetite. For yourself, choose J. 'Grits'-opher's, a bowl of cheddar cheese grits topped with bacon and jalapeños and served with a biscuit.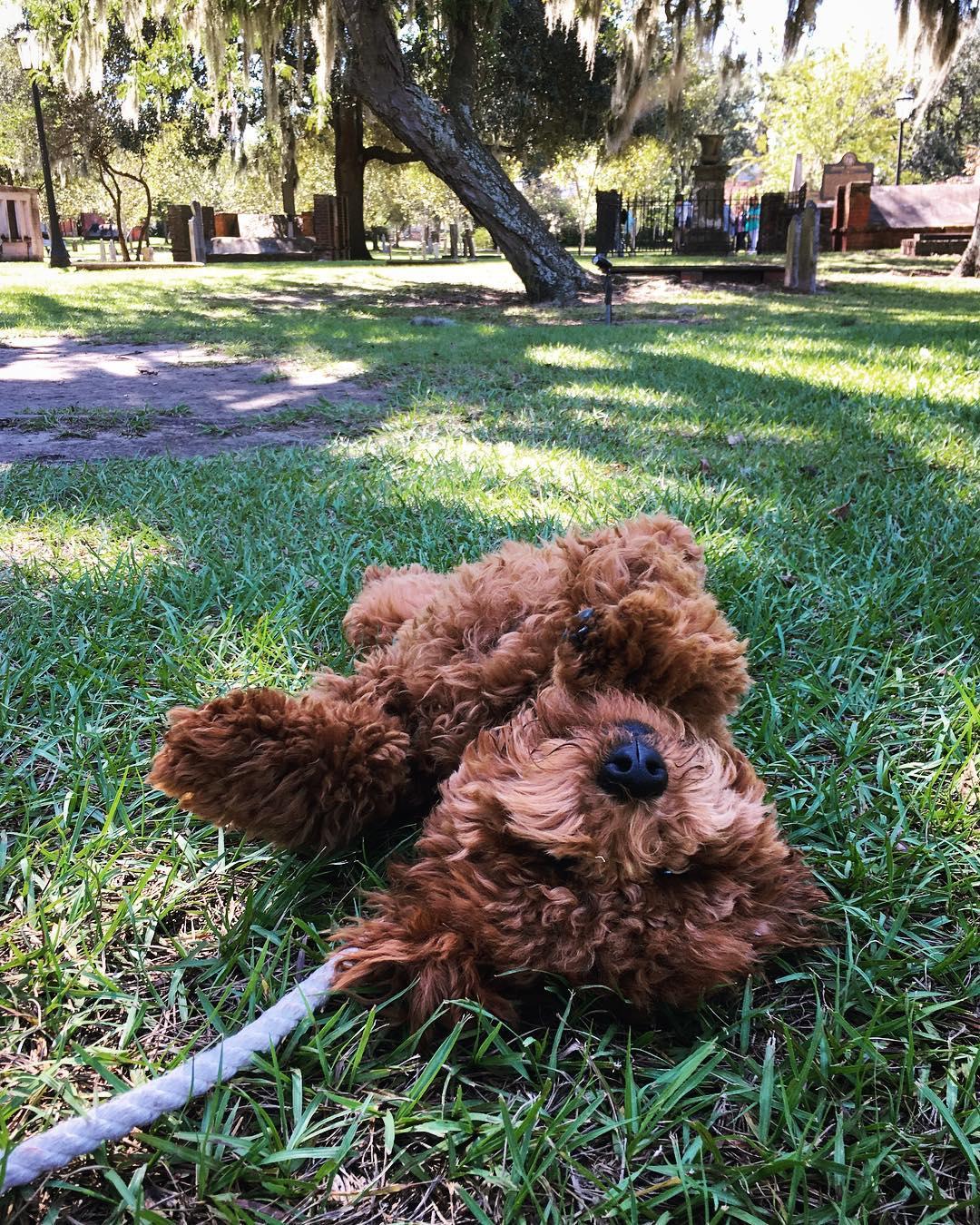 9 a.m. Colonial Park Cemetery
Walk down Abercorn Street to the entrance of Colonial Park Cemetery for an after-breakfast power walk to burn off some calories. The park-like cemetery spans six acres in the center of historic Savannah. Spend a few minutes or a few hours walking through the old cemetery and looking at graves dating back to 1750. The epitaphs are interesting (some are funny!), and the cemetery is considered to be one of the most haunted locations in all of Savannah. Watch out for the murderer Rene Rondolier's spirit, who is frequently spotted wandering the grounds or hanging from "The Hanging Tree" where he was lynched by an angry mob. Dogs are welcome, but please clean up after your pet and be respectful of gravesites.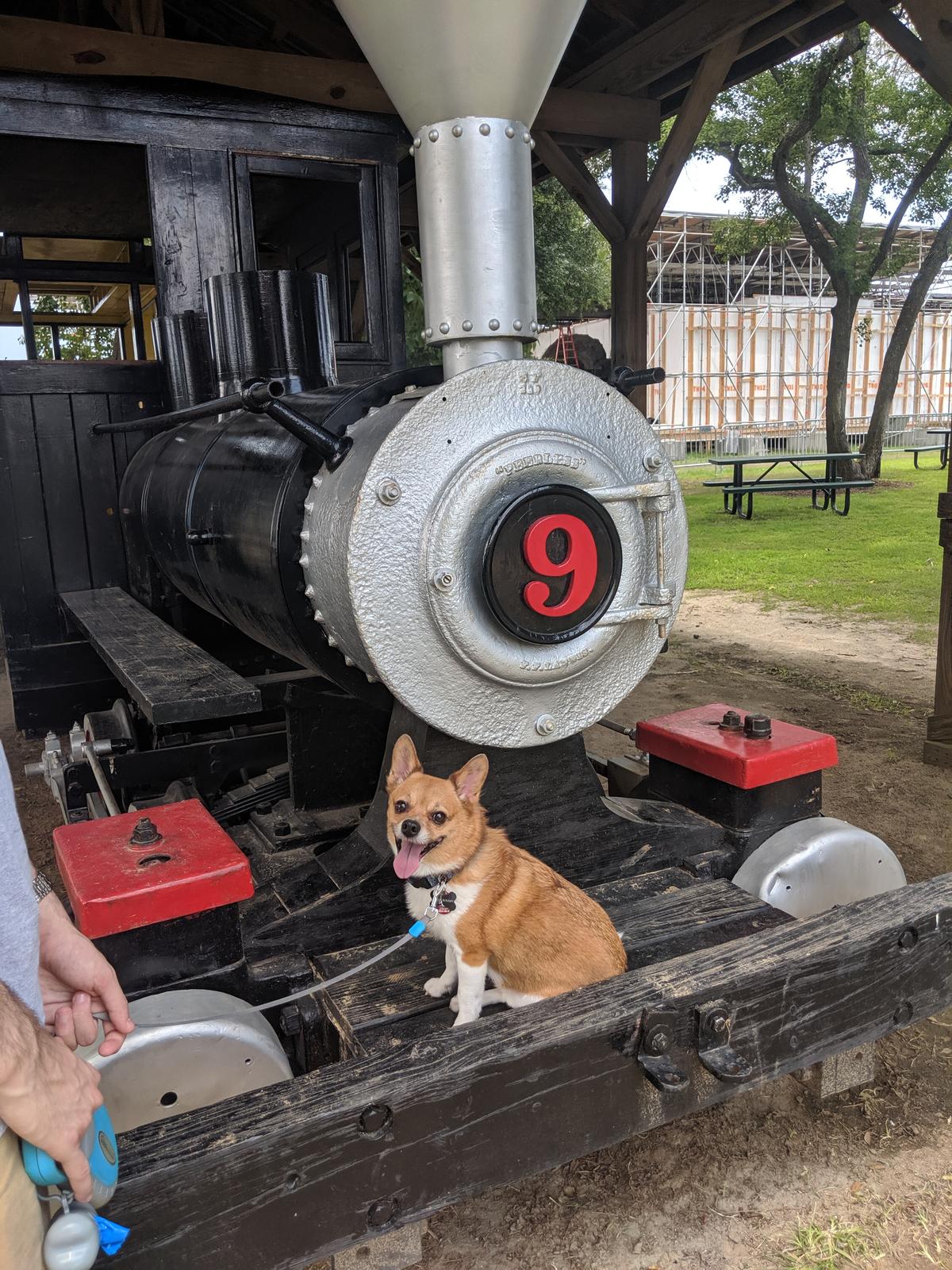 Ride Corgi Railways, also known as The Short Line.
11 a.m. Come On, Ride That Train
Located at the old Central of Georgia Railway Savannah Shops and Terminal Facilities, Georgia State Railroad Museum is a stunning National Historic Landmark that welcomes dogs weighing 25 lbs or less. You and your small pup can take a break from your ghost hunt to enjoy close-up views of the trains, learn about the history of the historic rail cars, and even get to ride on one of the locomotives! Check the schedule for train ride dates and times on their website. Admission is $10 per adult, $6 per child (ages 2-12) and free for small dogs.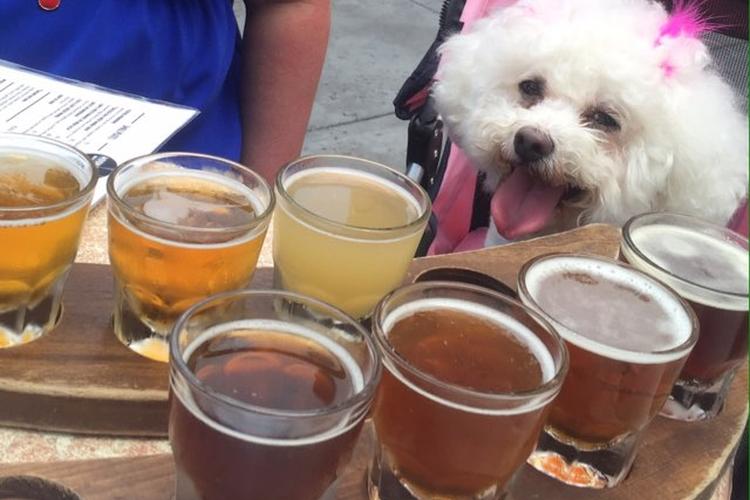 Bottoms up!
Photo by Erin Ballinger/BringFido
1 p.m. Lunch at Moon River Brewing Company
After your busy morning, head to Moon River Brewing Company for a satisfying lunch. Dogs are welcome in the beer garden and will be served a bowl of ice water at your table. The menu features classic pub grub, including tasty Brew Moon buffalo wings, organic beef burgers, crisp salads, and even filet mignon if you have a larger appetite. Wash it all down with one of the brewpub's signature beers on draft. The restaurant is one of Savannah's most haunted and has been featured on the "Ghost Hunters" and "Ghost Adventures" TV shows. The most famous spirit is called Toby and creeps around the basement playing tricks on the restaurant's staff.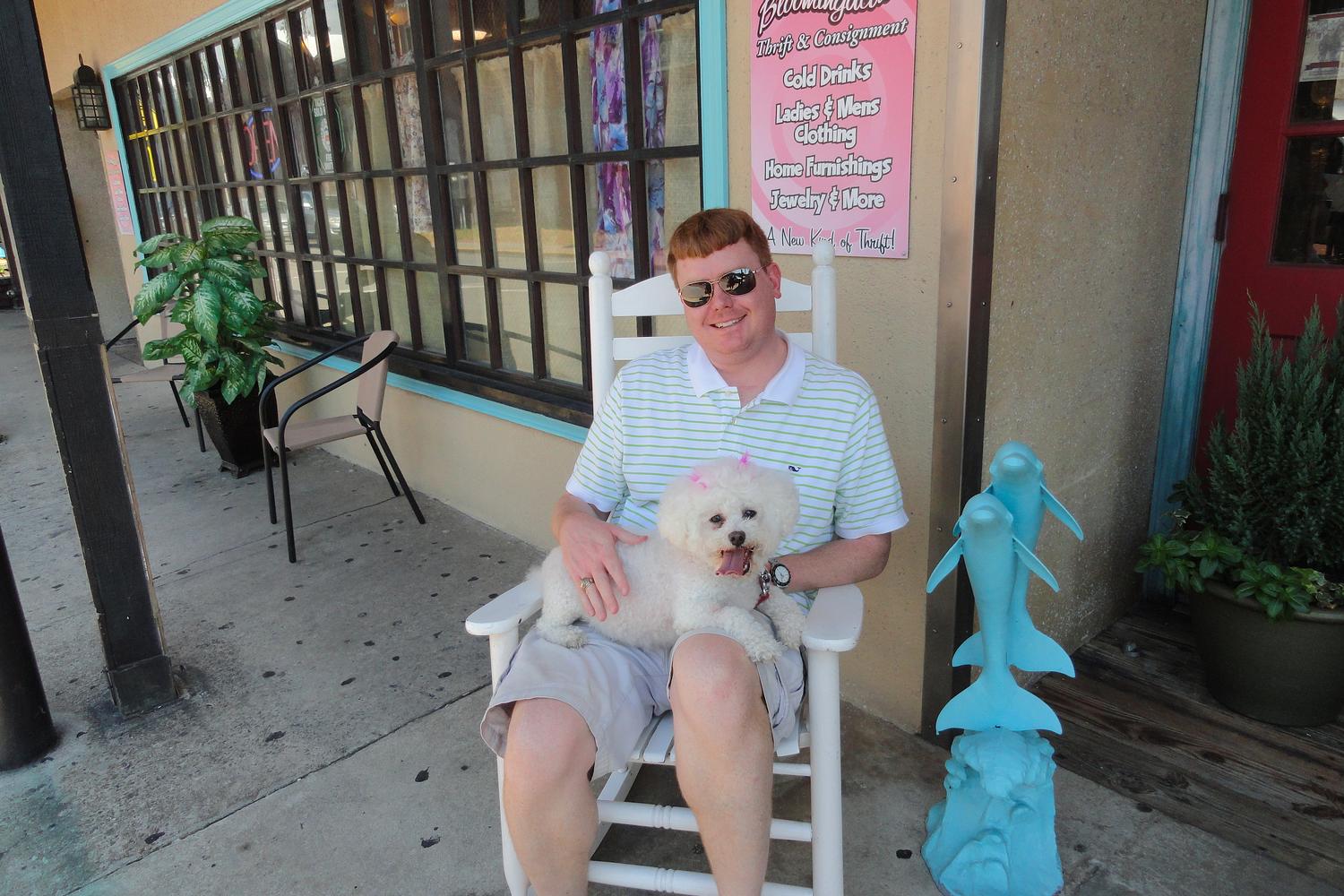 No trip is complete without some retail therapy.
Photo by Erin Ballinger/BringFido
2 p.m. Shopping on Bay Street and Bull Street
After lunch, walk across the street to do some dog-friendly shopping for antiques and vintage finds. Visit Jere's Antiques, where you might even pick out a piece of furniture with a bonus haint (an old Southern word for ghost) trapped inside to take back home. As you walk back along Bull Street, stop in at Savannah Clothing Company with your pup to select a souvenir for yourself.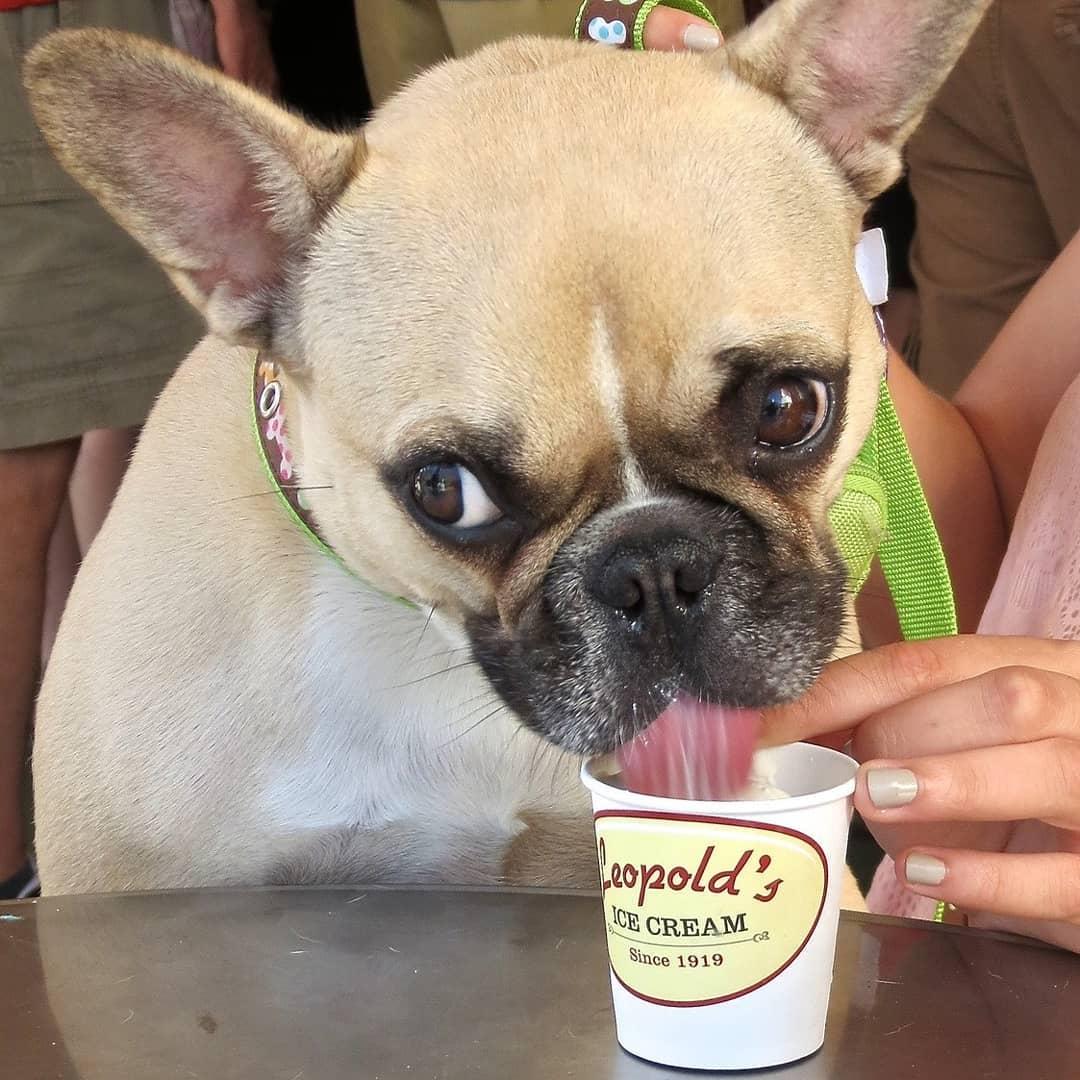 3 p.m. Ice Cream Break at Leopold's
Leopold's Ice Cream has been serving scoops in Savannah since 1919. Stop by the parlor, now located on Broughton Street, for a sundae made especially for your dog--vanilla ice cream topped with an Ollie B. Biscuit. Don't forget to get an ice cream for yourself! Leopold's still serves several of its classic flavors like the original Tutti Frutti, a favorite of Johnny Mercer's (the famous Savannahian who wrote "Moon River"). Enjoy your frozen treat at one of the pup-friendly outdoor tables or take it to-go as you walk down Abercorn Street past the haunted Lucas Theatre for the Arts. Here, people have reported hearing roars of applause when the building is empty as well as seeing shadowy figures in the dark.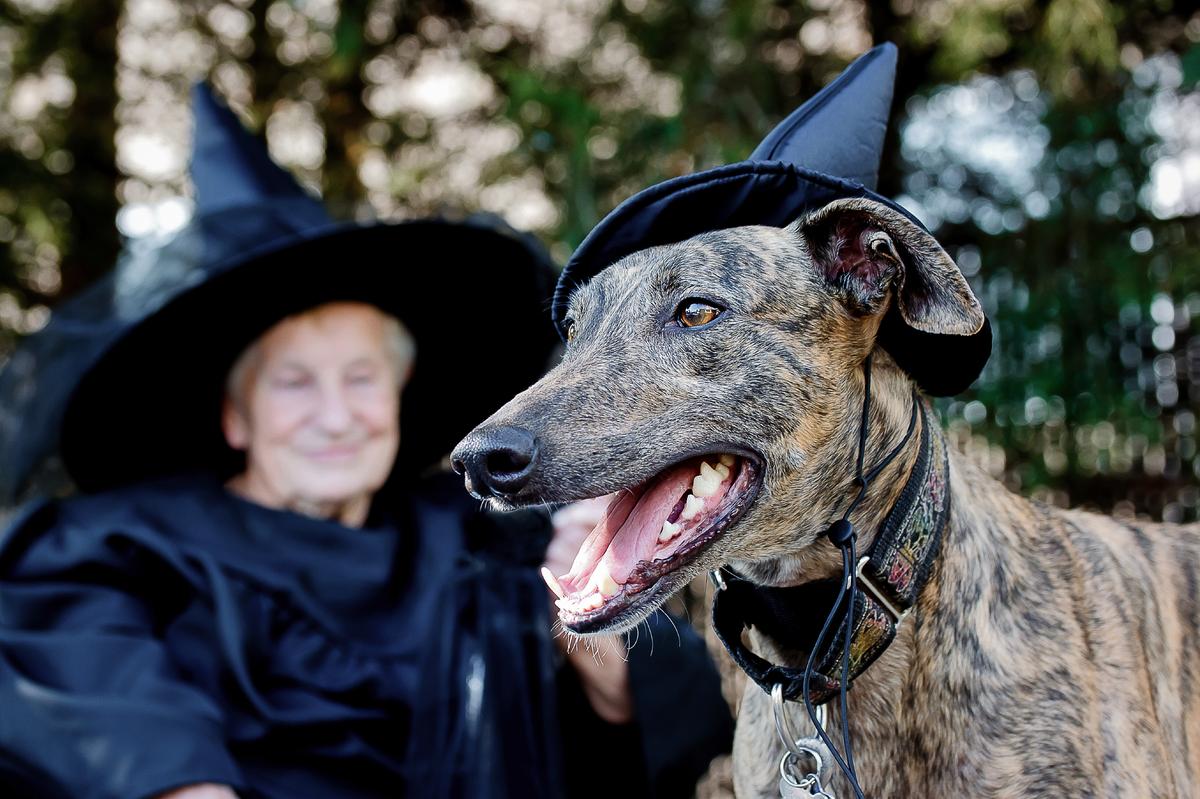 Let's play a game of hide and ghost-seek!
Photo by Melpomenem
4 p.m. Cemetery-Hopping With Your Hound
Savannah is well known for its elaborate burial grounds. Continue your sightseeing tour with your four-legged friend at Bonaventure Cemetery, which is considered a must-see by visitors and locals alike. Explore the park-like grounds for free. But, in accordance with local legends, be sure to leave by 5 p.m. to avoid a pack of ghost guard dogs who chase away anyone lingering after dark! (This also ensures you won't miss Foley House Inn's yappy hour from 6-7 p.m.!)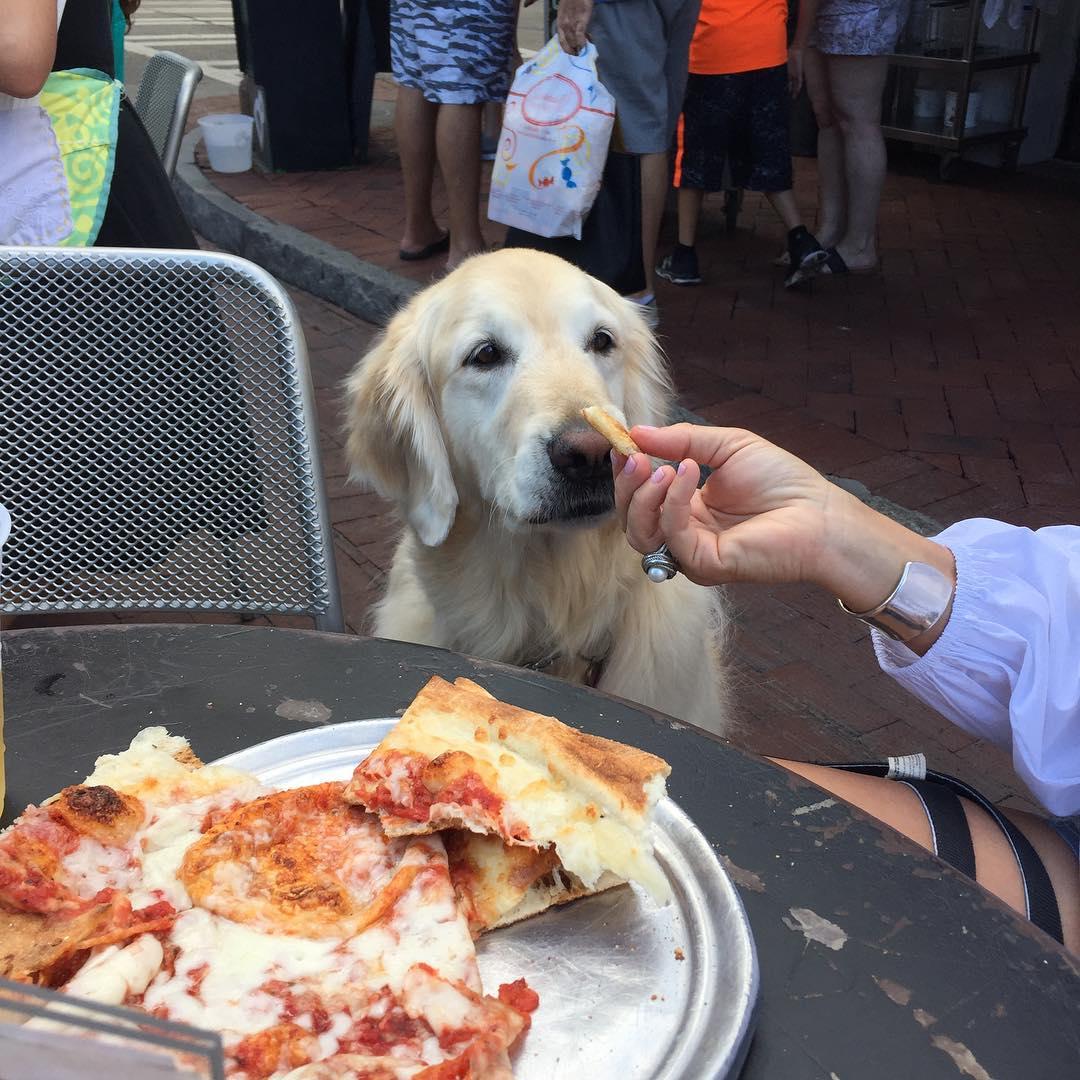 Dine on the "pawtio" or order a pie to go for a pizza party back at Foley House Inn.
Photo by @bigcleg
7 p.m. Pizza Night
After your long day, order a pizza from Screamin' Mimi's or Vinnie Van Go-Go's to take back to your hotel. Both pizza joints offer dog-friendly outdoor patios if you'd prefer to dine there. But if you want to give Fido's tired paws a rest, order it to-go and enjoy it in the comfort of your room while flipping through a copy of "Midnight in the Garden of Good and Evil," a quintessential Savannahian read which celebrates its 25th anniversary in 2019.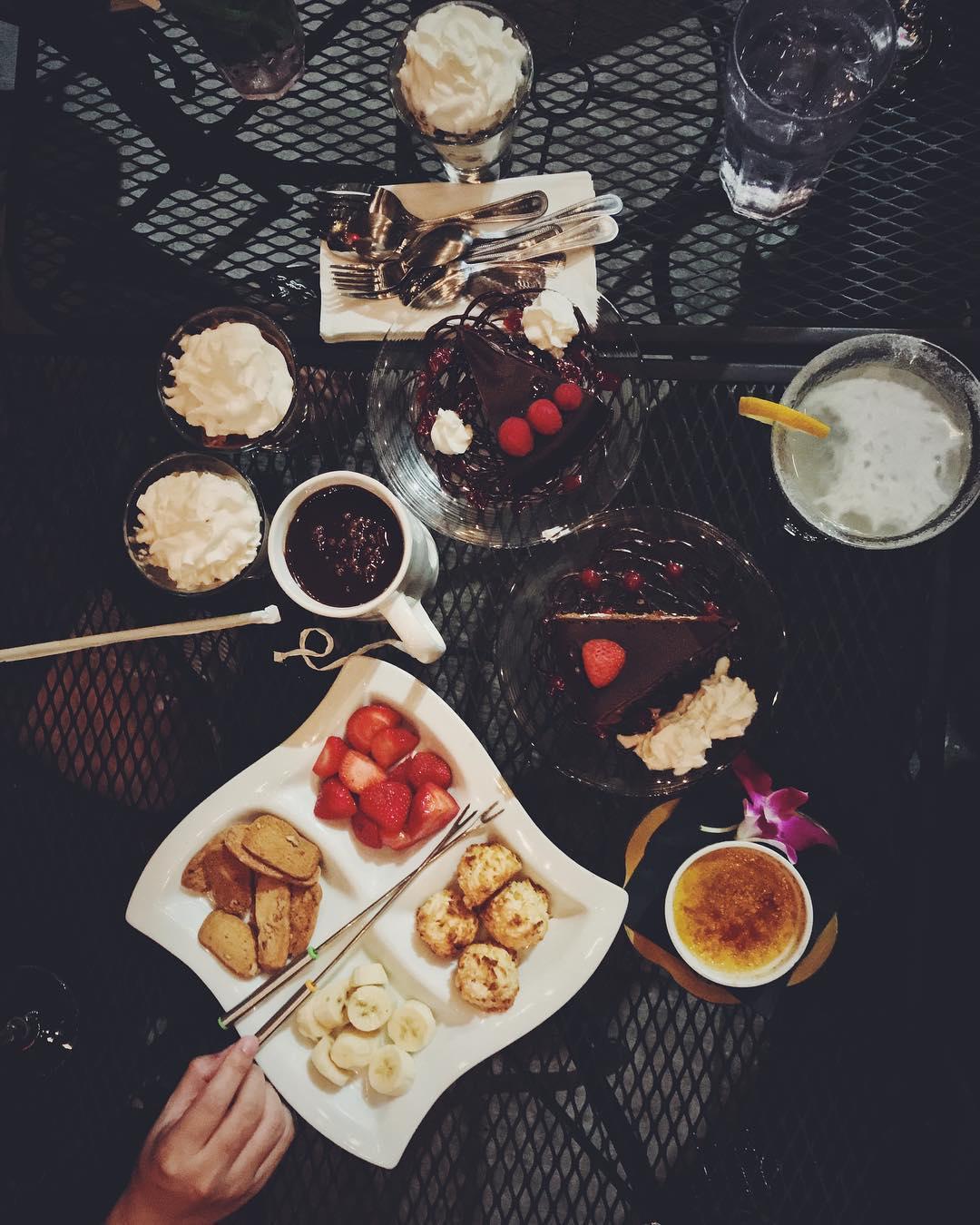 Unleash your inner party animal with drinks and dessert with Fido.
Photo by @brian_nathaniel
10 p.m. Nightcap on the Town
If you want to experience a bit of the nightlife for which Savannah is famous, there are a few dog-friendly watering holes within walking distance from the bed and breakfast. If you're in the mood, head to Jen's and Friends, which has more than 300 different martinis on its menu and a great dog-friendly patio. Want to listen to some live music in a pet-friendly, high-energy dive bar? Check out The Wormhole Bar & Music Venue. If you'd prefer to end the evening on a sweet note, Lulu's Chocolate Bar has you covered. Bring Fido to end the day on the patio at this nightspot known for its decadent desserts, espresso drinks and specialty martinis.
Sunday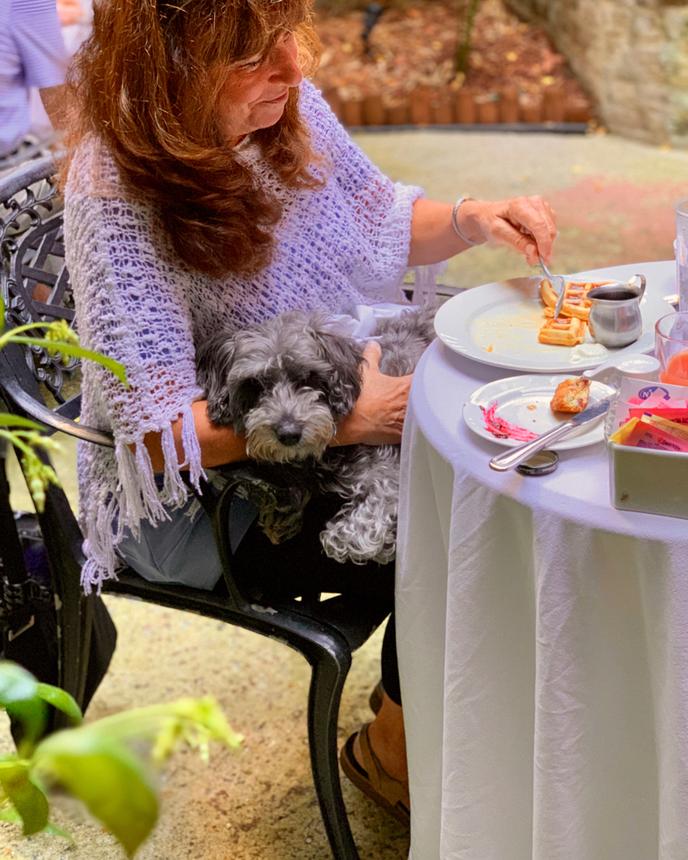 Those woofles smell delicious!
7 a.m. Breakfast at Foley House Inn
Take advantage of the gourmet breakfast included in your room rate with Fido by your side. On the lush courtyard, choose a chef-prepared selection from a menu that changes daily but regularly features coconut streusel cake, eggs, grits with goat cheese and chives, lemon-ricotta pancakes with sauteed apples, or corned beef hash with eggs. If you'd prefer, a tray will be prepared and delivered to your room so you can have breakfast in bed.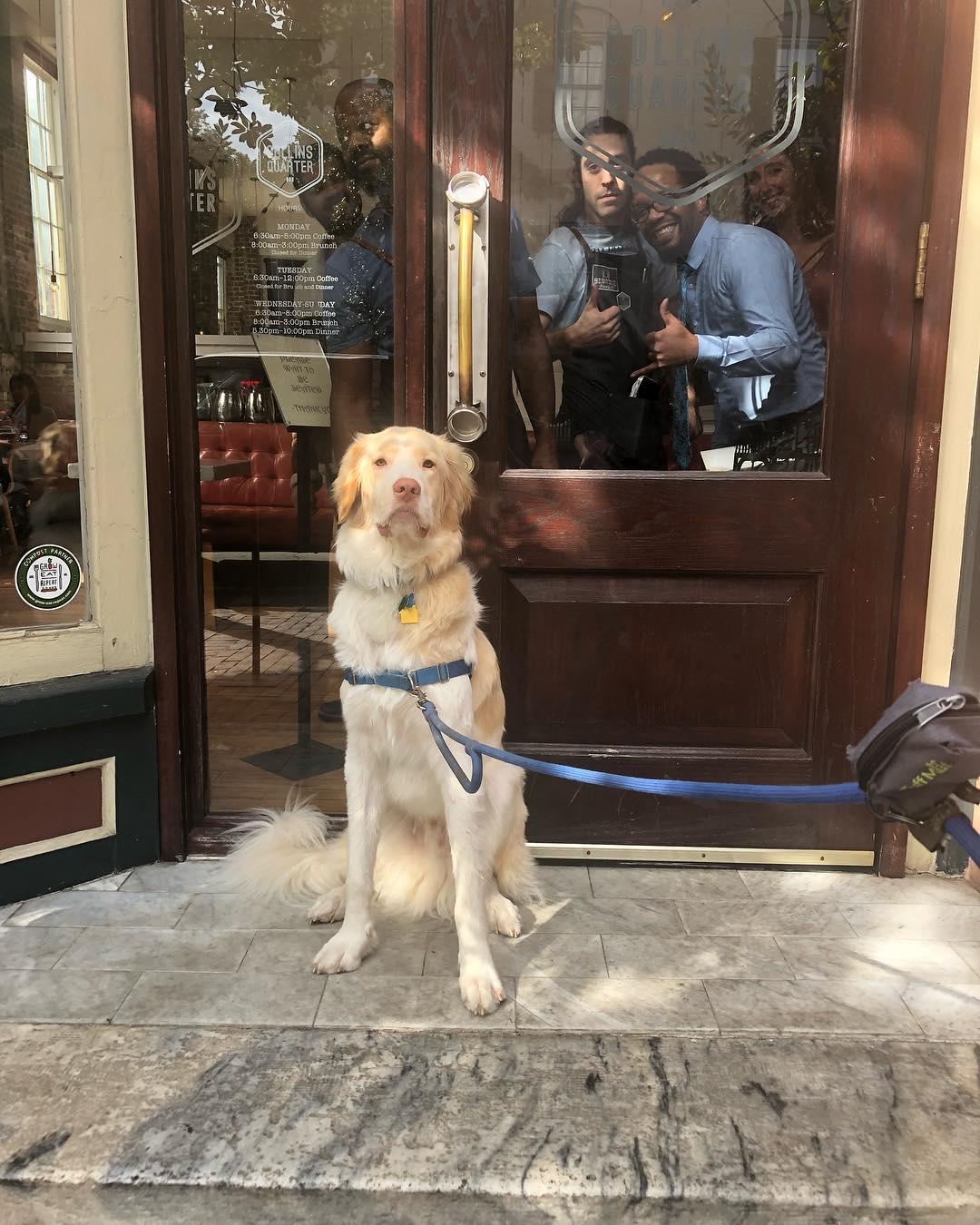 9 a.m. Coffee at Collins Quarter
Grab a coffee from the window at Collins Quarter on Bull Street on your way to City Market. Choose from espresso drinks like the Spiced Lavender Mocha, cold-brew coffee or the house-made chai tea latte. The barista will even give your pup a treat!
Spoil Fido with a treat while you shop for a souvenir at City Market.
Photo by Erin Ballinger/BringFido
10 a.m. City Market
Since the 1700s, City Market has been the commercial center of Savannah. There are several dog-friendly shops here for you to browse with your pooch. Fido's favorite will be Woof Gang Bakery, where he'll be treated to a free ice cream treat (choose the PB&B - Peanut Butter and Bacon!) while you browse gourmet treats of all different colors, flavors and designs alongside collars, leashes and bowls. Stop in at Savannah's Candy Kitchen, where pups are welcome inside if carried, to sample its famous pralines and get a sweet surcie (aka surprise) for a friend at home. Before you leave, be sure to visit A.T. Hun Art Gallery, where your canine art connoisseur will be greeted with a dog biscuit and a smile from the friendly staff. Check out the colorful animal portraits by Steven Schuman and other pet-themed artwork in your search for the "pawfect" Savannah souvenir.
Small dogs will love this horse-drawn carriage tour.
Photo by Erin Ballinger/BringFido
11 a.m. Take a Carriage Tour
Bring Fido on one of Carriage Tours of Savannah's dog-friendly tours. Just look for the carriage at City Market. You'll hear stories of Savannah's haunted history from your knowledgeable guide as you are transported through town in old-school style. It's a great way to learn more about the city with your dog. Small dogs are welcome for no additional charge on all of their horse-drawn carriage rides; bigger dogs might require a private tour. Advance reservations are required for customers with pets, and we recommend booking a morning tour to beat the afternoon heat!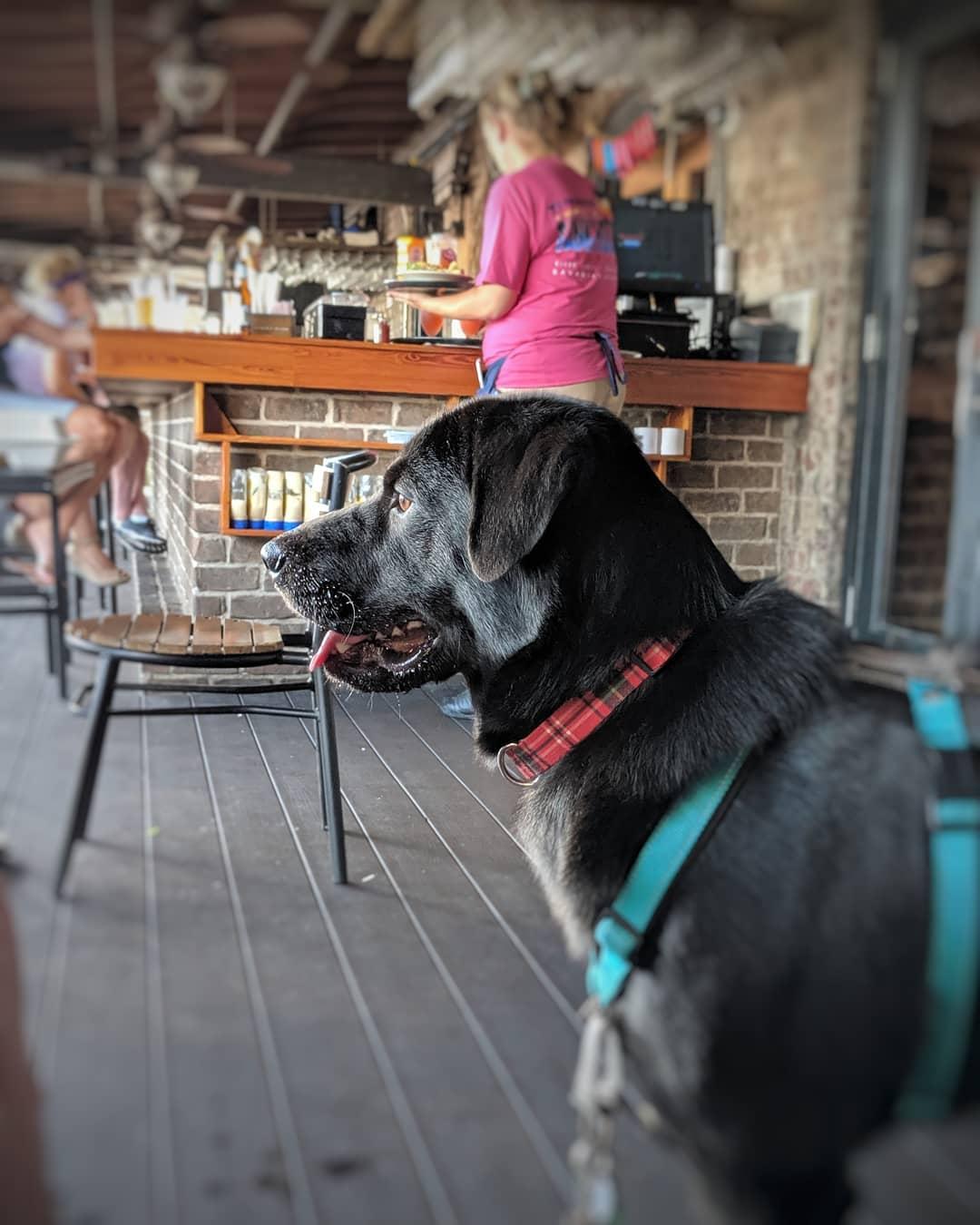 1 p.m. Seafood by the River
After your busy morning filled with shopping and touring Savannah's sights, make your way down to River Street for lunch at Tubby's Seafood River Street. Sit at one of the dog-friendly outdoor tables for fresh seafood and a bird's-eye view of the Riverfront. The menu includes crab stew, fried shrimp and fish baskets, shrimp and grits, steaks and chicken. Your pup will stay refreshed with a bowl of water while you dine.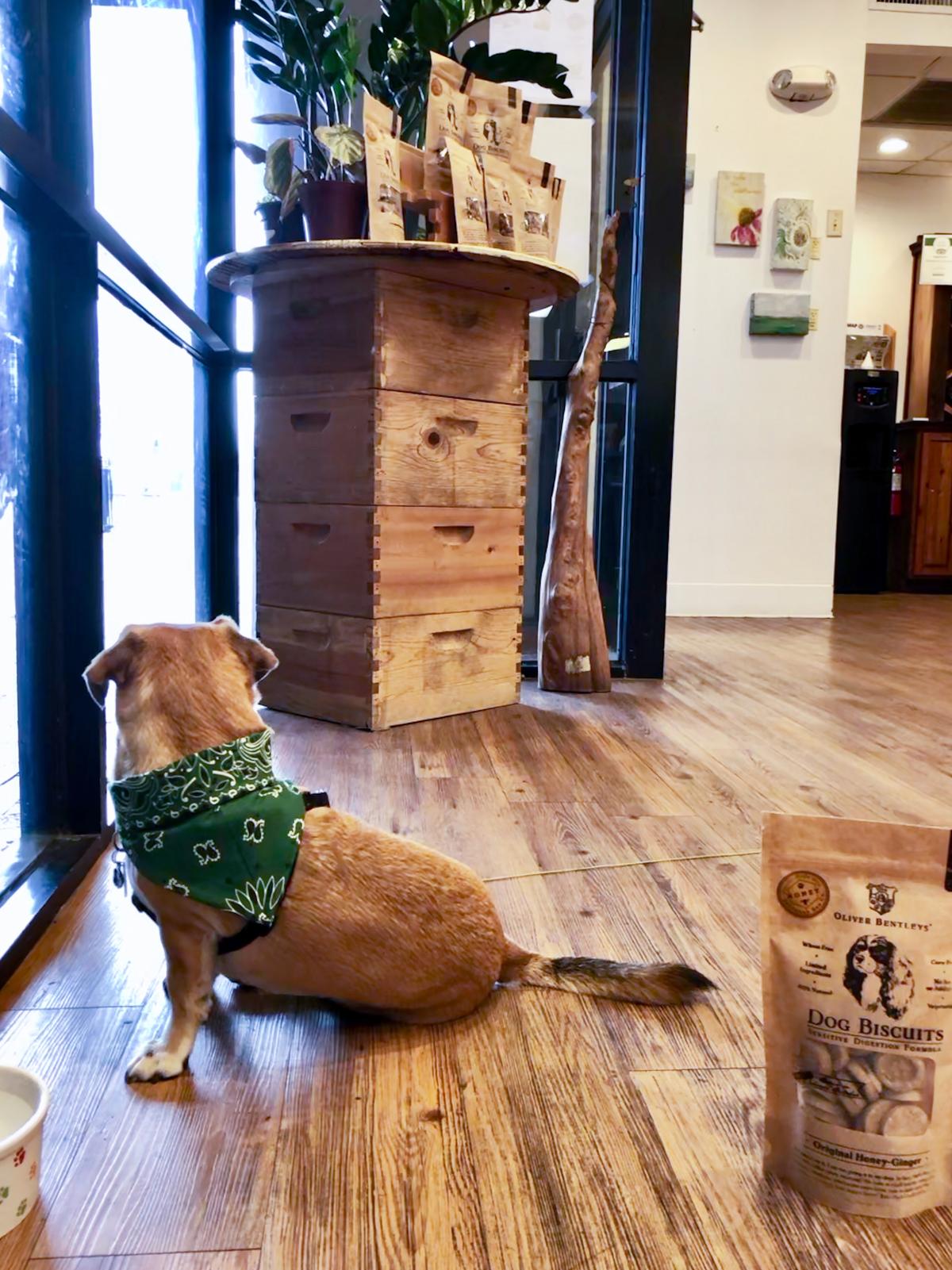 Dogs love Savannah Bee Company!
2 p.m. River Street
From Tubby's, take a leisurely walk down River Street, which is home to dog-friendly stores, restaurants and tours. Just pop your head in and ask permission before bringing your furry friend inside. Stop in at the pet-friendly Savannah Bee Company for a fine selection of specialty honey, organic beehive-based skincare products and mead. The store offers honey and mead tastings, so you can try samples. Savannah Bee Company also sells items made especially for your pup. Pick up the Doggie & Me Beeswax Balm to soothe your pet's paw pads and Oliver Bentley's Honey Ginger Dog Biscuit Bites for a well-deserved sweet treat!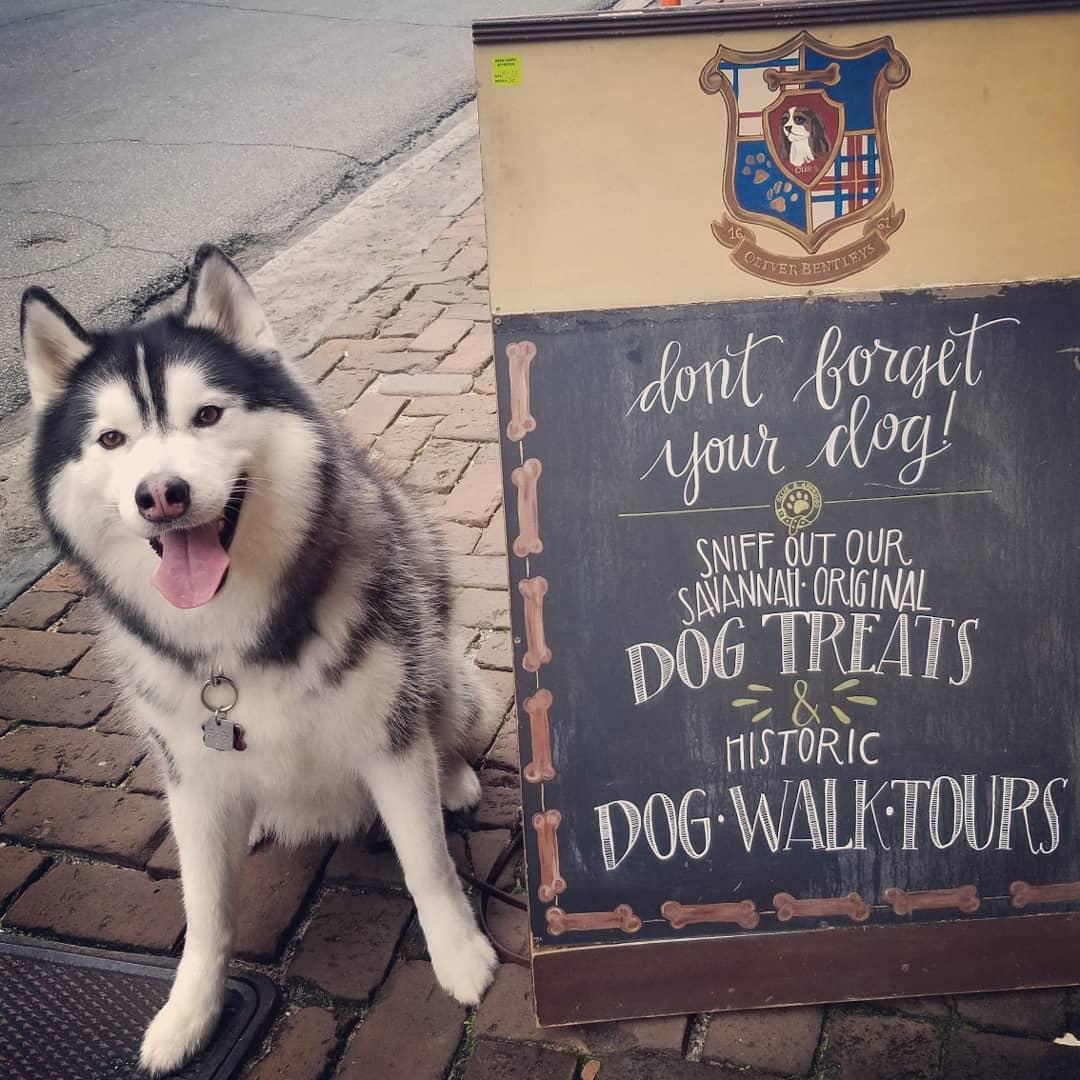 4 p.m. Biscuits Before Departing Savannah With a Dog-Tired Fido
Make one last stop in Wright Square to sample and purchase some handmade Ollie B. Biscuits from Oliver Bentleys. The store also offers dog-friendly walking tours of Savannah at 4:30 p.m. daily during the months of October through May, if you want to squeeze in one more activity before you go. You'll have one dog-tired pup after your jam-packed weekend spent exploring Savannah's historic and haunted hotspots, dining on patios and touring the city with local guides. You've put in a good effort to fit all of the pet-friendly activities in one weekend, but we're sure you'll soon be planning your return trip in the spring for St. Patrick's Day in Savannah.
Have you been to dog-friendly Savannah? Leave a comment or tweet us @BringFido!